A native of Avignon, France, in the heart of Provence, Frederic C. Castan developed a passion for cooking at an early age. The executive chef at Sofitel Chicago Water Tower, Castan says watching his mother create wonderful dishes at home and his own fascination with shapes and colors led to his decision to pursue a career as a chef.
Trained in Marseilles, Castan prides himself on creating simple and elegant dishes in a Mediterranean style that incorporates long-time favorite ingredients including fresh herbs from Provence, garlic, extra-virgin olive oil and balsamic vinegar. With more than 30 years' experience in the restaurant and hospitality industry, Castan oversees the Sofitel Chicago Water Tower culinary teams responsible for cuisine served at Café des Architectes and Le Bar.
Fluent in French, Spanish and English, Castan has earned accolades including the 2000 Chef on the Rise in America Award; 1994 Chef of the Year of Southern California Les Toques Blanches; and 1994 Celebrity Chef Award in Alaska. In 2005, Castan was selected to become a Maitres Cuisiniers de France — a prestigious title reserved for only the world's top chefs.
---
Pan-seared smoked sea scallops and crab cake, cream corn, pumpkin seed and cilantro sauce Serves 4
For the crab cake:
5 ounces crabmeat
1.2 onion, chopped
1 red pepper, diced
1 teaspoon garlic, chopped
1 tablespoon mayonnaise
1.2 teaspoon Cajun spice mix
Salt and pepper, to taste
1 handful bread crumbs
Sautee diced red bell pepper and onion in very hot olive oil, for just a few seconds. Add garlic. Mix sautee into crabmeat. Add mayonnaise, Cajun spice mix, salt and pepper. Shape into 4 11.2-inch-diameter patties, each about 1.2-inch high. Coat with bread crumbs.
---
For the seared scallops:
4 large sea scallops
1.2 cup olive oil
1 teaspoon fresh garlic, chopped
1.2 bunch cilantro, chopped
Smoke scallops in a smoker for 10 minutes. Marinate smoked scallops in a mixture of oil, garlic and cilantro. If you do not have a smoker, use the scallops in their natural state.
For the corn mixture:
4 ears fresh corn on the cob
1.2 onion, chopped
1.2 teaspoon fresh garlic, chopped
1.2 cup chicken stock
1.2 cup heavy cream
Salt and pepper, to taste
Cut corn from the cob. Combine corn kernels, onion, garlic, chicken stock and cream. Cook in a saucepan over medium heat until completely reduced. Season with salt and pepper.
For the cilantro sauce:
1.2 poblano pepper, roasted, peeled
and seeded
2 ounces pumpkin seed
2 cloves garlic, chopped
1.2 medium white onion, grilled
1.2 cup chicken stock
1 tablespoon cilantro, chopped
1 slice white bread, trimmed
1 cup cream
Salt and pepper, to taste
In a blender, combine poblano pepper, pumpkin seed, garlic, onion, chicken stock, cilantro and bread. Blend until very smooth. Transfer mixture into a hot saucepan coated with oil. Cook for a few minutes. Add cream. Cook for 3 minutes. Season with salt and pepper to taste. Strain.
For the red pepper coulis:
1 roasted red pepper, diced
1 cup cream
Salt and pepper, to taste
To roast the pepper, brush it with olive oil and place on a roasting pan. Roast in the oven at 375°F for 15 minutes. Remove the skin and seeds from the pepper, and dice it. In a saucepan over medium heat, sautée the pepper in olive oil for two minutes. Add the cream and cook for 10 minutes over low heat. Pour into a blender and purée it, then season with salt and pepper.
PRESENTATION: Pan-sear the sea scallops and crab cakes. Spoon corn mixture into the center of a plate. Top corn mixture with one scallop and one crab cake. Drizzle with cilantro sauce and a bit of red pepper coulis.
---
Lemongrass steamed halibut with ratatouille Serves 4
2 pounds halibut, cut into
7-ounce steaks
For the court bouillon:
1 stalk lemongrass, chopped
1.2 ginger root, chopped
1.2 bunch of cilantro, chopped
1 teaspoon garlic, chopped
2 stalks of celery, chopped
Salt and pepper, to taste
In a saucepan prepare the court bouillon with 2 quarts water, lemongrass, ginger, cilantro, garlic and celery; let boil for 10 minutes. Season halibut steaks with salt and pepper. Place steaks in a covered steamer basket and put over court bouillon to steam for 10 minutes.
For the broth emulsion:
1.2 quart chicken stock
1 stalk lemongrass
2 teaspoons ginger, chopped
1 teaspoon garlic, chopped
1 shallot, chopped
1 can coconut milk
1.2 bunch cilantro, chopped
1 teaspoon garlic, chopped
1.4 teaspoon Thai curry
Salt, to taste
Agar agar (thickening agent), as necessary
Combine chicken stock, lemongrass, ginger, garlic and shallot in a saucepan. Heat until reduced by one-third. Add coconut milk. Simmer 30 minutes. Add cilantro and Thai curry. Cook for a few more minutes. Season with salt. Strain. Add a bit of agar agar to thicken, as necessary.
For the ratatouille:
5 ounces soy beans, frozen
1.4 pound shiitake mushrooms,
sliced
1.2 red bell pepper, diced
1.2 yellow bell pepper, diced
1.2 onion, diced
1 head broccoli, separated into
florets
1.2 each green and yellow zucchini,
diced
1.2 teaspoon ginger, chopped fine
1 teaspoon sesame seed, toasted
1 tomato, peeled and diced
1 tablespoon almonds, toasted
and sliced
1 teaspoon sesame oil
1.4 cup olive oil
1 tablespoon oyster sauce
In a hot skillet coated with 1 teaspoon sesame oil and 1 tablespoon olive oil, sautée individually, soy beans, mushrooms, red pepper, yellow pepper, onion, green zucchini and yellow zucchini and tomato. Set aside. In a clean skillet, mix 1 tablespoon olive oil, ginger and garlic. Add cooked vegetables. Finish with oyster sauce. Blanch broccoli florets just prior to serving and toss with sesame seed and almonds.
PRESENTATION: Place fish steak in a pasta bowl. Spoon broth emulsion over fish. Top with ratatouille. Garnish with soy beans and a sprig of cilantro.
---
Roasted lamb loin on the bone with confit tomato and green chard Serves 4
1 double saddle of lamb loin,
quartered
2 bunches green chard
10 whole Roma tomatoes, peeled,
seeded and quartered
1 teaspoon fresh thyme
1 teaspoon fresh oregano,
chopped
1 teaspoon fresh rosemary,
chopped
1 cup olive oil
6 garlic cloves, chopped fine
1.2 cup dry white wine
4 shallots, chopped fine
2 ounces butter
Marinate the lamb for 12 hours in a mixture made from half of all herbs combined with olive oil and garlic.
Place quartered tomatoes on a sheet pan. Sprinkle with herbs and olive oil. Cook at 280°F for two hours. Blanch the green part of the chard in boiling water until tender. Ice and strain. In a skillet coated with olive oil, sautée chard with some shallots for 2 to 3 minutes. Season the marinated lamb with salt and pepper. Coat a roasting pan with a few drops of olive oil. Over medium high heat, sear the lamb on all sides. Transfer roasting pan into over and cook lamb at 380°F for about 20 minutes. Remove lamb from oven and transfer to platter to rest for about 20 minutes before carving. Strain fat from roasting pan juices. Add shallots, garlic and remaining herbs. Sautée for 1 minute. Deglaze with white wine. Finish with fresh butter. Strain au jus and reserve.
PRESENTATION: Run the knife between the bone and the loin. Pull the lamb away from, but not off of, the bone. Slice on the bias into 4 slices. Insert green chard and Roma tomatoes between slices. Wrap meat to bone. Reheat in oven for 1 minute. Serve with au jus.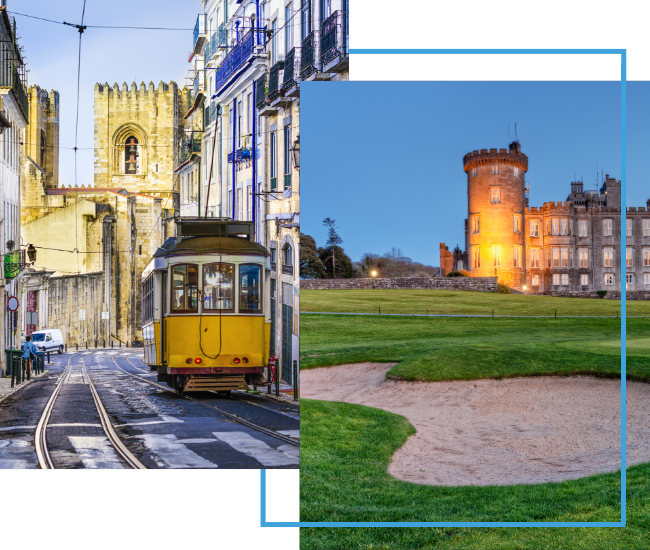 FX Excursions
FX Excursions offers the chance for once-in-a-lifetime experiences in destinations around the world.
Explore Excursions
It's time to start dreaming of your next trip. Here's some destination inspiration for you. Take a visual journey through these U.S. Christmas markets with us.
Sponsored Content
Many small- and medium-sized businesses face time and budget constraints when organizing corporate hotel travel for employees. To address this problem, IHG® Business Edge emerged as a cost-free business travel solution for small- to medium-sized enterprises, offering travel managers exclusive access to enticing perks, handpicked educational resources and comprehensive company travel metrics. IHG Business Edge connects our loyal customers to our portfolio of 5,800 hotels and resorts across 18 brands in more than 100 countries.
Everyone loves a good Christmas tree, but these iconic hotels around the world take it one step further with designer-styled trees illuminating lobbies and public spaces, wowing all who enter. From Lela Rose to Louis Vuitton, don't miss these ultra-luxury trees redefining tree decorating as we know it.