William Kovel's earliest food-related memory is about picking radishes in the garden while grilling flank steaks with his father. A native of West Hartford, Conn., Kovel announced his desire to cook professionally when he was in the fifth grade. And the rest is history.
"This is what I was I was born to do," Kovel said. "There really hasn't been any other career dream."
Kovel, who recently signed on as chef de cuisine at the Four Seasons Hotel Boston's fine-dining establishment Aujourd'hui, attended culinary school at Southern New Hampshire University. His professional affiliations include Jardiniére and the Ritz-Carlton in San Francisco, Radius in Boston and Orrery in London. While known for his finely honed French technique, Kovel's family upbringing — he said both his parents were great cooks — also influences his culinary style.
"The food I prepare comes from a passion for fresh, simple flavors cultivated in California, Boston and Europe, threaded together with classic French techniques," he said.
At Aujourd'hui, Kovel strives to create a dining experience that is comfortable and relaxed. He also can be romantic when the situation calls for finesse.
"I want to create a great meal that will be enjoyed by guests who want to focus on their company," Kovel said. "That means flawless execution, a beautiful experience, a great meal and warm service — basically, a place to relax and enjoy the evening."
So what's the difference between Kovel's "at home" cooking style and philosophy and the way he manages his kitchen at Aujourd'hui?
"Nothing differs, really," Kovel said. "I go for a more simple approach."
And what could be better than enjoying this big-name chef's creations at Aujourd'hui? Following the recipe to create one his signature dishes in your own home, of course.
---
Organic rack of lamb with fresh cranberry bean ragout, eggplant fondue and lamb reduction Serves 4
For the lamb reduction:
6 lamb bones*
2 veal bones*
Trimmings from four lamb racks*
Trimmings from four veal racks*
2 onions
3 carrots
2 garlic cloves
4 sprigs thyme
10 whole white peppercorns
10 quarts water
1 tablespoon oil
*Available at the butcher counter.
Heat one tablespoon of oil in a heavy-bottomed pan. When the oil is hot, add the bones a few at a time and brown until they are a dark golden color all around. Do not stir. Use tongs. Repeat the process with the trimmings and set aside. Meanwhile, peel and wash the vegetables and cut on the bias into big pieces. Caramelize the vegetables in hot oil following the same process used with the bones to create a mirepoix. Place the mirepoix in the bottom if a large pot with the trimmings on top and the bones on top of that. Pour water over all and place over heat. Do not boil, but bring to a steady simmer and skim the foam that rises to the top. Add the thyme, garlic and peppercorns and cook for five hours. Turn off heat and let the mixture sit for 30 minutes. Strain through a fine cheesecloth. Chill and refrigerate.
For the eggplant fondue:
4 eggplants
4 tablespoons olive oil
Ground cumin, to taste
Salt and pepper, to taste
Juice of one lemon
Split and score the eggplant, drizzle with oil, season and roast at 300 degrees for approximately one hour, until tender. Scrape the skins and pass insides through a food mill. Pass through a fine strainer to remove the seeds. Season with ground cumin, salt and pepper and lemon juice. Place on a flat baking dish in a 200-degree oven until dry. When mixture is dry, puree in a food processor and blend until it becomes smooth.
For the cranberry bean ragout:
1 carrot, peeled
1 large onion
4 shallots
1 garlic clove
4 tablespoons duck fat (or unsalted butter)
2 tablespoons tomato paste
4 cups chicken stock
1 pound fresh cranberry beans, shelled
6 sprigs thyme
1 sprig rosemary
1 bay leaf
Salt and pepper, to taste
Chop carrots, onion, shallots and garlic. In a saute pan, sweat a large piece of mirepoix in duck fat. Add tomato paste and cook off raw flavor. Tie herbs together with butcher's twine. Add beans and herbs to saute pan. Cover with chicken stock and cook until liquid is reduced by two-thirds. Season aggressively with salt and pepper. Let the beans cool down in the liquid. The beans will absorb the salt and the liquid as they cool down — they're better the next day.
For the vegetable garnish:
1/4 pound baby yellow squash
1/4 pound cherry tomatoes
1/4 pound haricot verts
Blanch vegetables, dice and keep warm for plating.
For the Vermont rack of lamb:
Two 10-14 ounce lamb racks
In a medium skillet, sear lamb presentation-side down and turn so the bones face up. Roast lamb to medium rare for about eight minutes at 350 degrees. Let rest for five minutes. Then split into three chops for plating.
For the lamb jus:
Bring eight tablespoons of lamb reduction to simmer and reduce to a syrup consistency. Makes 3 tablespoons.
PRESENTATION: Spoon eggplant fondue onto a round plate. Spoon ragout of beans over the fondue and garnish with diced squash, tomato and haricot verts. Place three lamb chops around the plate. Drizzle the lamb jus around each serving.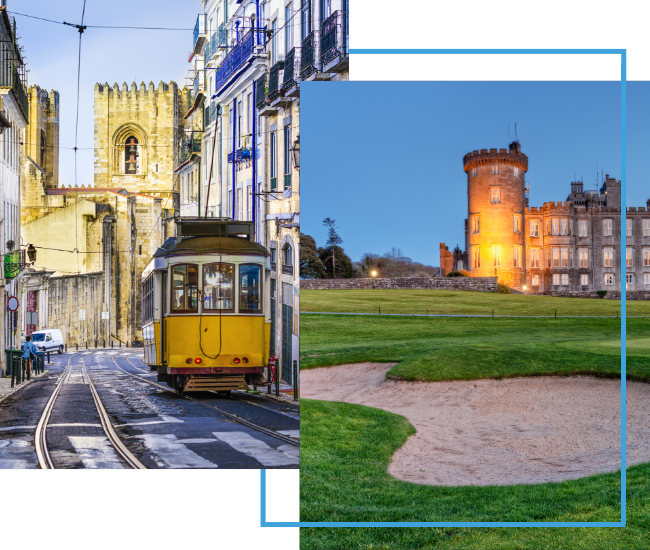 FX Excursions
FX Excursions offers the chance for once-in-a-lifetime experiences in destinations around the world.
Explore Excursions
In addition to intimate settings, smaller staff-to-passenger ratios, and personalized food and beverage options, river cruises have the advantage of providing a deeper dive into a region's culture, food and history. The Rhine, Rhône and Danube in Europe and the Mississippi River and St. Lawrence in North America have much to offer travelers with their itineraries, tying together beloved cities and lesser-known destinations along their routes.
Sponsored Content
IHG Hotels & Resorts is thrilled to announce the launch of a new mobile product feature for members: IHG Wi-Fi Auto Connect. This feature is now available exclusively in the IHG One Rewards mobile app for both iOS and Android users and will automatically connect IHG One Rewards members to WiFi upon arrival at more than 5,000 IHG hotels worldwide — no separate passwords or log-ins needed. This is in addition to the exciting benefits of being an IHG Business Edge member. IHG Business Edge provides small- and medium-sized businesses access to a user-friendly portal that displays comprehensive spending and savings data while providing the convenience of direct booking with a guaranteed discount.
With the holidays right around the corner, travelers are preparing for holiday travels. For those looking for a last-minute getaway filled with holiday cheer, consider Croatia. With a variety of winter activities perfect for travelers and locals alike, the Christmas countdown in Croatia is in full swing. Leading up to Christmas, Advent in Croatia makes it even more worth your while to visit the country with free winter incentives. If you plan on visiting Croatia, here are five cities going all out for the holiday season: