Chef Bruce Moffett grew up in the small town of Barrington, R.I., where he set the stage to pursue his goal of working in Washington, D.C. But even the best-laid plans have a knack for taking on a life of their own. Six years into a career working for Sen. John Chafee (R–Rhode Island) and various trade organizations, Moffett realized his future lay in food, not politics. So he quit his job, moved to Charlotte, N.C., and opened a pizza parlor.
While enthusiastic about his new venture, Moffett realized his degree in political science wasn't going to cut the mustard in the culinary world. Undeterred, he enrolled in the Culinary Institute of America, from which he graduated with honors. Moffett moved to Atlanta and joined the culinary staff of the Cherokee Town & Country Club before relocating to Boston, where he worked at L'Espalier, one of that city's most esteemed dining venues. While in Boston, Moffett also worked at the Metropolis Cafe, a trendy South End eatery. In 2000, Moffett returned to Charlotte, where he opened Barrington's — named after his hometown in Rhode Island.
The cozy bistro-style restaurant features cuisine described as "upscale American with a homey twist." The menu, which changes seasonally, plays up regional and organic produce. Local favorites include roasted chicken with creamy mashed potatoes, and handmade gnocchi with veal and porcini. Barrington's has earned numerous awards and accolades. The restaurant was named "Tops for Food in Charlotte" in the Zagat's 2003, 2004 and 2005 editions. It is also listed in Zagat's America's Top Restaurants guide.
---
Apple salad with cranberry vinaigrette
Serves 2

For the cranberry vinaigrette:
1/2 cup cranberries
1/2 cup port
1/2 cup sugar
1/2 cup oil
Place cranberries in saucepan with port and sugar, and simmer until cranberries burst. Place mixture in a blender. While blending, slowly drizzle oil into the blender. Mixture should emulsify. Strain through a fine sieve.
For the salad:
1 red apple (Fuji or variety with good acidity)
1 head Belgian endive
1 cup baby arugula
2 tablespoons roasted walnuts
2 tablespoons crumbled blue cheese
Dash salt
Dash pepper
Core the apple, then thinly slice into half-moon shapes using a mandoline. Cut endive in half lengthwise; core and slice thin.
Mix endive, walnuts, blue cheese, and arugula in a salad bowl.
PRESENTATION: Layer the apple slices and salad on plate. Drizzle with cranberry vinaigrette.
---
Pecan-crusted lamb with chipotle barbecue sauce and roasted sweet potatoes
Serves 8

For the lamb and marinade:
5 to 6 pounds lamb, top round or butterflied boneless leg of lamb
2 cloves garlic
1 shallot
1/4 cup red wine
1/4 cup grain mustard
1/2 cup pecans
1/2 cup vegetable oil
Trim lamb of all fat, reserving meat scraps for sauce. Cut lamb into 6- to 8-ounce pieces and set aside. Place next five ingredients in food processor and pulse into paste. With blade running slowly, add oil until mixture is emulsified. Lightly coat meat with marinade. Refrigerate overnight.
For the barbecue sauce:
1/4 cup vegetable oil
6 ounces lamb trimmings
1 carrot, diced
1 rib celery, diced
1/2 onion, diced
1/4 chipotle peppers packed in adobo
1/2 cup white wine
1/4 cup molasses
2 tablespoons sugar
1/2 cup tomato puree
1 cup chicken stock
1 cup veal stock
2 tablespoons butter
Heat vegetable oil over high heat in large saucepan. Add lamb trimmings and brown. Add vegetables and cook until golden brown and lightly caramelized. Stir in chipotle peppers, wine, vinegar, molasses, sugar and tomato puree. Reduce until mixture takes on a syrupy consistency. Add chicken and veal stock. Reduce by 2/3, skimming frequently. Strain liquid through fine sieve.
Sauce can be made to this point one to two days in advance and refrigerated. This will allow any remaining fat to solidify so that it can be easily removed. When you're ready to serve, warm sauce over low heat. Whisk in butter to enrich sauce. Set aside. Keep warm.
For the pan-roasted sweet potatoes:
4 large sweet potatoes
Water
2 to 4 tablespoons butter
Preheat oven to 350° F. Place unpeeled whole sweet potatoes in one inch of water in roasting pan. Cover with foil. Roast one hour, until potatoes can be pierced with fork but are still firm. Cool to room temperature. Slice crosswise into 3/4-inch-thick circles. Sauté potatoes in butter or oil, approximately two to three minutes per side, until golden brown.
For the honey-roasted pecans:
1 cup pecan halves
2 tablespoons honey
1 tablespoon vegetable oil
Pinch salt
Pinch pepper
Pinch nutmeg
Dash Tabasco
Preheat oven to 350° F. Mix all ingredients in small bowl. Spread on baking sheet. Bake 10 minutes. Cool to room temperature.
To finish dish: Preheat oven to 425° F. Coat bottom of large skillet with vegetable oil and heat over medium high. Sear lamb until brown on both sides, about three to four minutes. Transfer to roasting pan and finish in oven, approximately eight to 10 minutes for medium rare. Allow lamb to rest 10 minutes before slicing.
PRESENTATION: Slice lamb and arrange on plate with sweet potatoes. Spoon sauce over lamb and garnish with honey-roasted pecans.
---
Warm banana tart
Serves 4
1 egg
1 1/2 cup flour
1 3/4 cup sugar
1/3 cup canola oil
2-3 bananas, mashed
1 teaspoon baking powder
1 teaspoon baking soda
1/2 teaspoon salt
Preheat oven to 350° F. Combine flour, baking powder, baking soda and salt. Set aside. Mix egg, sugar and canola oil. Add bananas and beat until smooth. Slowly add dry ingredients to create batter. Spoon batter into a sheet pan. Bake for about 20 minute or until cooked through. Allow the cake to cool and cut into four circles with a ring mold.
PRESENTATION: Thinly slice a ripe banana and layer in a wreath around each cake. Sprinkle cakes with sugar and serve warm (OK to rewarm). Using a small torch, caramelize the sugar. Serve with caramel ice cream and chocolate sauce.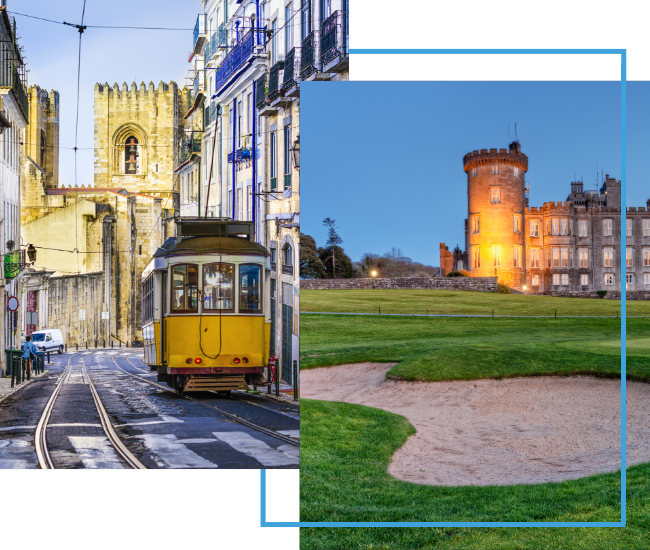 FX Excursions
FX Excursions offers the chance for once-in-a-lifetime experiences in destinations around the world.
Explore Excursions
There's no doubt the northern lights are awe-inspiring and spectacular. Unfortunately, they're also fickle and fleeting, and despite your best-laid plans of checking this item off your bucket list, sometimes Mother Nature's luminescent show just doesn't cooperate. But one cruise line has a new fail-safe in place.
Sponsored Content
Many small- and medium-sized businesses face time and budget constraints when organizing corporate hotel travel for employees. To address this problem, IHG® Business Edge emerged as a cost-free business travel solution for small- to medium-sized enterprises, offering travel managers exclusive access to enticing perks, handpicked educational resources and comprehensive company travel metrics. IHG Business Edge connects our loyal customers to our portfolio of 5,800 hotels and resorts across 18 brands in more than 100 countries.
Think you need a degree in sailing to enjoy a yachting holiday? Dream Yacht Worldwide, a leader in yacht charters, wants you to relax and enjoy the journey. Newly expanded to include the British Virgin Islands, Martinique, Tahiti and the Seychelles, the "Easy Crewed" offered by Dream Yacht Worldwide also include charter options in Greece and Croatia.