Kim Lambrechts was born in Korea and raised by a French-speaking family in Belgium, but that's only the beginning of the award-winning chef's worldwide journey. In fact, his curriculum vitae reads like a global itinerary.
The executive chef and director of food and beverage at Forty 1° North in Newport, R.I., began his career in Belgium with stints at Manoir de St. Aubert in Mont St. Aubert and the Michelin-starred Les Quatre Saisons in Brussels. His subsequent travels took him to the United States, where he left his mark at the Washington Vista Hotel in Washington, D.C., and the Museum of Fine Arts in Boston. Next up: Abu Dhabi, where, during his tenure as the executive sous chef at the 5-star Hilton Abu Dhabi, Lambrechts earned a gold medal and three silver medals at the Salon Culinaire in Dubai. That same year, he took home an award in excellence from the Master Chef of Belgium, Pierre Fonteyne.
Lambrechts returned to the United States to accept a position at the Boston Harbor Hotel, followed by Boston's Bay Tower Room. He then set out for Mauritius as part of the opening team for the 5-star Hilton Mauritius Resort. A few years later, he was back in Massachusetts serving as executive chef at Sidney's Grille in the Hotel @ MIT. Lambrechts subsequently signed on with Destination Hotels & Resorts, first as director of food and beverage at Nine Zero in Boston and later at the Garden of the Gods Club in Colorado Springs, Colo.
Lambrechts then moved to the Maldives, where he spent a year as the director of food and beverage at the 5-star Four Seasons Resort Maldives before returning to the United States for the opening of the Stowe Mountain Lodge in Stowe, Vt. There he helped create the lodge's farm-to-table dining experience.
Earlier this year, Lambrechts signed on at Forty 1° North in Newport, R.I., where he shares a world of flavor with diners and hotel guests alike.
---
Atlantic salmon with corn and mushroom ragout Serves 4
4 6-ounce salmon filets
1 ear corn on the cob
1 cup shitake mushrooms, stemmed
1 tablespoon chopped shallot
¼ cup diced leek
¼ cup diced celery
1 bunch basil, stemmed
½ cup plus 4 tablespoons pure virgin olive oil
1 tablespoon finely chopped garlic
1 teaspoon chopped fresh thyme
4 cups spinach, washed and stemmed
2 tablespoons butter, divided
Roast the corn in a pre-heated oven at 350 degrees for 10 minutes. Use a sharp knife to cut the corn kernels from the cob.
Heat 1 tablespoon of olive oil and 1 tablespoon of butter in a sauté pan. Add the celery, shallot, leeks, salt and pepper. Cook for 4 minutes.
Spread the mushroom caps on a sheet pan and roast in a pre-heated oven at 400 degrees for 5 minutes, stirring occasionally. Remove the mushroom caps from the oven; sprinkle with fresh thyme.
Combine the roasted corn; sautéed celery, shallot and leeks; and mushroom caps in a bowl to create a ragout. Keep warm.
Blanch the basil leaves in boiling water for 15 seconds. Drain. Cool quickly in ice water. Drain again. Combine the basil leaves and 1⁄2 cup extra virgin olive oil in a blender; blend until smooth. Season to taste with salt and pepper. Strain the mixture through a coffee filter. Set aside.
Heat 2 tablespoons of olive oil and 1 tablespoon of butter in a sauté pan. Season the salmon filets with salt and pepper. Place the filets in the sauté pan and cook for 3 minutes on each side.
Heat 1 tablespoon of extra virgin olive oil in a skillet over medium high heat. Add garlic and cook for a few seconds. Add spinach: Toss quickly until spinach begins to wilt.
Presentation: Spoon a portion of the ragout onto each of 4 plates. Place a salmon filet on the ragout. Top the salmon with a portion of sautéed garlic spinach. Garnish with basil oil.
---
Maine Jonah crab cake with fennel salad and citrus vinaigrette Serves 1
For the crab cake:
3 ounces crabmeat (squeeze out the excess liquid)
1 teaspoon chopped chives
1 teaspoon red pepper, very finely diced
1 teaspoon celery, very finely diced
1 teaspoon red onion, very finely diced
1 teaspoon fresh lemon juice
1 teaspoon Dijon mustard
Salt and pepper, to taste
Fresh breadcrumbs
Combine crabmeat, chives, red pepper, celery, red onion, lemon juice, Dijon mustard and salt and pepper in a bowl. Mix well. Press the mixture into a 2½-ounce mold to make a crab cake. Sprinkle the crab cake with fresh breadcrumbs. Heat a small amount of oil in a sauté pan. Place the crab cake into the heated pan and sear on both sides.
For the fennel salad with citrus vinaigrette:
Orange juice
Grapefruit juice
Lemon juice
Extra virgin olive oil, as needed
½ fennel bulb, sliced very thin
½ cup of baby arugula
Salt and pepper, to taste
5 orange segments
Combine equal parts of orange juice, grapefruit juice and lemon juice in a saucepan over medium heat. Reduce by one half. Set aside to cool. Blend in extra virgin olive oil. Season with salt and pepper to taste.
Combine the fennel and arugula in a bowl. Toss with the citrus vinaigrette. Season to taste with salt and pepper.
Presentation: Arrange the orange segments in a spiral pattern around a plate. Place the fennel salad on the plate inside the orange segments. Top with the crab cake.
---
Lavender crème brûlée with citrus salad Serves 5
1 pint heavy cream
1 tablespoon dried lavender
4 egg yolks
½ cup of sugar
4 tablespoons brown sugar
1 orange, peeled and segmented
1 grapefruit, peeled and segmented
Combine the cream and dried lavender in a pan; simmer over low heat for about 12 minutes. In the meantime, use a whisk to combine the egg yolks and sugar. Combine the cream with the egg yolks and sugar. Strain through a fine sieve to remove the dried lavender.
Pour the cream mixture into ramekins. Place the ramekins in a double boiler over hot water. Place the double boiler in an oven pre-heated to 275 degrees and cook for 40 minutes. Remove from oven and let cool. Sprinkle with brown sugar and use a blow torch to caramelize until the top is crispy.
Presentation: Place each ramekin on plate. Garnish with the orange and grapefruit segments.
Forty 1° North
351 Thames St.
Newport, RI 02840
tel 401 846 8018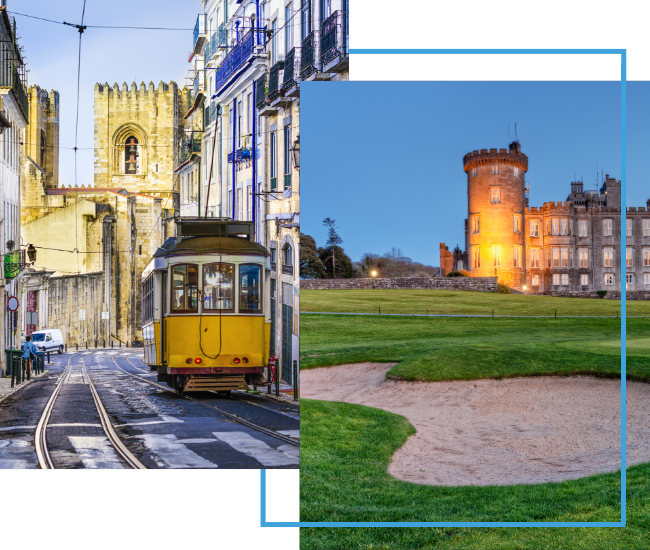 FX Excursions
FX Excursions offers the chance for once-in-a-lifetime experiences in destinations around the world.
Explore Excursions
If fabulous food and beverages are a must-have for any weekend getaway, then look no further than the City of Brotherly Love. Whether your palate has a penchant for vibrant Latin American fare or cozy French cuisine, whether you're an oenophile looking to swirl, sniff and sip your way around the globe or you'd rather sample farm-to-glass cocktails, Philly's got it all this fall. (With the exception of Bolo, which is a short taxi or Uber ride away and definitely worth the trip, the rest of these spots are all within walking distance of each other.)
Sponsored Content
Many small- and medium-sized businesses face time and budget constraints when organizing corporate hotel travel for employees. To address this problem, IHG® Business Edge emerged as a cost-free business travel solution for small- to medium-sized enterprises, offering travel managers exclusive access to enticing perks, handpicked educational resources and comprehensive company travel metrics. IHG Business Edge connects our loyal customers to our portfolio of 5,800 hotels and resorts across 18 brands in more than 100 countries.
From Santoríni to Dubai to New York, some hotels just have that "it" factor that draws visitors far and wide. For some hotels it's their proximity to popular landmarks and attractions, for others it's their amenities. But these hotels have something few can claim: a true room with a view.