Award-winning chef Adam Mali brings a bicoastal philosophy to his cuisine. As executive chef at Mandarin Oriental, San Francisco, Mali created reinvigorated menus for all of the hotel's food outlets, including the new Brasserie S&P. In addition to spearheading the hotel's food rebirth, Mali was recently named one of the top five Chefs to Watch by John Mariani for Esquire magazine.
Mali's extensive background includes experiences on both U.S. coasts. A New York native, Mali studied at Le Cordon Bleu Scottsdale Culinary Institute and began his career as sous chef at Gianni's in New York City for three years. He then moved to Jodi's Restaurant in the Massachusetts Berkshires. Crossing the country for an externship at the 5-star and 5-diamond Restaurant Gary Danko, he would eventually be named Food & Wine's Best New Chef of 2001, serve as a cook at Delfina under Craig Stoll and work as executive chef for the Montecito Restaurant Group in Denver, Colo. During his time in Colorado, the James Beard Foundation honored him in 2005 as a Great Regional Chef in America. As chef and owner of Restaurant Kody in Evergreen, Colo., Mali earned the distinction of one of Denver's top 10 restaurants by 5280 magazine in 2003.
Mali is passionate about cuisine, but his passions extend beyond the kitchen as well. In addition to growing fresh vegetables in his home garden, baking with his daughters and hiking Sonoma County, Calif., Mali is a first-level sommelier and a fully certified Alpine ski instructor. His interests are as well-rounded as his cuisine.
Grilled flatiron steak, roasted cherry tomatoes, mustard sauce
Serves 1
For the marinade:
1 tablespoon balsamic vinegar
1 tablespoon olive oil
½ teaspoon kosher salt
¼ teaspoon minced rosemary
¼ teaspoon cracked black pepper
For the steak:
1 8-ounce piece flatiron steak
Marinate the steak in the marinade mixture for a minimum of 1 hour, or refrigerate overnight. Grill to desired doneness.
For the cherry tomatoes:
10–12 cherry tomatoes, preferably Sweet 100s
1 sprig thyme
½ teaspoon sea salt
⅛ teaspoon cracked black pepper
1 tablespoon extra virgin olive oil
Toss tomatoes in olive oil, salt, pepper and thyme. Roast for about 3 minutes at 375 degrees. Let cool.
For the mustard sauce:
1 shallot, minced
Olive oil
½ cup dry white wine
1 tablespoon Dijon mustard
1 tablespoon whole grain mustard
1 teaspoon lemon juice
1 cup chicken stock or broth
1 small bunch Italian parsley
Sweat shallots in a little olive oil, then add white wine. Cook out the wine for about 30 seconds, then add mustards, lemon juice and chicken stock. Cook on low heat until all combined. Add minced parsley.
PRESENTATION: Cover plate with mustard sauce. Top with roasted cherry tomatoes and sliced flatiron steak.
Grilled salmon, roasted cauliflower, English peas, salsa verde
Serves 1
For the salmon:
1 6-ounce piece salmon, preferably wild king
Olive oil
Kosher salt
Cracked black pepper
Brush olive oil on salmon, sprinkle with kosher salt and cracked pepper. Grill on medium heat for about 2 minutes, turn and grill for another minute. Let rest for about 3 minutes.
For the cauliflower:
1 head white cauliflower
1 tablespoon extra virgin olive oil
½ teaspoon kosher salt
⅛ teaspoon cracked black pepper
⅛ teaspoon minced rosemary
Cut florets off stem into pieces about the size of a marble. In a bowl, toss with olive oil, salt, pepper and rosemary. Roast in oven at 350 degrees, turning at 5-minute intervals, for about 15 minutes, or until tender.
For the English peas:
1 cup English peas, shelled
½ ounce butter
1 sprig mint, minced
Kosher salt to taste
In boiling, salted water (enough salt to make the water taste like the sea), boil peas for approximately 30 seconds. Submerge in ice water for about 2 minutes and drain water. On low heat, melt butter and add peas. Cook for about 3 minutes and add mint to finish.
For the salsa verde:
1 bunch Italian parsley
1 sprig thyme
1 sprig rosemary
4–5 basil leaves
4–5 mint leaves
1 teaspoon capers
1 cup olive oil
½ teaspoon kosher salt
½ teaspoon lemon zest
2 cloves garlic, minced
Put all ingredients in a blender and pulse until combined.
PRESENTATION: To finish plate, place cauliflower and peas in the center of the plate. Put grilled salmon on top. Drizzle salsa verde around the plate and a little on top of the fish if desired.
Mandarin Oriental, San Francisco
222 Sansome St.
San Francisco, CA 94104
tel 415 276 9888
mandarinoriental.com
Read another recipe from Chef Adam Mali.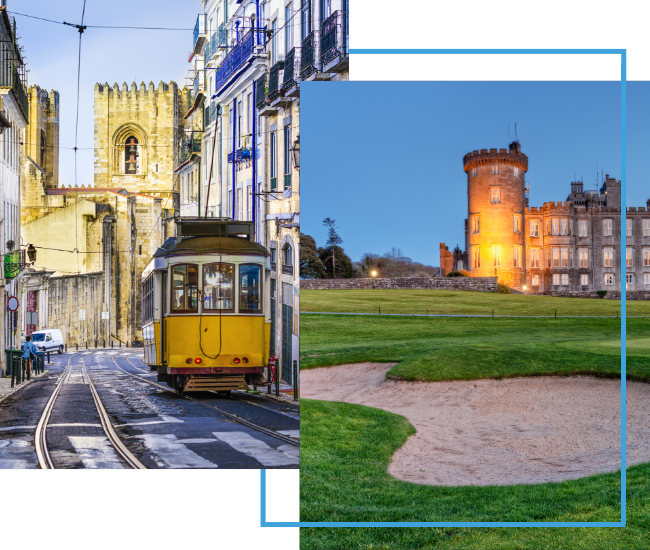 FX Excursions
FX Excursions offers the chance for once-in-a-lifetime experiences in destinations around the world.
Explore Excursions
There is something magical about sipping a glass of local wine while watching the sun slip into the Aegean Sea as the afterglow tinges traditional, white-washed Cycladic houses with glorious shades of rose, purple and gold. Ancient Greeks believed Helios, the Sun God, caused sunsets by driving his fiery chariot into the sea. Standing at water's edge in Mykonos, watching the sky slowly turn from purple to inky black, you almost believe it.
The prospect of a post-visit treasure hunting session inside the shops of landmark museums such as the Louvre in Paris, the Uffizi Gallery in Florence and The British Museum in London can be irresistible. However, some of Europe's smaller and more unusual museums boast retail spaces with a surprising "wow" factor, often as well-curated as the galleries.