Arkelare in San Sebastian, Spain. Blue Hill in New York City. El Raco de Can Fabes in Barcelona. Chef Juan José Cuevas' curriculum vitae reads like a page from a Michelin Guide.
A Puerto Rico native, Cuevas graduated with honors from the Culinary Institute of America. He has worked with such acclaimed chefs as Sylvain Portay, Alain Ducasse, Santi Santamarie, Christian Delouvrier, Dan Barber and Ed Brown. The International Academy of Gastronomy named Cuevas Chef de l'Avenier (Chef of the Future) in 2009.
Cuevas comes full circle with his return to Puerto Rico, where he is executive chef at the Condado Vanderbilt Hotel's signature eatery, 1919.
Confit of Fluke with Aromatic Tomato Broth
Serves 4
For the aromatic tomato broth:
1 tablespoon extra virgin olive oil
3 shallots, peeled, brunoised
1 quart gazpacho water
½ ounce young ginger, peeled, fine julienne
1 pint red currant tomatoes
1 Trinidad chili
1 ounce cilantro leaves, fine chiffonade
1 lemon segment, seeded
1 teaspoon fleur de sel
Heat the olive oil in a non-reactive pan. Add the shallots and sweat. Add the gazpacho water and heat until the temperature is just below a boil. Add the ginger, tomatoes, chili, cilantro and lemon. Season to taste with fleur de sel.
For the confit of fluke:
2 cups extra virgin olive oil
1 bay leaf, fresh
1 sprig thyme
1 tablespoon whole black peppercorns
12 ounces garlic, smashed
4 4-ounce fluke filets, skin removed
2 ounces salt
Combine the olive oil, bay leaf, thyme, peppercorns and garlic in a non-reactive pot. Cook the mixture over low heat until it reaches approximately 90 degrees. Season the fluke with salt and add it to the warm oil. Cook the fluke for 6 minutes on each side.
PRESENTATION: Place a portion of fluke on each plate. Spoon tomato broth over the fluke.
Halibut a la Plancha with Bok Choy, Chive Blossoms and Aromatic Vegetable Broth
Serves 4
For the aromatic vegetable broth:
4 ounces fennel juice
4 ounces sour apple juice
4 ounces organic carrot juice
4 ounces pumpkin juice
4 ounces red pepper juice
1 ounce honey vinegar
½ ounce lime leaves, chopped
2 ounces lemongrass, chopped
1 ounce lemon thyme
2 teaspoons curry powder, toasted
1 teaspoon Tellicherry peppercorn
2 ounces extra virgin olive oil
½ ounce butter
½ ounce grapefruit juice
Combine all the juices (excluding grapefruit juice) in a saucepot over medium heat; reduce to 16 ounces. Add the honey vinegar, lime leaves, lemongrass, lemon thyme, curry powder and Tellicherry peppercorn. Steep for 10 minutes. Strain. Whisk in the butter, oil and grapefruit juice.
For the bok choy:
8 pieces baby bok choy
2 tablespoons water
1 ounce garlic oil
1 tablespoon Titan parsley
2 teaspoons chive oil
Salt, to taste
Stir-fry the bok choy with water and garlic oil. Finish with parsley, chive oil and salt, to taste.
For the halibut:
4 5-ounce pieces of halibut
Maldon salt, to taste
1 ounce olive oil
Heat the olive oil in a plancha (heavy skillet). Add the fish and cook for 3 minutes on each side. Season with Maldon salt.
For the garnish:
8 chive blossoms
PRESENTATION: Lay a portion of bok choy in the center of each bowl. Spoon the broth around the bok choy. Top each serving with a piece of halibut. Garnish with the chive blossoms.
Roasted Fennel with Vadouvan Curry, Honey, Organic Grains, Red Wine Reduction and Tomato Broth
Serves 4
For the roasted fennel:
2 fennel bulbs, split lengthwise
Salt, to taste
1 teaspoon Vadouvan curry
1 ounce olive oil
1 cup fennel juice
2 teaspoons honey
1 tablespoon orange juice
Cook the fennel in a water circulator (sous vide) at 185 degrees for about 45 minutes. Season the cooked fennel with salt and curry. Heat the olive oil in a sauté pan. Add the cooked fennel to sear. Finish with fennel juice, honey and orange juice.
For the grains:
3 ounces cooked faro
3 ounces cooked freekah
3 ounces cooked spelt
3 ounces cooked barley
1 tablespoon lemon preserves
2 tablespoons toasted chopped walnuts
2 tablespoons toasted chopped apple
1 tablespoon chopped scallion
1 tablespoon chopped cilantro
1 tablespoon chopped parsley
1 tablespoon chopped tarragon
1 tablespoon chopped mint
1 tablespoon chopped fennel fronds
1 tablespoon mushroom oil
2 tablespoons extra virgin olive oil
1 tablespoon white balsamic vinegar
Combine all ingredients. Season to taste.
For the red wine reduction:
2 tablespoons mushroom oil
1 shallot, diced
1 carrot, diced
1 celery stalk, diced
2 garlic cloves, germ removed
2 quarts red wine
1 cup Port
Heat the mushroom oil in a saucepan. Add the shallot, carrot, celery and garlic to caramelize. Add the red wine and Port. Continuing cooking over medium heat until the mixture reduces to about 1 cup.
For the tomato broth:
1 ounce honey
1 ounce sugar
1 ounce red wine vinegar
1 quart tomato water
3 tomatoes, roasted
1 stalk lemongrass
1 coriander root
1 ounce ginger juice
1 ounce orange juice
1 ounce lemon juice
Olive oil, to taste
Combine the honey, sugar and vinegar. Set aside. Combine rest of ingredients in a saucepan and simmer over medium heat for about 1 hour. Strain the cooked mixture through a fine sieve. Combine the honey, sugar and red wine vinegar mixture with the tomato liquid. Adjust to taste, adding citrus or extra virgin olive oil to balance the flavor.
For the garnish:
Shaved Parmesan cheese
PRESENTATION: Place a serving of the grain salad onto the center of each plate and top with half a roasted fennel bulb. Spoon the red wine reduction and the tomato mixture over all. Garnish with shaved Parmesan cheese.
1919
Condado Vanderbilt Hotel
1055 Ashford Ave.
San Juan, PR 00907
tel 787 724 1919
1919restaurant.com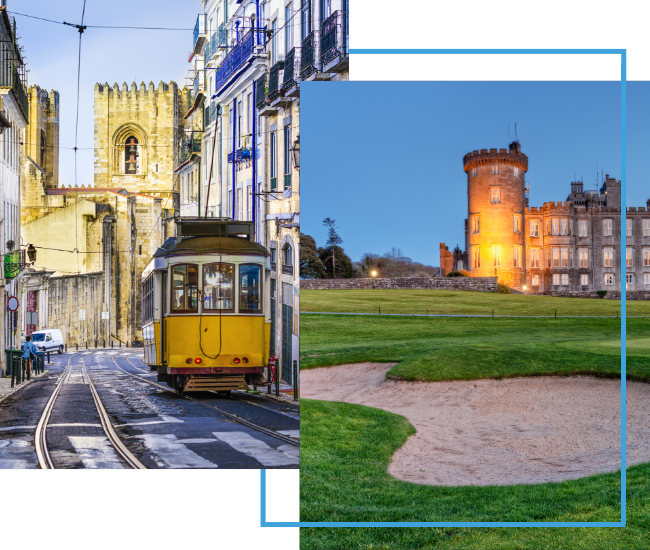 FX Excursions
FX Excursions offers the chance for once-in-a-lifetime experiences in destinations around the world.
Explore Excursions
A new and expanded campus at the Buffalo AKG Art Museum has been completed, reopening this summer and featuring new architecture designed by the architectural office of OMA New York, led by partner Shohei Shigematsu and project architects Lawrence Siu and Paxton Sheldahl, with Cooper Robertson (executive architect). The new expansion includes the Jeffrey E. Gundlach Building and extensive renovations to existing buildings. A $20-million commitment from New York State and Governor Kathy Hochul helped fulfill the expansion's budget and completes the $230 million capital campaign, the largest campaign for a cultural institution in the history of Western New York State.
Sponsored Content
Many small- and medium-sized businesses face time and budget constraints when organizing corporate hotel travel for employees. To address this problem, IHG® Business Edge emerged as a cost-free business travel solution for small- to medium-sized enterprises, offering travel managers exclusive access to enticing perks, handpicked educational resources and comprehensive company travel metrics. IHG Business Edge connects our loyal customers to our portfolio of 5,800 hotels and resorts across 18 brands in more than 100 countries.
Ever since opening in 2021, Nobu London Portman Square has served as the focal point for many gatherings, stays and experiences. This fall the hotel's Nobu Bar adds four more reasons to visit with an exciting array of offerings, menus and events.