Dual forces power the cuisine on Cunard Line's iconic Queen Mary 2, where twins Nicholas and Mark Oldroyd serve as executive chefs.
Both twins brought their culinary skills to sea, joining Queen Elizabeth 2 in September 1999. Mark worked his way to chef de cuisine, managing all six galleys and serving on board for seven years before becoming executive chef of Cunard's flagship Queen Mary 2. Nicholas also worked through the ranks before joining the opening team for Queen Victoria, becoming executive chef. Now as a resident on Queen Mary 2, he's served as executive chef aboard all three Cunard ships.
The Oldroyd twins were born in East Yorkshire, England, before moving to North Yorkshire. Both attended Scarborough Yorkshire Coast College, receiving awards and gaining professional experience in France and at Michelin-starred restaurants. They joined forces to cater exclusive events at North Yorkshire Golf Club in Strensell, York.
Today they enjoy vacationing at their home in Kissimee, Fla., relaxing by the pool and, of course, dining out to discover new culinary innovations and concepts.
WHAT THREE GO-TO INGREDIENTS ARE ALWAYS IN YOUR HOME KITCHEN?
Nicholas Oldroyd: The finest Belgian chocolates, strawberries and coffee
Mark Oldroyd: Chai tea, ice cream (it must be Häagen-Dazs) and chicken
WHAT'S YOUR FAVORITE SEASON FOR COOKING, AND WHY?
NO: Winter, because I love the festivities and traditions: the smell of mulled wine, Christmas midnight markets, roasting chestnuts, Christmas pudding with brandy sauce, wine, fattened roast turkey, pigs in blankets, roast goose and homemade game pie with all the artisan-style trimmings that go with a festive feast. And, last but not least, lots of Champagne and being with close friends and family.
MO: My favorite season is summer because food is at its best when it is kept simple and light but bursting with flavor. I have many memories of picking fresh strawberries in Yorkshire. The aroma and flavor are so natural, smelling wild notes of garlic in the woods of Dalby Forest. I also love meeting friends for barbecues — tasty grilled food cooked over the smoky charcoal and enhanced with aromatics, spices and rubs. Berry coolers and pool parties, summer is a season where families come together for a great time.
ASIDE FROM YOUR CURRENT POSITION, WHAT'S THE BEST JOB YOU'VE EVER HAD?
NO: One of my best jobs was when I was appointed the opening executive chef for Her Majesty the Queen. I met her in person, and my photo was in the tabloids. Being a twin, the newspaper had my name wrong and put Mark's name by mistake.
MO: For a few years, I worked for Nestlé in York. I was in my element and felt like Willy Wonka. I love chocolate and the aroma married with notes of caramel, mint, praline and vanilla. However, the best decision I ever made was to work at sea. Queen Elizabeth 2 was the first ship I joined as a demi chef de partie. I loved traveling the world, working with different nationalities and, of course, tasting authentic cuisine from around the world. It has been a priceless experience, which I still enjoy.
WHAT'S THE FIRST MEAL YOU EVER COOKED?
NO: If I can remember that far back, it would have been with Mum at Malton Golf Club in North Yorkshire, and I believe it was Yorkshire pudding.
MO: The first meal I cooked was a roast beef Sunday lunch. It was memorable because my father likes everything well done. The beef was like shoe leather. The best thing was that he really enjoyed it, and he said, "That's the way I like it!" As they say, the customer is always right. I still make the best Yorkshire pudding — it's better than Nick's!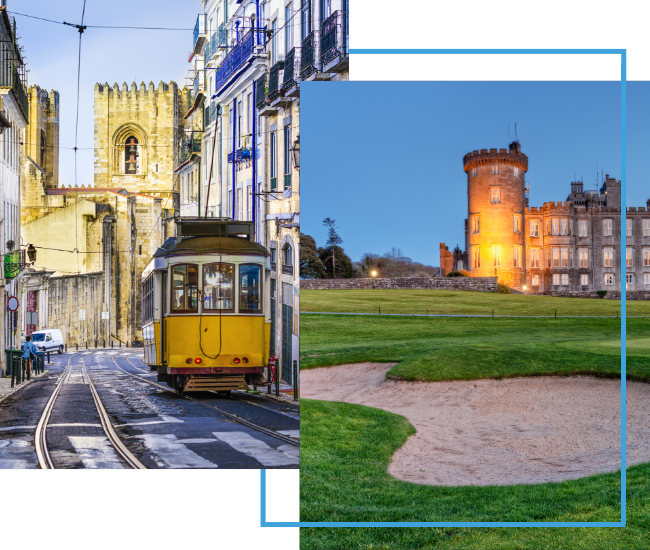 FX Excursions
FX Excursions offers the chance for once-in-a-lifetime experiences in destinations around the world.
Explore Excursions
One thing  surprising about the Prince Edward Island capital is its abundance of shops specializing in affordable, fashion-forward jewelry rendered in sterling silver, vermeil, 14K gold and semi-precious stones. Whether you prefer delicate pieces or bold wearable art, you can be assured the pieces for sale are inspired by the maritime island setting and, therefore, specific to the place where they are created. Here are a few shining, woman-owned examples:
Sponsored Content
In an increasingly digital and interconnected world, the Global Business Travel Association (GBTA) Convention remains an indispensable platform for business travel industry professionals seeking to make the most of the power of face-to-face connections. Taking place August 13–15 in Dallas, the 2023 GBTA Convention provides the unique opportunity for professionals and companies to join visionaries, thought leaders and industry experts for meaningful networking, cutting-edge insights and inspiring innovation.
Norway, a haven for visionary artists, architects and designers, showcases an exceptionally diverse array of cultural attractions. This year, the country commemorates exciting milestones and unveilings captivating enthusiasts of the arts, from iconic scenic routes to new museums to gallery openings. Up Norway features these new offerings in personalized itineraries catered to aesthetes.