AIRLINE FOOD AND THE PHRASE "award-winning" are rarely used in conjunction with one another; however, that is certainly not the case with Japanese carrier All Nippon Airways. The airline's catering division, ANA Catering Service Co., Ltd., is, in fact, a multihyphenate when it comes to awards and recognition.
As manager for general administration, Japan cuisine, for ANAC, Chef Hiroyuki Kawamura ensures the airline makes the most of the original flavors of each ingredient in the traditional washoku Japanese cuisine. The ANAC team selects seasonal ingredients to help passengers sense and experience the four seasons of Japan while in flight. Additionally, the airline was the first to serve kaiseki, a traditional multicourse Japanese cuisine, on board.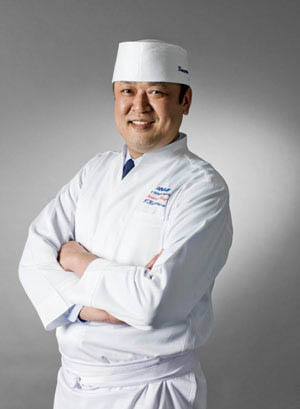 Kawamura began his career in the culinary industry, joining the Japanese Chef Association at 18 and working in various restaurants in the Chiba prefecture before joining ANAC 13 years later.
ANAC's first facility, in Narita, opened in 1989, since then expanding to Haneda and Kawasaki, both in Tokyo, for a total of three catering facilities.
WHICH DESTINATIONS INSPIRED YOU, AND HOW HAS THAT INSPIRATION TRANSLATED INTO YOUR COOKING/MENUS?
Aged beef T-bone steak in Chicago, fresh uni in Los Angeles: Each was tasty; I would like to explore how to make the most of the original flavors of each food ingredient like that in Japanese cuisine.
WHOM DO YOU CONSIDER TO BE YOUR CULINARY HERO?
My culinary hero is Hiroshi Miyamura. He mastered the techniques and skills in an old Japanese restaurant in Kyoto and taught me about the basics of Japanese cuisine.
WHAT ONE PERSON MOST INFLUENCED YOUR COOKING STYLE, AND HOW?
It's also Chef Miyamura. Apart from seasoning, the use of plates and dishes and visual presentation . . . he had the most influence on me.
WHAT IS YOUR FAVORITE FOOD CITY?
I recommend Seijogakuen in Tokyo; there is a Japanese restaurant called Seijoukitayama, located in an old Western building. They serve vegetables from the Saga prefecture of Kyushu, fresh and tasty.
WHAT DO YOU THINK THE NEXT BIG TREND ON THE FOOD SCENE WILL BE?
There will be more and more restaurants that serve washoku Japanese cuisine, in which they use local materials and keep the fresh flavors.
FX Excursions
FX Excursions offers the chance for once-in-a-lifetime experiences in destinations around the world.
The Ritz-Carlton, Nikko in Japan offers travelers exciting experiences this spring. Opened in July 2020, the property overlooks Lake Chūzenji and Mount Nantai in Japan's Northern Kanto region. With cherry blossoms (Sakura) set to bloom in April, the area is the perfect destination for a spring getaway.
Sponsored Content
Learning more about our readers' travel habits and preferences ensures Global Traveler delivers the content you desire. As the travel industry has adapted and changed over the last few years, it's more important than ever to connect. To best meet your short- and long-term travel content needs, please help us!
Scenic Luxury Cruises and Emerald Cruises currently offer travelers savings of up to $500 per cabin and a 50 percent reduction on deposits on select 2023/2024 river and ocean itineraries. The offers are available through March 31 and can be combined with others, such as early-booking savings of up to $1,500 per couple and a Pay in Full bonus that includes free or reduced airfare options.