AIRLINE FOOD AND THE PHRASE "award-winning" are rarely used in conjunction with one another; however, that is certainly not the case with Japanese carrier All Nippon Airways. The airline's catering division, ANA Catering Service Co., Ltd., is, in fact, a multihyphenate when it comes to awards and recognition.
As manager for general administration, Japan cuisine, for ANAC, Chef Hiroyuki Kawamura ensures the airline makes the most of the original flavors of each ingredient in the traditional washoku Japanese cuisine. The ANAC team selects seasonal ingredients to help passengers sense and experience the four seasons of Japan while in flight. Additionally, the airline was the first to serve kaiseki, a traditional multicourse Japanese cuisine, on board.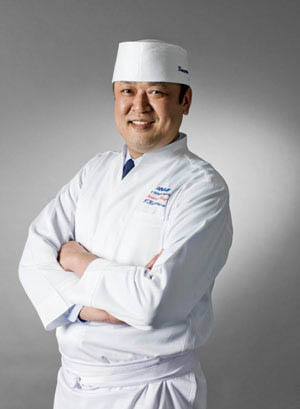 Kawamura began his career in the culinary industry, joining the Japanese Chef Association at 18 and working in various restaurants in the Chiba prefecture before joining ANAC 13 years later.
ANAC's first facility, in Narita, opened in 1989, since then expanding to Haneda and Kawasaki, both in Tokyo, for a total of three catering facilities.
WHICH DESTINATIONS INSPIRED YOU, AND HOW HAS THAT INSPIRATION TRANSLATED INTO YOUR COOKING/MENUS?
Aged beef T-bone steak in Chicago, fresh uni in Los Angeles: Each was tasty; I would like to explore how to make the most of the original flavors of each food ingredient like that in Japanese cuisine.
WHOM DO YOU CONSIDER TO BE YOUR CULINARY HERO?
My culinary hero is Hiroshi Miyamura. He mastered the techniques and skills in an old Japanese restaurant in Kyoto and taught me about the basics of Japanese cuisine.
WHAT ONE PERSON MOST INFLUENCED YOUR COOKING STYLE, AND HOW?
It's also Chef Miyamura. Apart from seasoning, the use of plates and dishes and visual presentation . . . he had the most influence on me.
WHAT IS YOUR FAVORITE FOOD CITY?
I recommend Seijogakuen in Tokyo; there is a Japanese restaurant called Seijoukitayama, located in an old Western building. They serve vegetables from the Saga prefecture of Kyushu, fresh and tasty.
WHAT DO YOU THINK THE NEXT BIG TREND ON THE FOOD SCENE WILL BE?
There will be more and more restaurants that serve washoku Japanese cuisine, in which they use local materials and keep the fresh flavors.
FX Excursions
FX Excursions offers the chance for once-in-a-lifetime experiences in destinations around the world.
Situated deep within the Scottish Highlands, just steps from many lakes and mountains, lies 57 Nord. This collection of two design-led boutique hideaways blends the region's Norse-Gael heritage by incorporating Scottish craftsmanship, modern Scandinavian design and panoramic views into both structures.
Sponsored Content
Sweet tea. Soul food. Y'all. Sound familiar? Though these words and phrases are commonly associated with the South, it's understood in any language. If you're seeking a city abroad that will enchant you, capture your attention from start to finish and welcome everyone as family, we cordially invite you to visit Savannah.
Oslo's Art Deco connections just grew stronger with the opening of Sommerro, housed within a historic building in the city's West End neighborhood of Frogner. The structure itself was once the location of the city's original electrical company, Oslo Lysverker. The conversion to urban, luxury lodging features 231 guestrooms, 56 residences, seven restaurant and bar options, and meeting and event spaces for up to 150 people. There's also a 100-seat gilded theater and expansive wellness space, including a full-service gym and Oslo's first, year-round rooftop pool, sauna and terrace.