Chef German Lucarelli's résumé reads like a global atlas. The Argentine native has cooked in some of the most prestigious kitchens the world over — Paris, London, Buenos Aires, Uruguay, Paraguay, Brazil, Spain, Chile — always with an Italian flair.
The celebrated chef brings that world of experience to New York City's Montenapo, where he has created an authentic Italian menu inspired in part by his grandmother.
"No matter what country I was in, I always cooked Italian food I learned in my grandmother's kitchen," said Lucarelli. "I never tried to fuse it with another style of cooking because Italian food is perfect as it is.
"Wherever I travel, I have found that people love authentic Italian cuisine, and I love to cook it for them."
---
Eggplant Parmigiana
For the eggplant:
1 large purple eggplant
Flour, as needed
6 ounces fresh mozzarella, thinly sliced
Mediterranean oregano, to taste
Fresh Israeli basil, chopped
Ligurian extra virgin olive oil
Salt and black pepper, to taste
Grated, aged Parmigiano-Reggiano cheese
Cut eggplant into ¼-inch slices. Dredge the eggplant slices in flour and sauté in a hot pan coated with olive oil until brown and tender. Remove the eggplant slices from the pan and pat dry to remove excess oil.
For the San Marzano tomato sauce:
1 pound ripe San Marzano tomatoes
6 basil leaves
1 celery stalk, chopped
1⁄2 white onion, chopped
1 garlic clove, peeled
1 small carrot, chopped
4 tablespoons Ligurian extra virgin olive oil
Salt and black pepper, to taste
Scald the tomatoes in boiling water. Peel, seed and crush them. Heat the oil in a skillet. Add onion, celery, carrot and garlic and sauté until brown. Add the tomatoes, salt and pepper. Cover and cook for 20 minutes. Add the basil. Let sauce cool. Add olive oil to taste.
For the pesto:
1⁄2 pound fresh basil leaves
2 ounces toasted pine nuts
4 peeled garlic cloves
Salt and black pepper, to taste
2⁄3 cup Ligurian extra virgin olive oil
Wash and dry the basil. Place basil in a blender; add pine nuts, garlic, a pinch of salt, and pepper to taste. Blend until the mixture becomes a soft green paste. Gradually drip in oil while continuing to blend. Place the pesto in bowl. Adjust seasoning to taste.
For the garnish:
2 tablespoons grated Pecorino cheese
2 tablespoons grated Parmigiano-Reggiano cheese
Assembly: Cover ¾ of each eggplant slice with tomato sauce. Place a slice of fresh mozzarella and a sprinkle of basil on top of tomato sauce. Drizzle with olive oil. Season with salt and pepper. Roll each slice into a cylinder and place into a greased baking dish. Cover with remaining tomato sauce. Sprinkle with parmesan cheese. Bake at 350 degrees for 10 minutes or until the cheese is melted.
Presentation: Top each serving with pesto sauce. Sprinkle with Pecorino and Parmigiano cheeses. Drizzle with extra virgin olive oil.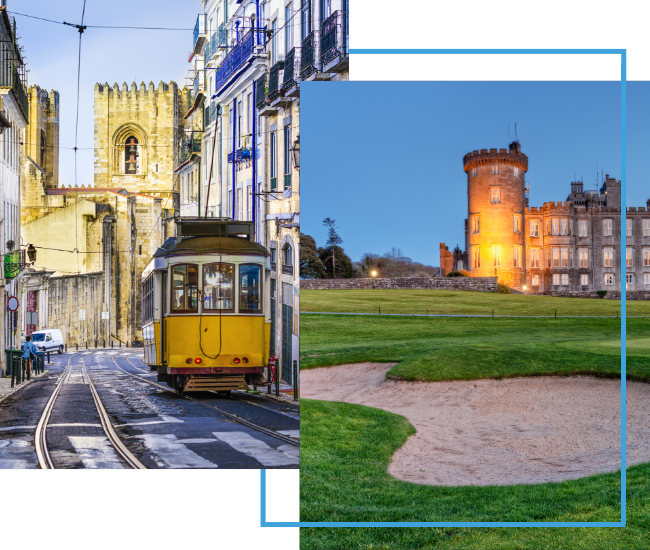 FX Excursions
FX Excursions offers the chance for once-in-a-lifetime experiences in destinations around the world.
Explore Excursions
Did the new film Oppenheimer rouse your interest in the nefarious world of international espionage? You can go straight to the real-life setting for covert actions this November (Nov. 10–12), when La Fonda on the Plaza in Santa Fe hosts a specially themed "Spies, Lies and Nukes" weekend. The hotel actually served as the retreat location for Manhattan Project scientists, who stayed at La Fonda on the Plaza to take a break from the stress of their work. During the weekend, the property's La Fiesta Lounge will make a tasty nod to those days by serving up a special Atomic Martini.
Sponsored Content
United Airlines is in the midst of a major initiative to modernize its fleet over the next several years. After first announcing the plan in 2021, planes fitted with United's signature interior are finally beginning to appear across the airline's narrowbody fleet of Boeing and Airbus planes. United flyers are sure to notice these enhancements from the moment they step on board: Each new or updated plane sports remodeled seats, seatback entertainment screens for everyone, Bluetooth connectivity and more, all adding up to a better experience on every journey.
Ever want handcrafted martinis and freshly shucked oysters delivered straight to your room? The Read House's New Martinis & Pearls service has you covered. Shining in 1920s-themed decor, the historic hotel in the heart of Chattanooga offers a true Gatsby-esque experience, now further elevated with this upscale amenity. Guests can now indulge in their perfectly chilled martini, made to order, and "pearls" (oysters) in the comfort of their room.