Chef Guillermo Pernot is spicing things up in Philadelphia and Atlantic City where the menus he has created for Cuba Libre Restaurant and Rum Bars feature Latino-influenced dishes full of flavor, color, aroma and passion.
Pernot's culinary style, dubbed Nuevo Latino, builds on a base of fresh ingredients, exotic vegetables and colorful fruits combined to create both traditional and updated Latino dishes. The result is an intensely flavorful dining experience.
A native of Argentina, Pernot began his culinary career at the Sweetwater Farm Bed and Breakfast in Chester County, Pa. He also served as chef de cuisine at Philadelphia's five-diamond Rittenhouse Hotel and as executive chef at Philadelphia's Vega Grill. In 1998, Food & Wine named Pernot one of "America's Ten Best New Chefs" and Restaurant Hospitality Publications selected him as one of that year's "Ten Rising Stars."
Pernot has received awards from Fodor's travel publications, Gourmet and Philadelphia magazines. In 1999, Esquire magazine named him "Chef of the Year;" in 2001, he received the James Beard Foundation Award for "Best Single Subject Cookbook" for Ceviche: Seafood, Salads and Cocktails with a Latin Twist; and in 2002, he was named the James Beard Foundation's "Best Chef in the Mid-Atlantic Region."
---
Pargo a la Parilla Serves 2
For the red snapper:
2 7- to 8-ounce red snapper fillets, with skin
1⁄2 teaspoon ground cumin
1⁄2 teaspoon ancho chile powder
1⁄8 teaspoon chipotle chile powder
2 tablespoons vegetable oil
Salt and pepper, to taste
Combine cumin, ancho chile powder, chipotle chile powder, vegetable oil, salt and pepper. Add the fish, coating it on both sides with the seasoning. Set aside to marinate for 20 minutes. On a clean, well-oiled, very hot grill, cook the fillets, flesh side down first, until opaque and just done, about 3 minutes per side, turning once.
For the oyster and Maui onion ceviche:
12 oysters, shucked
1⁄4 cup soy sauce
1⁄4 cup rice vinegar
2 lemons, juiced
1 orange, juiced
1⁄2 Maui onion, finely chopped
1⁄2 plum tomato, minced
1 serrano pepper, sliced
1 tablespoon cilantro, chopped
2 teaspoons extra virgin olive oil
Salt and pepper, to taste
Combine all ingredients. Let stand for one hour and spoon over cooked LATIN ZEST: Chef snapper before serving.
---
Torta de Congrejo Serves 6
For the crab cakes:
1⁄4 cup unsalted butter, melted and cooled
2 large eggs, beaten lightly
6 tablespoons mayonnaise
2 tablespoons fresh lemon juice
1 teaspoon Worcestershire sauce
1 teaspoon paprika
1 teaspoon Cuba Seasoning
(available at Cuba Libre)
1⁄2 teaspoon salt
1⁄4 teaspoon cayenne pepper
2 pounds jumbo lump crabmeat, picked and cleaned
2 cups fine fresh bread crumbs
1⁄2 cup vegetable oil
Sliced cucumbers and peppers, for garnish
In a bowl, whisk together the butter, eggs, mayonnaise, lemon juice, Worcestershire sauce, paprika, Cuba Seasoning, salt and cayenne pepper. Gently stir in the crabmeat. Form onecup measures of the mixture into six 11⁄2-inch-thick cakes. Transfer the crab cakes to a baking sheet and chill them, covered with plastic wrap, for at least one hour or overnight.
Remove from refrigerator and roll cakes in the bread crumbs. In a large heavy skillet, heat the oil over moderate high heat until it is hot, but not smoking. Sauté the crab cakes in batches, turning them once, for 3 to 4 minutes on each side, or until they are golden. As they are cooked, transfer them to paper towels to drain. Place crab cakes on a baking sheet and keep warm in an oven set to 200 degrees.
For the gazpacho vinaigrette:
18 Roma tomatoes
2 medium English cucumbers
1 medium red onion, chopped
1 green bell pepper, chopped
1⁄4 cup Tabasco
1⁄3 cup olive oil
1⁄2 cup red wine vinegar
3 garlic cloves, finely chopped
2 jalapeño peppers
2 tablespoons salt
5 tablespoons fresh basil leaves
5 tablespoons cilantro leaves
1 tablespoon parsley leaves
Run all the ingredients through a meat grinder with a medium dial, mix well. Season to taste.
PRESENTATION: On each plate, place a half-cup of the gazpacho vinaigrette. Top with a crab cake and garnish with sliced cucumbers and peppers.
---
Tortilla Española Serves 6
1 pound Spanish onions, julienned
2 pounds Yukon gold potatoes, cut into 1⁄8-inch slices
10 tablespoons olive oil
6 eggs
Salt and fresh ground pepper, to taste
In a skillet, heat six tablespoons of the olive oil, add onions. Cover and sauté for 10 minutes over low heat until onions are soft and golden, stir occasionally. Uncover and cook for 30 minutes until the onions begin to melt. Remove onions from pan with slotted spoon and let cool.
In the same skillet, sauté the potatoes at medium heat until golden. Remove potatoes from pan with slotted spoon and cool.
Beat the eggs and add the potatoes and onions. Let the mixture rest for 20 minutes. In a 10-inch non-stick skillet, heat the remaining four tablespoons of oil until hot. Pour the mixture into the pan and cook over moderate heat, loosening the edges with a spatula, for about 12 minutes. When almost set, put a plate over the top of the skillet. Invert the skillet, brown side up.
---
For the Romesco sauce:
2 dried ancho chiles, crushed
1 red pepper, diced
4 shallots, sliced
12 cloves garlic
1 cup tomato juice
1 pound ripe tomatoes, coarsely chopped
1 tablespoon paprika
1 teaspoon saffron
1 tablespoon ground cumin
2 teaspoons coriander seeds
3⁄4 cup whole almonds
1⁄2 cup red wine vinegar
2 large, thick slices country bread, crusts removed, cut into
1⁄2-inch cubes
1 teaspoon salt
1⁄2 teaspoon freshly ground black pepper
3⁄4 cup fruity Spanish olive oil
Preheat the oven to 350 degrees. In a roasting pan, combine the first 10 ingredients for the sauce. Roast for 35 minutes or until the tomatoes start to brown. Roast almonds in a separate pan for 10 minutes. Cool the almonds completely then grind together in a food processor with the roasted vegetables. Soak the bread cubes in vinegar, and add along with salt and pepper to the processor. Grind together briefly until evenly pureed. With the motor running, add the olive oil in a thin stream.
PRESENTATION: Cut the tortilla into six wedges. Place each wedge on a plate. Serve with Romesco sauce and a side salad.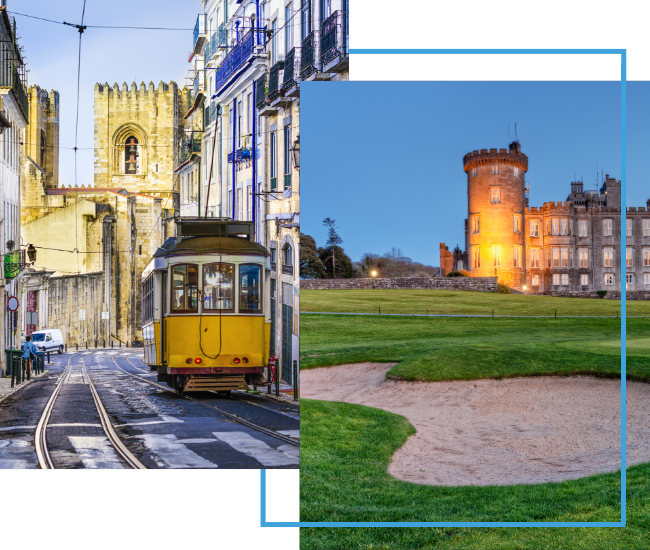 FX Excursions
FX Excursions offers the chance for once-in-a-lifetime experiences in destinations around the world.
Explore Excursions
Pleasant weather, autumn foliage and vibrant flowers are among the many delights awaiting nature lovers at botanical gardens and arboretums across the United States. However, some of these green spaces take on additional color this month and through Halloween when enterprising gardeners, landscape architects, management and other creative minds cast a spell with themed environments running the gamut from spooky to utterly bewitching.
Sponsored Content
Exclusive Sailing with Global Traveler
For travelers who love all things autumn, Crystal Springs Resort, New York City's closest destination resort, features special offers and experiences to meet the demands of everyone's fall bucket list. Located only 80 minutes outside New York City in Sussex County, New Jersey, Crystal Springs Resort offers a quick getaway to enjoy fall foliage. Are any of these new offers or experiences on your bucket list?