IT'S A FOOD PAIRING you likely won't experience anywhere else. At Brasserie Prince by Alain Roux at The Balmoral Edinburgh, Executive Chef Alain Roux, in collaboration with his father, Michel Roux, O.B.E., matches the best in Scottish produce with classic French cooking. The seasonally inspired classics include freshly caught seafood, a raw bar, lively light bites and sharing plates.
The collaboration marks a pairing of two families famed in the hospitality industry: Roux and his father with Rocco Forte Hotels. The Balmoral, a landmark in the city, has served as Edinburgh's most prestigious address for more than a century. It boasts other eateries, including the Michelin-starred Number One restaurant and an award-winning spa.
WHICH DESTINATIONS INSPIRED YOU, AND HOW HAS THAT INSPIRATION TRANSLATED INTO YOUR CULINARY CONCEPTS? I seek inspiration wherever I go. When I arrive in a destination, I love to explore the local ingredients, so a visit to the local market is a must. It's always been about the beauty of things as well as the taste, for me. California is a chef's paradise, stretching from farmers' markets to Chinatown in San Francisco. There is such a rich variety of ingredients. Asia is also a mecca for chefs, and I love to explore the crazy, busy streets and fall in love with a recipe to bring home. I'm obsessed with the simplicity of the flavors and ingredients.
But when it comes to ingredients, Scotland is hard to beat; it is the heart of Great Britain for food. The cold, clean waters of its lochs and seas mean Scotland's fish and seafood is some of the best in the world. I love the Highland beef, game, wildfowl, venison and the quality, freshness and flavor of the fruits and vegetables.
WHOM DO YOU CONSIDER TO BE YOUR CULINARY HERO? Either my dad, Michel, or Uncle Albert … depends who's listening! I must also credit my mother, Françoise, a naturally gifted cook, and perhaps the family's most important culinary influence, my maternal grandmother, Germaine. We all grew up on her humble yet delicious recipes.
WHAT ONE PERSON MOST INFLUENCED YOUR COOKING STYLE? It is difficult to choose since I have worked under eight head chefs, mainly in France at some Michelin-starred restaurants. If I have to choose one, it would be Denis Ruffel, chef owner of Pâtisserie Millet in Paris, under whom I served an apprenticeship during the 1980s. Chef Ruffel was an inspiring, generous teacher who guided me through a varied, focused pastry apprenticeship, but he taught me so much more. I accompanied him to the food markets, worked with him on his cookbooks, participated in demonstrations and collaborated on new recipes. We also catered for special events for private customers, so it was an excellent, multifaceted learning ground.
WHAT IS YOUR FAVORITE FOOD CITY? I have two equal favorites on opposite sides of the globe: New York and Tokyo. New York is mind-blowing for its sheer diversity. Even fast food and tea shops offer outstanding service and top-quality ingredients; I don't know how they do it. I love Asian flavors, and I find the best representation in Tokyo, where I love to explore and always discover a new style of dish, restaurant or combination of ingredients. The food is less processed and meals are balanced.
WHAT DO YOU THINK THE NEXT BIG TREND ON THE FOOD SCENE WILL BE? I sense restaurants serving food sourced from their own kitchen gardens or at least locally will become more popular. The consumer is losing trust in corporate mass production and the damage it is wreaking on our health and environment. It's about self-respect and wanting to eat food on our doorstep. As a chef, I feel passionate about this and place great importance on building relationships with local suppliers when sourcing grains, meat, fish, organic vegetables, fruit and even dairy products.
THE BALMORAL EDINBURGH
1 Princes St.
Edinburgh EH2 2EQ
United Kingdom
tel 44 131 556 2414
roccofortehotels.com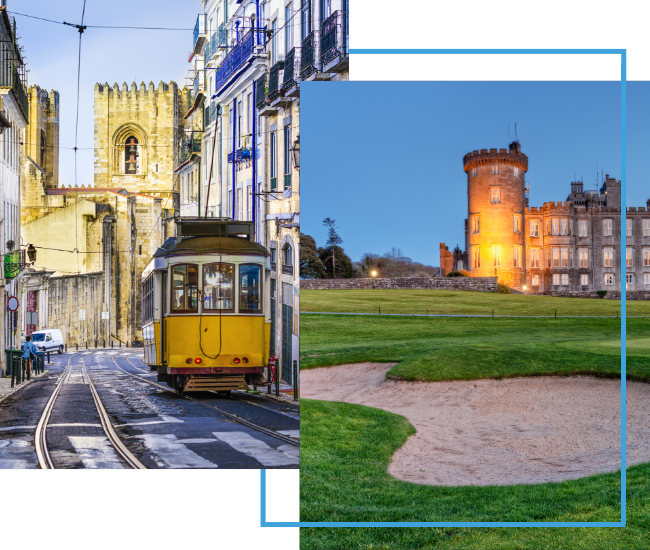 FX Excursions
FX Excursions offers the chance for once-in-a-lifetime experiences in destinations around the world.
Explore Excursions
In addition to intimate settings, smaller staff-to-passenger ratios, and personalized food and beverage options, river cruises have the advantage of providing a deeper dive into a region's culture, food and history. The Rhine, Rhône and Danube in Europe and the Mississippi River and St. Lawrence in North America have much to offer travelers with their itineraries, tying together beloved cities and lesser-known destinations along their routes.
Sponsored Content
Many small- and medium-sized businesses face time and budget constraints when organizing corporate hotel travel for employees. To address this problem, IHG® Business Edge emerged as a cost-free business travel solution for small- to medium-sized enterprises, offering travel managers exclusive access to enticing perks, handpicked educational resources and comprehensive company travel metrics. IHG Business Edge connects our loyal customers to our portfolio of 5,800 hotels and resorts across 18 brands in more than 100 countries.
With the holidays right around the corner, travelers are preparing for holiday travels. For those looking for a last-minute getaway filled with holiday cheer, consider Croatia. With a variety of winter activities perfect for travelers and locals alike, the Christmas countdown in Croatia is in full swing. Leading up to Christmas, Advent in Croatia makes it even more worth your while to visit the country with free winter incentives. If you plan on visiting Croatia, here are five cities going all out for the holiday season: