The original Iron Chef TV show inspired Anthony Wayne Jones, Jr. to pursue a career as a chef. In a full- circle moment, he became a Chopped (also a Food Network program) champion in 2022. Since graduating from Johnson and Wales University in Charlotte, North Carolina, his career has taken him around the District of Columbia, Maryland and Virginia region and to Florida. Now, full circle once again, the Maryland native finds himself returning to the DMV area as executive chef of Dirty Habit at Kimpton Hotel Monaco Washington DC.
Housed in the hotel building's historic mailroom and courtyard, Dirty Habit creates a vivacious social scene around its craft cocktails, shared plates, innovative design and large patio. The restaurant, open for breakfast, lunch, dinner and weekend bottomless brunch, serves hotel guests and locals their meals in the main dining room or the Glass House.
WHICH FOOD IS YOUR GUILTY PLEASURE? AND ON THE OPPOSITE END OF THE SPECTRUM, WHAT IS ONE INGREDIENT OR FOOD YOU HATE TO USE? My guilty pleasure food is Ritz crackers and spray-can cheese, but there's no ingredient or food yet that I hate to use.
WHAT DISHES WOULD YOU SERVE AT A PRIVATE DINNER PARTY? Whenever I actually do a private dinner party, I like to cook food or dishes that pull from childhood memories or life events. One dish in particular is a corn and bay leaf custard with fresh blue crab and caviar. My grandmother and father love eating crabs and corn at a family event every summer. The caviar is obviously an upgrade to give the dish more refinement. The second dish would be an interpretation of peaches and cream. My great-grandmother, when she was alive, would jar peaches late in the summer so, even in December or January, we could enjoy peaches that had the same amazing flavor from the summer season.
WHAT WAS THE FIRST MEAL YOU EVER PREPARED ON YOUR OWN? The first meal I ever prepared on my own was a simple break- fast for my mom and dad when I was younger. The meal was your traditional setup: pancakes, eggs, bacon, etc. In my family, breakfast is an important meal, and on holidays it's just as important as dinner.
IF YOU COULD DESCRIBE YOUR PERSONAL STYLE IN ONE DISH, WHICH DISH WOULD IT BE AND WHY? I would say the new sea bass dish describes me well. There are a lot of flavors and textures to the dish, but you have to break it apart and mix it together to find them. The sea bass is served with chamomile- braised fennel, charred eggplant purée and a shellfish nage we turn into a foam. The dish has deep, rich notes along with bitterness balanced out by umami. Appearance-wise, it looks subtle, but every bite leads you to more flavors.
WHICH CULINARY TREND WOULD YOU LIKE TO DISAPPEAR? I don't dislike any trends, but I prefer to not eat or cook a lot of fried food. Growing up, I ate a lot of fried food at home. It was part of our diet and our lives. Now, though, I try to make sure I use it more as a technique to enhance a dish versus basing a whole dish around a fried item.
DIRTY HABIT
Kimpton Hotel Monaco Washington DC
555 8th St. N.W.
Washington, DC 20004
tel 202 449 7095
dirtyhabitdc.com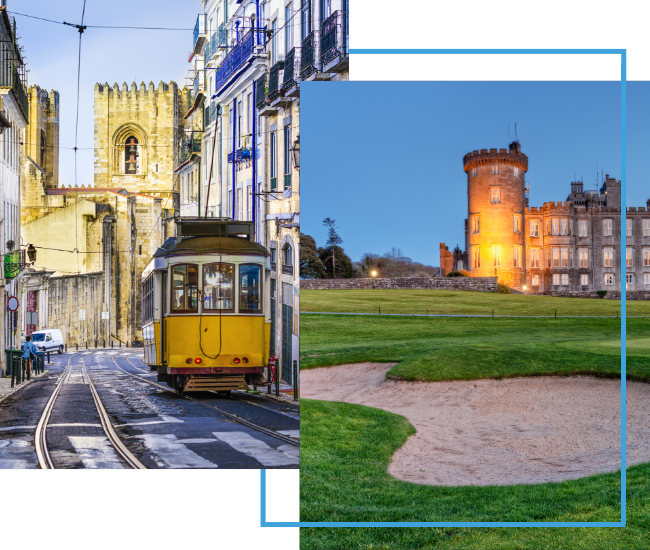 FX Excursions
FX Excursions offers the chance for once-in-a-lifetime experiences in destinations around the world.
Explore Excursions
There is something magical about sipping a glass of local wine while watching the sun slip into the Aegean Sea as the afterglow tinges traditional, white-washed Cycladic houses with glorious shades of rose, purple and gold. Ancient Greeks believed Helios, the Sun God, caused sunsets by driving his fiery chariot into the sea. Standing at water's edge in Mykonos, watching the sky slowly turn from purple to inky black, you almost believe it.
Sponsored Content
In an increasingly digital and interconnected world, the Global Business Travel Association (GBTA) Convention remains an indispensable platform for business travel industry professionals seeking to make the most of the power of face-to-face connections. Taking place August 13–15 in Dallas, the 2023 GBTA Convention provides the unique opportunity for professionals and companies to join visionaries, thought leaders and industry experts for meaningful networking, cutting-edge insights and inspiring innovation.
The prospect of a post-visit treasure hunting session inside the shops of landmark museums such as the Louvre in Paris, the Uffizi Gallery in Florence and The British Museum in London can be irresistible. However, some of Europe's smaller and more unusual museums boast retail spaces with a surprising "wow" factor, often as well-curated as the galleries.