"Simplicity is elegant. Two or three components that are treated with care in their preparation, with simple touches, nothing exaggerated." That's the culinary philosophy of Chef Enrique Olvera, a viewpoint that likely serves him well in his role as executive chef for Mexicana Airlines. Considered one of Mexico's top chefs, Olvera trained at the Culinary Institute of America in New York. Upon graduation, he did a stint at Everest, one of Chicago's most noted eateries. Olvera subsequently returned to Mexico City to open Pujol, where he successfully showcases Mexico's culinary heritage with a twist; he reinterprets flavors, styles and techniques to create a contemporary dining experience.
Prior to creating his first in-flight menu for Mexicana Airlines, Olvera spent five months traveling the carrier's routes — from Canada to Argentina — to become familiar with the hometown cuisines of Mexicana's passengers and to develop ways to incorporate those flavors into the meals served on board.
Next time you're in Mexico City, be sure to stop by Pujol to sample some of these delightful creations
---
Robalito al pastor with cilantro chile salad
Serves 4
For the fish:
4 6-ounce sea bass or haddock filets, without skin
For the marinade:
1 guajillo chile, deveined and chopped
1 clove garlic, minced
2 ounces anchiote paste
1⁄2 onion, peeled and chopped
1 tomato, peeled and chopped
1⁄2 cup orange juice
Salt, to taste
3 tablespoons clarified butter
Lemon juice, for deglazing
Heat the vegetable oil in a sauté pan. Add the guajillo pepper and garlic. Add the anchiote paste, onion, tomato and orange juice. Stir over medium heat to form a homogenous sauce. Pass through a chinois and set aside to cool. Once cool, place fish filets in marinade and refrigerate until ready to prepare for serving.
When ready to serve, season the fish with salt. Heat clarified butter in a sauté pan. Sear fish in clarified butter. Finish in a 400-degree oven for 5 minutes. Remove fish from cooking pan. Set aside. Deglaze pan with lemon juice.
For the pineapple beurre blanc:
1⁄2 cup butter
1⁄2 fresh pineapple, peeled, cored and cubed
11⁄3 tablespoons lemon juice
Salt, to taste
Melt the butter in a saucepan. Add the pineapple and cook until soft. Reduce by half. Add lemon juice. Season to taste. Strain or blend until smooth. Set aside for plating.
For the cilantro chile salad:
1 bunch cilantro
1 serrano pepper, seeded and chopped
1⁄2 onion, chopped
Salt, to taste
Combine all ingredients. Set aside until ready to plate.
For the tortillas:
4 corn tortillas cut into thin strips
Vegetable oil, to fry
For the garnish:
1⁄4 under-ripe pineapple
Using a mandolin, slice the under-ripe pineapple into slivers. Place the slivers on a baking sheet and dehydrate in a slow oven (212 degrees) for 90 minutes. Reserve for plating.
Assembly and Presentation:
Fry the tortilla strips in hot oil. Top tortilla strips with pineapple beurre blanc and a seared fish loin. Garnish with cilantro chile salad and dried pineapple.
---
Mole de olla
Serves 4
For the ribs:
13⁄4 pound boneless short ribs
Salt, to taste
2⁄3 cup vegetable oil
Clean cut meat into 3-inch cubes. Season with salt. Heat oil in a sauté pan. Sear the cubes evenly on each side. Set aside.
For the sauce:
2 tomatillos (green tomatoes)
1 red tomato
2 cloves garlic
1⁄2 white onion
1 tablespoon vegetable oil
2 ancho chile peppers, seedless
2 guajillo chile peppers, seedless
Cumin, to taste
Salt, to taste
In a pan of boiling water, cook the tomatillo, garlic, red tomato and onion. Heat the oil in a sauté pan. Add the ancho and guajillo peppers and fry lightly. Add the peppers to the tomatillo mixture. Bring to a boil. Reduce heat and simmer for 40 minutes. Season to taste with salt and cumin. Pour mixture into a blender and liquefy. Strain through a chinois. Combine the seared meat and sauce in a casserole. Add enough water to cover meat. Place in an oven at low heat and cook for 4 hours or until the meat is fork tender. Remove the meat and set aside. Reduce the sauce to desired consistency. Season to taste. Strain through a chinois.
For the carrot purée:
2⁄3 pound carrots
21⁄4 cup water
Salt, to taste Peel the carrots and cut into small pieces. Combine water and salt in a bowl. Add carrots and set aside for 45 minutes. Strain mixture, reserving carrots. Place carrots in a blender and blend until smooth. Strain carrots through a fine strainer until they are of purée consistency, smooth and creamy.
For the chayote purée:
2⁄3 pound chayote
21⁄4 cup water
Salt, to taste
Peel and quarter the chayote. Combine the water and salt in a bowl. Add the chayote and set aside for 1 hour. Strain mixture, reserving chayote. Place chayote in a blender and blend until smooth. Strain chayote through a fine strainer and pour off the purée, reserving the fine pulp.
For the corn:
2⁄3 cup white corn kernels
2⁄3 cup yellow corn kernels
2⁄3 cup blue corn kernels
6 cups water
Salt, to taste
Pour two cups of salted water into each of three saucepans. Bring to a boil. Cook white, yellow and blue corn kernels separately. Rinse and set aside.
For the zucchini:
1 zucchini
1⁄2 pound French-style string beans
1⁄4 cup butter
Salt, to taste
Use a mandolin to slice zucchini lengthwise into thin pieces. Blanch the zucchini in boiling salted water for 10 seconds, until pliable. Roll the zucchini and set aside. Cook the string beans in boiling salted water until soft. Drain and rinse with cold water. Cut the beans down the middle and set aside.
For the garnish:
Cumin powder
Presentation:
When ready to serve, warm the vegetables with water, salt and butter. Heat the sauce and add meat to warm for serving. Sauce each plate with the purées, drop by drop. Divide the zucchini rolls, the string beans and the corn among the plates. Place two or three pieces of meat on each plate. Drizzle sauce over the meat and garnish each plate with a line of cumin powder.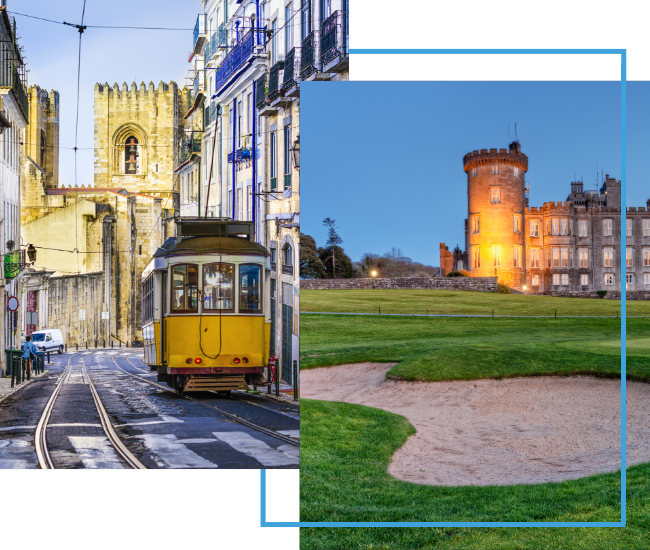 FX Excursions
FX Excursions offers the chance for once-in-a-lifetime experiences in destinations around the world.
Explore Excursions
There is something magical about sipping a glass of local wine while watching the sun slip into the Aegean Sea as the afterglow tinges traditional, white-washed Cycladic houses with glorious shades of rose, purple and gold. Ancient Greeks believed Helios, the Sun God, caused sunsets by driving his fiery chariot into the sea. Standing at water's edge in Mykonos, watching the sky slowly turn from purple to inky black, you almost believe it.
Sponsored Content
Whether it's the people, the craic (fun) or the coasts, travelers always find something to love about the island of Ireland. What fills your heart?
The prospect of a post-visit treasure hunting session inside the shops of landmark museums such as the Louvre in Paris, the Uffizi Gallery in Florence and The British Museum in London can be irresistible. However, some of Europe's smaller and more unusual museums boast retail spaces with a surprising "wow" factor, often as well-curated as the galleries.