Macaroni and cheese. A juicy steak. Bread pudding topped with vanilla ice cream. Comfort foods, for sure, but at 5 Fifty 5 in New Orleans, Executive Chef Mark Quitney cranks up the volume by putting his own spin on these traditional favorites.
Quitney, who discovered his passion for cooking when he was just 14 years old, is a graduate of the Culinary Institute of America. His 30-year career includes 17 years with Marriott. He was named executive chef at the 5 Fifty 5, the New Orleans Marriott's fine-dining venue, when the restaurant debuted in October 2007. At 5 Fifty 5, Quitney serves up a fresh approach to food incorporating New Orleans, Cajun, French, American and Creole influences.
---
Lobster Mac & Cheese Spoons Serves 8
6 ounces mascarpone cheese
1 wheel Boursin cheese
1 cup shredded white cheddar cheese
1 box elbow macaroni, cooked and chilled
1 cup chopped cooked Maine lobster
2 tablespoons chopped Italian parsley
1 pint heavy cream
1⁄4 cup cornstarch
Salt and pepper, to taste
Leaves from green onions, for garnish
Cook the elbow macaroni and let it cool. In a saucepan, bring the pint of heavy cream almost to a boil, without scalding. Fold in the mascarpone and Boursin cheeses and thicken with cornstarch slurry. Remove from the heat and fold in the cooked elbow macaroni, lobster, shredded white cheddar and chopped parsley. Season to taste with salt and pepper. Spread mixture on a half-sheet pan and chill overnight.
On the following day, use a round cutter to cut out eight portions of the lobster macaroni and cheese. Wrap each portion in the leaf of a green onion. Warm portions in the oven. Serve on individual ceramic spoons.
---
Bone-in filet with foie gras demi ravioli over oven-dried vegetables Serves 8
For the filet:
8 portions of 8-ounce bone-in filet
Sea salt, cracked black pepper and olive oil, to taste
Season the bone-in filets and grill to desired temperature.
For the ravioli dough:
1 cup all-purpose flour
2⁄3 cup semolina
1 teaspoon salt
1 tablespoon olive oil
2 eggs
2–3 teaspoons hot water
Sift the flour, semolina and salt into a bowl and make a well in the center. Pour in the oil. Add the eggs and a tablespoon of hot water. Using your fingers, work the mixture until it becomes smooth dough. Turn the dough onto a lightly floured board and knead until it is elastic (about 15 minutes). Roll dough until it is 1/4-inch thick. Using a ring, cut the dough into 16 circular portions.
For the ravioli filling:
1 tablespoon olive oil
1 teaspoon fresh chopped garlic
1⁄4 cup cognac
1 cup demi-glaze or reduced stock
1 teaspoon oregano, finely chopped
1⁄4 cup foie gras, diced
1 stick butter, softened
Heat olive oil in a saucepan. Add garlic and sauté to soften without browning. Add cognac. Remove from heat. Add demi-glaze, oregano and foie gras. Return to heat and reduce by one third. Cool. Once cooled, incorporate the softened butter into the mixture.
Place 1 tablespoon of foie gras demi butter in the center of each of eight dough circles. (Reserve some foie gras mixture for plating.) Place a second dough circle on top of each serving. Moisten the edges of the dough with water and crimp the top and bottom together. Cook until tender in seasoned water.
For the oven-dried vegetables:
8 beet slices
8 carrot slices
8 parsnip slices
Olive oil, sea salt and cracked black pepper, to taste
Line a half-sheet pan with parchment. Place carrot, parsnip and beet slices in an overlapping circle on the parchment. Season to taste with sea salt and cracked black pepper. Drizzle with olive oil. Cook at 200 degrees for one hour.
PRESENTATION: Divide the oven-dried ve getables among eight plates. Place a grilled filet on top of each serving. Garnish the filets with a spoonful of foie gras demi butter. Top each serving with a ravioli.
---
Bread pudding with vanilla Creole ice cream Serves 8
For the bread pudding:
1 quart milk
1 quart heavy cream
3 tablespoons sugar
1 ounce vanilla extract
8 large eggs
12 egg yolks
8 plain croissants or 12 slices white bread
1 cup of chopped white chocolate
Combine milk, cream, sugar and vanilla extract in a saucepan and bring to a boil. Remove from heat. Slowly whisk in the eggs and egg yolks. Add croissants (or bread) and stir until mixture is thick. Fold in the white chocolate. Put into desired container and bake at 350 degrees with a water bath until it is brown.
For the vanilla Creole ice cream:
2 quarts half-and-half
3 1⁄2 tablespoons sugar
2 vanilla beans, seeds scraped out
2 egg yolks
8 ounces Creole cream cheese or low-fat cream cheese, softened
Combine half-and-half, sugar and vanilla beans in a saucepan. Bring to a boil over medium heat. In a separate bowl, combine egg yolks and cheese. After the half-and-half mixture boils, slowly whisk in egg yolks. Remove vanilla beans. Refrigerate the mixture for 24 hours. Churn through an ice cream machine.
---
5 Fifty 5
New Orleans Marriott
555 Canal St.
New Orleans, LA 70130
tel 504 553 5638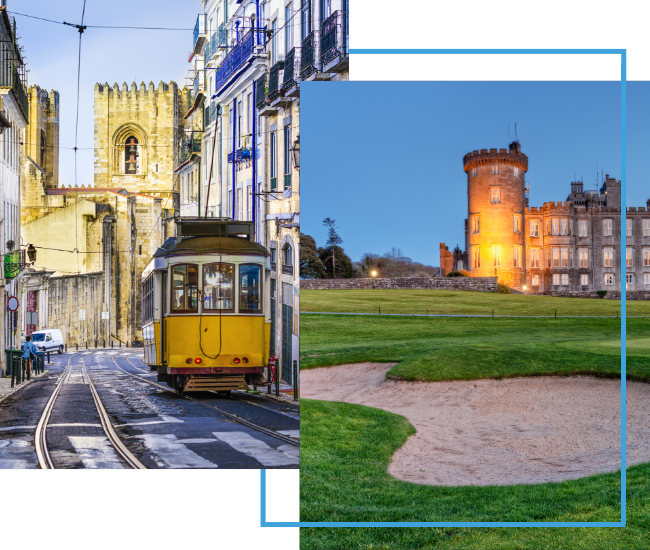 FX Excursions
FX Excursions offers the chance for once-in-a-lifetime experiences in destinations around the world.
Explore Excursions
If fabulous food and beverages are a must-have for any weekend getaway, then look no further than the City of Brotherly Love. Whether your palate has a penchant for vibrant Latin American fare or cozy French cuisine, whether you're an oenophile looking to swirl, sniff and sip your way around the globe or you'd rather sample farm-to-glass cocktails, Philly's got it all this fall. (With the exception of Bolo, which is a short taxi or Uber ride away and definitely worth the trip, the rest of these spots are all within walking distance of each other.)
Sponsored Content
Experience the life-changing destination of Greece by exploring its island gems in the Ionian Sea. Scattered off the western coastline of Central Greece, to the south of Peloponnese, the Ionian Islands are an island group comprising large and small islands.
From Santoríni to Dubai to New York, some hotels just have that "it" factor that draws visitors far and wide. For some hotels it's their proximity to popular landmarks and attractions, for others it's their amenities. But these hotels have something few can claim: a true room with a view.