While some boys dream of becoming astronauts or firemen or baseball players, Josh Thomsen listed "chef" as his career of choice in his sixth-grade yearbook. It may seem incredibly self-aware for a sixth-grader to accurately predict his career path; but Thomsen, who cites his father, Jerry, an accomplished amateur chef, as his source of inspiration, was right on the money.
StarChefs, an award-winning online magazine and the go-to source for industry insiders, recently named Thomsen a "Rising Star Chef." In November, the executive chef at the Claremont Hotel Club & Spa in Berkeley, Calif., was a guest chef at the James Beard House in New York City, where he prepared a mouth-watering menu including Sonoma goat cheese and potato terrine. Thomsen shares that recipe, among others, in this issue of Global Traveler.
Sonoma goat cheese and potato terrine with beet salad and balsamic syrup Serves 4
For the terrine:
22 ounces Laura Chenel goat cheese
1⁄4 cup finely chopped chives
1⁄4 cup clarified butter
2 russet potatoes (40 count), peeled and sliced
1⁄16 inch thick lengthwise
Kosher salt, to taste
Freshly ground pepper, to taste
Preheat the oven to 300 degrees. In a bowl, mix together the goat cheese and chives. Set aside. Dip the potato slices in clarified butter and place them on a nonstick silt pad or a parchment paper-lined cookie sheet. Season the potatoes with salt and pepper. Top with another silt pad. Cover and bake for 5 minutes until the potato slices are cooked but pliable. Set aside to cool. Line a terrine mold with plastic wrap. Arrange overlapping potato slices in the terrine, using enough potatoes to hang over the edge of the terrine. Fill the potato-lined terrine with the first layer of the goat cheese mixture (about 1 cup). Add a layer of cooked potato, then another layer of goat cheese. Do this until all of the cheese is used. Fold the overhanging potato slices over the goat cheese mixture. Cover with plastic wrap. Place the terrine in the refrigerator and chill for 24 hours.
For the beet salad:
4 baby beets (purple, golden and striped)
1⁄8 cup extra virgin olive oil
1 tablespoon finely chopped fresh thyme
1 tablespoon finely chopped chives
1 tablespoon fresh lemon juice
Kosher salt, to taste
Freshly ground pepper, to taste
Micro arugula, for plating

Preheat the oven to 375 degrees. Season the beets with salt, pepper, extra virgin olive oil and fresh thyme. Wrap the seasoned beets in aluminum foil to form small pouches. Place the pouches in the oven and roast for 25 minutes. Remove from oven. Peel and quarter the roasted beets. Season the beets with extra virgin olive oil, lemon juice, chives, salt and pepper. Set aside until ready to plate.
For the balsamic syrup:
2 cups balsamic vinegar
4 sprigs fresh thyme
In a saucepan, combine the vinegar and thyme. Simmer until the mixture is thick enough to coat the back of a wooden spoon. Cool to room temperature.
Presentation: Unmold the terrine and cut it into 1/4-inch slices. Heat a nonstick sauté pan to high heat. Season the terrine slices with fresh black pepper and place them into the pan. Cook until the first side turns golden brown (about 12 seconds). Flip the terrine slices over and onto a room-temperature plate. Place beet salad next to the terrine. Top with micro arugula. Drizzle with olive oil first, then follow with the balsamic syrup.
---
Roasted Sonoma duck with toasted farro, baby escarole, caramelized red onion and apricot purée Serves 4
For the duck breasts:
2 8-ounce duck breasts
1 tablespoon extra virgin olive oil
4 thyme sprigs
Season the duck breasts with salt and pepper. Heat olive oil in a sauté pan over medium heat. Add the thyme sprigs. When the oil starts to smoke, lower the heat and add duck breasts, skin side down. Cook slowly for about 7 minutes to render the fat (pour off excess fat from pan during cooking), then flip the breasts and cook for another 2 minutes. Remove the duck breasts from the pan and allow them to rest in a warm place.
For the apricot purée:
1 cup ripe apricots, peeled
1⁄2 tablespoon unsalted butter
1⁄2 cup hot duck stock (or substitute chicken stock)
Combine apricots, salt and stock in a blender. Purée until smooth.
For the escarole farro:
3 heads baby escarole, washed and cut
1 cup julienned caramelized red onions
1 cup cooked farro
1 teaspoon garlic, minced
1 teaspoon shallots, minced
1 tablespoon chopped parsley
Kosher salt, to taste
Freshly ground black pepper, to taste
1⁄2 tablespoon fresh thyme leaves, picked
Heat olive oil in a sauté pan. Add the escarole and cook until it is slightly wilted and caramelized. Add the onions, farro, garlic and shallots. Season to taste with salt and pepper. Finish with parsley. Reserve the escarole in a warm place until ready to plate.
Presentation: Warm the plates prior to serving. Run a streak of apricot purée across each plate. Place a small mound of the escarole mixture next to the purée (to highlight the purée). Place sliced duck breast over the escarole mixture. Garnish with fresh thyme leaves.
---
Striped bass with quinoa, currants, toasted pine nuts and citrus-infused oil Serves 4
For the quinoa:
1⁄2 cup quinoa
1 cup fresh orange juice
1 tablespoon toasted pine nuts
1 tablespoon currants
1 cucumber, peeled, seeded and diced
1⁄2 red pepper, diced
1⁄2 yellow pepper, diced
1⁄2 red onion, diced
1⁄2 carrot, diced and blanched
1 tablespoon fresh cilantro, chopped
1 tablespoon fresh mint, chopped
1⁄4 cup olive oil
Lemon juice, to taste
Extra virgin olive oil, to taste
Combine the quinoa and orange juice in a saucepan. Bring to a boil over medium heat. Let the mixture boil until all the liquid is absorbed (10–15 minutes). Remove from heat. Set aside to cool. Toss the cooked quinoa with the diced cucumber, red pepper, yellow pepper, red onion, carrots, cilantro, mint, pine nuts and currants. Season to taste with salt, pepper, lemon juice and extra virgin olive oil.
For the striped bass:
4 6-ounce striped bass filets
1⁄4 cup black peppercorns, roughly ground
2 pinches kosher salt
1 tablespoon olive oil
Orange and red bell pepper oil, for garnish
Season the striped bass filets with ground pepper and sprinkle with salt. Cook the fish on a hot griddle, skin side down, until the skin is golden brown and crisp (about 2 minutes). Flip the fish and cook for another 2 minutes.
Presentation: Arrange the quinoa mixture in the center of each plate. Place a piece of striped bass across the quinoa. Garnish with bell pepper oil.
The Claremont Hotel Club & Spa
41 Tunnel Road
Berkeley, CA 94705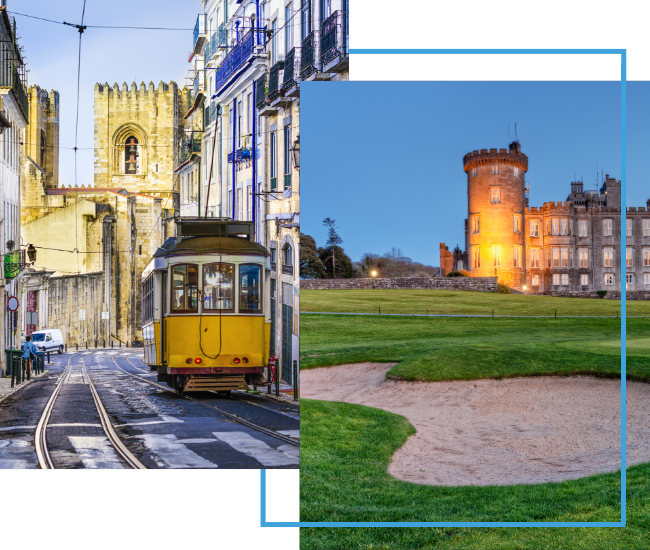 FX Excursions
FX Excursions offers the chance for once-in-a-lifetime experiences in destinations around the world.
Explore Excursions
There's no doubt the northern lights are awe-inspiring and spectacular. Unfortunately, they're also fickle and fleeting, and despite your best-laid plans of checking this item off your bucket list, sometimes Mother Nature's luminescent show just doesn't cooperate. But one cruise line has a new fail-safe in place.
Sponsored Content
Are you looking to enhance your business trip with a little leisure? Look no further than Portugal, a country renowned for its captivating blend of history, culture and natural beauty. And with TAP Air Portugal, you can effortlessly transform your business trip into an unforgettable bleisure adventure. Discover why Portugal and TAP Air Portugal are the perfect combination for an enriching and rejuvenating experience.
Think you need a degree in sailing to enjoy a yachting holiday? Dream Yacht Worldwide, a leader in yacht charters, wants you to relax and enjoy the journey. Newly expanded to include the British Virgin Islands, Martinique, Tahiti and the Seychelles, the "Easy Crewed" offered by Dream Yacht Worldwide also include charter options in Greece and Croatia.