On the Ground: After arriving from LAX, I had a good chunk of time at Newark Liberty International Airport before departing on United Airlines flight 25 to Ireland, so I headed straight to the business-class lounge. The Terminal C lounge is the largest at EWR, offering plenty of seating, workstations, showers and a large bar area. I booted up my computer in one of the many private cubicle spaces — accessing the WiFi to check email and chat with family via Face Time — then headed to the main lounge to check out the provisions. The food options were snacks, consisting mainly of individually wrapped cheese and crackers, fruit and cereals. I was disappointed to find few gluten-free options (medically necessary for me), even upon request. At boarding time, I hoofed it to my gate and quickly boarded the Boeing 757-200 from the priority group line.
Pre-Flight: Flight attendants provided beverage service upon boarding, but they had already poured the last of the pre-flight Champagne before I arrived at my seat. I was requested to change seats to allow a couple to sit together and agreed without hesitation.
I had to move again mid-flight to provide an empty seat next to the pilot's rest seat (required under the new rest regulations) — inconvenient and somewhat annoying but obviously important to ensure focused and well-rested pilots at the controls.
In-Flight: Meal service included an appetizer of sushi or salad; a main course of chicken, beef, fish or pasta; a cheese course with Port; and ice cream sundaes for dessert. Unfortunately, the gluten-free meal I'd requested was not available, even though I'd added it to my reservation and called twice to confirm before my trip. I did receive a gluten-free meal from the economy cabin that was quite good on the outbound flight; the one on the return trip was somewhat disappointing. However, gluten-free side dishes and a variety of snacks and fruit were available throughout the flight.
The roomy, 180-degree flat-bed seats made the six-hour overnight journey a comfortable one. A small footrest under the entertainment center, coupled with the leg riser, provided ample space for sleep. Pillows and blankets were sizeable and a better quality than those in other classes of service, and power sources for laptops and phones were located to the side of the headrest. Although the three-pronged outlet at my seat wouldn't power my laptop, I arrived with my phone — and body — fully charged.
The Experience: Despite some missteps, flying direct to Shannon was worth its weight in gold for traveling to western Ireland. I'd fly this United 757-200 again, assuming I would receive my requested meal. United flies from Newark year-round and from Chicago O'Hare seasonally (June 4–Aug. 17, 2015).
GT CHECKLIST
[checklist]
[item]Less than 10 minutes for check-in[/item]
[item check=yes]Friendly and helpful agents[/item]
[item check=yes]Priority tagged baggage[/item]
[item check=yes]Airport lounge[/item]
[item check=yes]Complimentary in-lounge food[/item]
[item check=yes]Priority boarding[/item]
[item check=yes]Helpful and courteous flight attendants[/item]
[item check=yes]Pre-flight beverage service[/item]
[item]Pre-flight newspapers and magazines[/item]
[item check=yes]Extensive on-demand entertainment[/item]
[item check=yes]Amenity kits[/item]
[item]Slippers[/item]
[item check=yes]Lie-flat seat/bed[/item]
[item]Turn-down service[/item]
[item check=yes]In-flight menu with three entrée choices[/item]
[item check=yes]Top-shelf wines and liquors[/item]
[/checklist]
United Airlines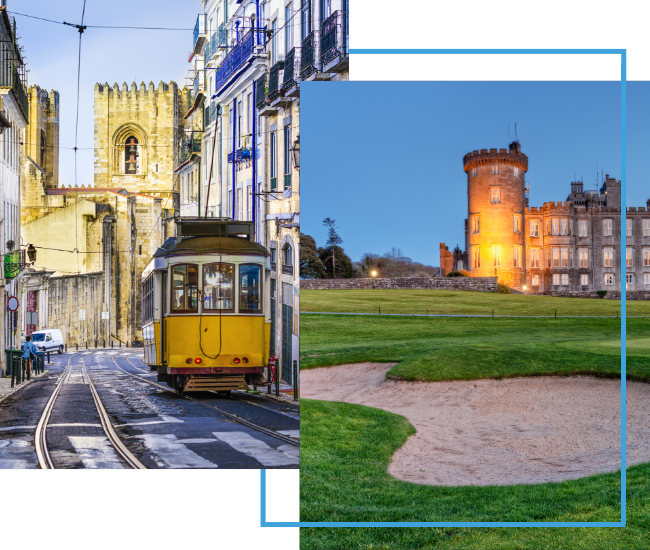 FX Excursions
FX Excursions offers the chance for once-in-a-lifetime experiences in destinations around the world.
Explore Excursions
Imagine yourself lounging in a stone cottage suite with a fireplace and freestanding tub, sipping hot chocolate in a rustic game and reading room with a raftered ceiling, and ice skating and cross-country skiing in the crisp mountain air. Sounds pretty perfect, doesn't it? Especially when you add in seasonal touches.
Sponsored Content
The Islands of Tahiti offer a range of captivating activities for travelers with diverse interests, from hiking to breathtaking waterfalls, riding horses on secluded beaches; swimming with sharks; or immersing in Polynesian culture through traditional dance, music and art. For watersports enthusiasts, the crystal-clear lagoons offer exhilarating experiences like surfing, kiteboarding and paddleboarding. And if you're looking to relax, the pristine beaches, overwater bungalows and tropical sun offer the perfect setting. With 118 islands and atolls to explore, island hopping is an excellent way to experience the full diversity of The Islands of Tahiti. With its blend of adventure, culture and relaxation, The Islands of Tahiti offer a truly unique travel experience.
For the first time in Olympic history, when the 2024 Summer Olympics kick off on July 26, 2024, they will not do so in a stadium. Instead of an Olympic venue, the entire city of Paris will become the Olympic stadium, hosting the games among monuments, on bridges and on the grounds of some of the world's most historic sites. The Opening Ceremony will take place on the River Seine, where athletes will drift along on a flotilla of boats as spectators wave them on from the quays and bridges throughout the city.