On the Ground: Silverjet, a new transatlantic, businessclass airline, offers customers its Silver Lounge in Newark Liberty International Airport. Located on Level 2 at the end of the B terminal, it's a bit tricky to find, especially if you're connecting from another flight. And unlike the airline's sleek private terminal at London Luton, the Newark version is very much a work in progress: Service is friendly but a bit slow, and the buffet of finger sandwiches, Oreo cookies and apples falls shy of the fare one expects at this level. Still, my leather chair was equipped with a foldout desk, and I could plug my laptop into the wall outlet behind me. Although I had to leave the lounge to use the restroom — located around the corner and up a flight of stairs — I checked in and boarded my 7:30 p.m. flight without a problem.
(17/20)
On Board: A Boeing 767 looks a lot bigger with only 100 seats on it. I was taken by surprise when a flight attendant greeted me by name and took my jacket. Seconds later she returned for my drink order, and things only got more comfortable from there. As soon as we were airborne, I reclined my seat to about 175 degrees, and stretched out on the 6-foot-3-inch frame for a pre-dinner nap. When I woke, the lights were off — the entire cabin is a designated "Quiet Zone" — but I was famished. I flipped on my reading light and the flight attendant returned. "May I bring you something?" she asked. I scanned the menu, a list of gourmet meals, each individually prepared, and chose roasted chicken. It took about twenty minutes for the meal to come, but it was worth the wait. (39/40)
The Experience: The Silver Screen, a handheld individual personal entertainment system packed with music, TV programs, and movies, came with a noise-reduction headset, but I had plenty of work to do. So I plugged my laptop into the outlet by my seat, and stayed up late into the night, my documents spread out on the open table next to me. (Silverjet makes a point, whenever possible, of leaving empty the seat next to a passenger traveling alone.) I woke up just as we were about to land, so they packed me a filling "Breakfast Express" for the road, and I felt fine for having just crossed the pond.
(39/40)
Total Score: 95/100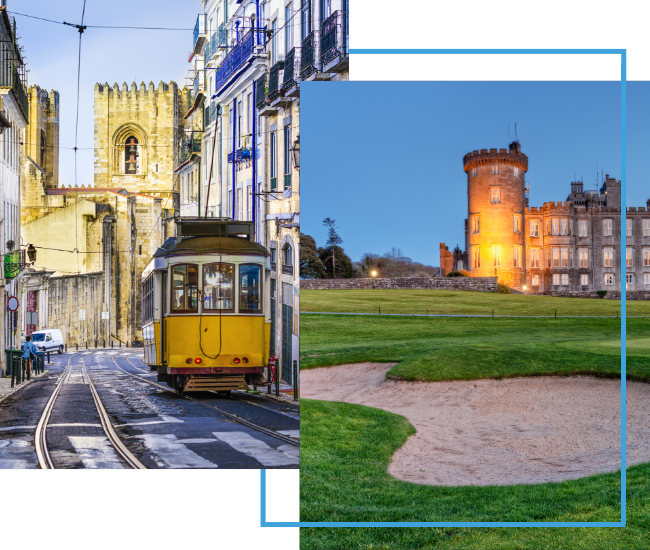 FX Excursions
FX Excursions offers the chance for once-in-a-lifetime experiences in destinations around the world.
Explore Excursions
There is something magical about sipping a glass of local wine while watching the sun slip into the Aegean Sea as the afterglow tinges traditional, white-washed Cycladic houses with glorious shades of rose, purple and gold. Ancient Greeks believed Helios, the Sun God, caused sunsets by driving his fiery chariot into the sea. Standing at water's edge in Mykonos, watching the sky slowly turn from purple to inky black, you almost believe it.
Sponsored Content
Whether it's the people, the craic (fun) or the coasts, travelers always find something to love about the island of Ireland. What fills your heart?
The prospect of a post-visit treasure hunting session inside the shops of landmark museums such as the Louvre in Paris, the Uffizi Gallery in Florence and The British Museum in London can be irresistible. However, some of Europe's smaller and more unusual museums boast retail spaces with a surprising "wow" factor, often as well-curated as the galleries.