On the Ground: For years I have suggested travelers who do not live close to an airport with direct service should look to Air Canada as an option. If you have to transfer through an airport in the United States to connect to your flight to Asia, Canada might be a better option. I found it easy and less congested than many of the airports in the United States. My flight was a quick 55 minutes from Philadelphia to Toronto Pearson International Airport, where you land and connect in the same terminal. All I had to do was go through the connecting immigrations desk and walk to my gate, no additional security. The flight out of Philadelphia was at 6 a.m., and checking in online was easy with aircanda.com. I was at the gate in plenty of time, checking emails.
Pre-Flight: When I arrived in Toronto, I exchanged some U.S. dollars for Hong Kong dollars before heading to the Maple Leaf Lounge. Having eaten breakfast on board, I was good to go but took notice of the offerings available, including hard-boiled eggs, fresh fruit, cereals and pastries. The lounge has a great deal of reading material; I picked up a Globe and Mail for the flight and selected one of the work stations to do a little business on my laptop. In less than an hour, I walked to the gate and was on board in a jiffy through the business-class access lane. In seat 2A, I put my hand luggage away and sat down to get organized. My jacket was immediately taken by Christian, who along with his team looked out for me during my entire flight. They served juice, water and sparkling wine and distributed more papers; this gave me a few minutes to catch up on the South China Morning Post. I liked the way the headsets were all pre-plugged — great idea, as I often scramble in the darkness of the cabin to find the outlet. Amenity kits, pillows and blankets were pre-distributed on the seats.
In-Flight: At first glance, I was not sure if the Air Canada Executive First Suite (business-class) seat was long enough. I am over 6 feet tall and can have some issues fitting into some seats. When fully reclined, however, I had more than enough room, and the back portion of the seat where your shoulders lie is very roomy. As we were preparing for takeoff, the crew took drink orders for cruising altitude and distributed menus. In the menu, Air Canada was proud to have Chef Jonathan Goodyear's winning appetizer from Top Chef Canada — a seared albacore tuna. The choices for lunch were stir-fried pork loin strips, braised chicken, sautéed Atlantic salmon and grilled beef tenderloin. I chose the pork, which was tasty but filling, with the salad and appetizer prior. The meal was accompanied by a selection of wines purveyed by Ken Chase, whose selections always fare very well at Global Traveler's Wines on the Wing airline wine competition. I selected the Santa Ema Terroir Estate Sauvignon Blanc, which went well with my lunch. The meal was followed by a cheese course and a warm chocolate pecan brownie with a dollop of whipped cream.
After eating, I decided it was time to nap on the flat-bed seat, which was comfortable. Kudos to Boeing for continuing to keep air vents controllable to passengers on the Boeing 777; I was able to remain cool during the flight. After my nap, I attacked business for many hours and was pleased with the easily reachable power outlet. I remember the days when I used to travel with three backup batteries for my laptop. After I completed my work while watching a few films, I took another nap until breakfast was served and we prepared for landing.
The Experience: Seems like a no-brainer to me — easy connections through Toronto; a fine business-class flat-bed seat; and a seasoned, professional and friendly crew. I would recommend Air Canada for your next flight to the Pacific.
GT Checklist
Less than 10 minutes for check-in
Friendly and helpful agents
Priority tagged bags
Airport lounge
Complimentary in-lounge food
Priority boarding
Helpful and courteous flight attendants
Pre-flight beverage service
Pre-flight newspapers and magazines
Extensive on-demand menu
Self-serve in-flight pantry
Amenity kits
Slippers
Lie-flat seat/bed
Mattress and comforter
In-flight menu with three entrée choices

Top-shelf wines and liquors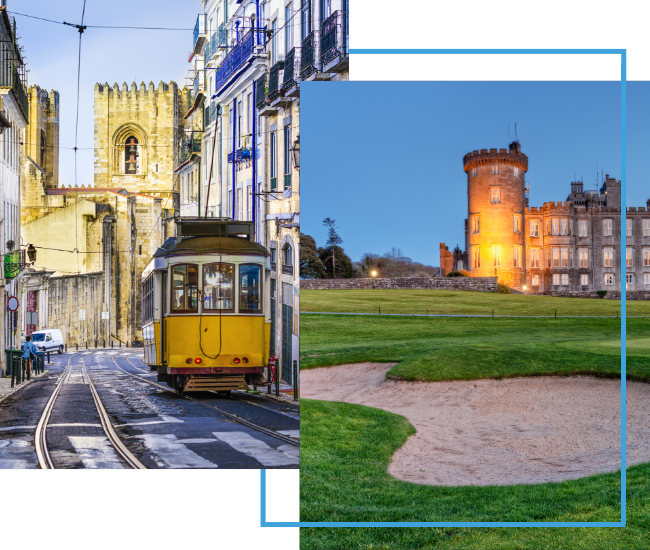 FX Excursions
FX Excursions offers the chance for once-in-a-lifetime experiences in destinations around the world.
Explore Excursions
Did the new film Oppenheimer rouse your interest in the nefarious world of international espionage? You can go straight to the real-life setting for covert actions this November (Nov. 10–12), when La Fonda on the Plaza in Santa Fe hosts a specially themed "Spies, Lies and Nukes" weekend. The hotel actually served as the retreat location for Manhattan Project scientists, who stayed at La Fonda on the Plaza to take a break from the stress of their work. During the weekend, the property's La Fiesta Lounge will make a tasty nod to those days by serving up a special Atomic Martini.
Sponsored Content
Don't risk losing all the money you've spent if you must cancel your trip at the last minute. Allianz Travel Insurance can give you:
Ever want handcrafted martinis and freshly shucked oysters delivered straight to your room? The Read House's New Martinis & Pearls service has you covered. Shining in 1920s-themed decor, the historic hotel in the heart of Chattanooga offers a true Gatsby-esque experience, now further elevated with this upscale amenity. Guests can now indulge in their perfectly chilled martini, made to order, and "pearls" (oysters) in the comfort of their room.