New York (JFK)–Riyadh (RUH)–Dubai (DXB
On the Ground: Check-in at JFK was swift and professional; as I had no luggage to check, I was quickly on my way to security. The lines at Terminal 1 can get quite congested, and this was one of those days. Once through security, I changed over some cash and went to the Korean Air lounge, which Saudia uses for its passengers. The lounge is separated into two sections: business-class passengers on the right and first-class passengers on the left. I found the offerings a little on the light side, but the selection of sandwiches was quite delicious. It served only bourbon and no Scotch, which I found a little odd, but the wine choices were top-notch. In no time we were walking to the gate at the end of the terminal, and a gentleman who seemed familiar to me from my years of travel escorted us onto the aircraft in VIP style. My colleague was over the moon with the two separate entrances on the Boeing 777, preventing first- and business-class passengers from getting caught up in the rush of economy-class passengers.
Pre-Flight: I was taken to the seat and was looking forward to my long flight for which I had mapped out a plan: work and enjoy the first-class service for about 30 percent of the time and then sleep during the remaining journey. Flight attendants distributed newspapers and magazines (though I brought a satchel of magazines to catch up on) and juices together with fine amenity kits complete with Salvatore Ferragamo-branded lotions, lip balms and other items. Everything required was in that tasteful kit. On the return flight, the kits were Porsche Design, a nice change. Crewmembers also distributed pajamas and blankets with duvets along with the in-flight menu, which offered a nice selection of meals. They served Arabian coffee with the tastiest dates fresh from the Middle East. I hooked up the power for my computer and phone and settled in to work and enjoy the entertainment system and meal service. Takeoff went like clockwork, and we were taxiing down the runway and airborne to Saudi Arabia.
In-Flight: Once we were airborne, the friendly flight attendants began their first-class meal service, including a mixture of Arabian and European favorites. Whenever I fly first class, I choose the caviar to start — this sets first-class service apart, and Saudia was no disappointment. Passengers can choose from various soups and three entrées which included lamb shank, lobster Thermidor and chicken biryani. When in Rome, do as the Romans do, so I went directly for the lamb, tender and generous — I found it impossible to finish. The meal closed with a selection of fresh fruit (which I chose), assorted desserts and ice cream. (I admit I had some ice cream, too.)
I opened my laptop and powered through a great many emails. These were all teed up to send when I arrived in Riyadh. Saudia offers WiFi, but as it was late, I figured holding them was the best option. While working I enjoyed some tea and watched a couple of movies. The screen is 23 inches wide and displays in HD, with many channels and programs to choose from.
Ready to sleep, I called the flight attendant to transform my first-class suite into my first-class bed. She reclined the seat fully flat, covered the seat with a mattress cover and laid out the duvet and pillows. I was in a happy place and went right to bed. The sliding doors shut; I did not wake until breakfast was served. Truly a restful flight, which I needed for our full week in the Middle East.
Connections were a breeze at Riyadh, where the lounge is spacious and comfortable. We were treated like VIPs during transfer, a benefit of the first-class service. Our departure to Dubai was on the same aircraft a few hours later, and in Dubai we were met by Bander A. Alfowzan, Saudia's manager of operations – U.A.E. and Oman, based at Dubai Airport. Bander continued our first-class service and walked us through security to our waiting car.
TOP TAKEAWAYS:
◆ The key to the comfort and sleepability is the 100 percent cotton mattress pad, which allows the seat to breathe and keeps the bedding from getting too hot as you sleep.
◆ I left my computer charger on the Riyadh– Dubai flight. Bander received a call and the charger was brought to me. We laughed, and I said this was a test of the fine Saudia service!
◆ Best in-flight dates and Arabian coffee, hands down!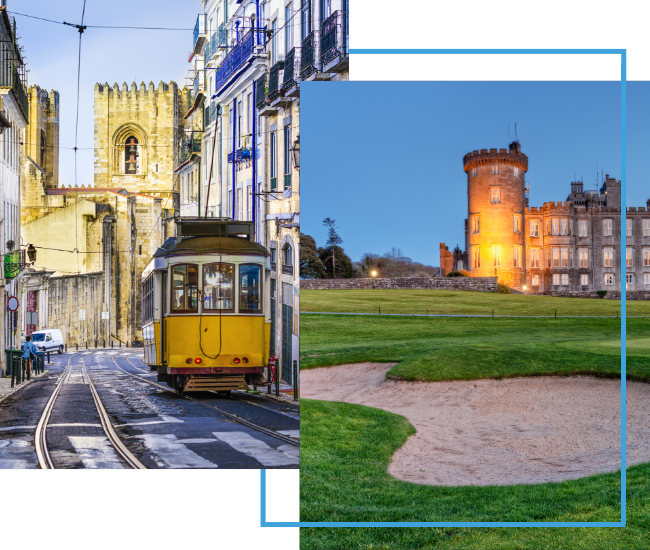 FX Excursions
FX Excursions offers the chance for once-in-a-lifetime experiences in destinations around the world.
Explore Excursions
If fabulous food and beverages are a must-have for any weekend getaway, then look no further than the City of Brotherly Love. Whether your palate has a penchant for vibrant Latin American fare or cozy French cuisine, whether you're an oenophile looking to swirl, sniff and sip your way around the globe or you'd rather sample farm-to-glass cocktails, Philly's got it all this fall. (With the exception of Bolo, which is a short taxi or Uber ride away and definitely worth the trip, the rest of these spots are all within walking distance of each other.)
Sponsored Content
Exclusive Sailing with Global Traveler
From Santoríni to Dubai to New York, some hotels just have that "it" factor that draws visitors far and wide. For some hotels it's their proximity to popular landmarks and attractions, for others it's their amenities. But these hotels have something few can claim: a true room with a view.