On the Ground: Arrival at JFK via the AirTran was fast and comfortable. Royal Jordanian shares Terminal 8 with American Airlines, and those flying Crown Class or Royal Plus members get full access to AA's T8 lounge. Crown Class passengers can check bags at the curb, obtain boarding passes and go through immigration processing without queuing, allowing them to proceed through Royal Jordanian check-in quickly. The T8 lounge at JFK has a large selection of food and beverage items, and the space is open and adequate, even at busy periods. Private work booths are a nice touch for businesspeople who prefer to have a little more room and privacy to work.
Pre-Flight: On board, Crown Class crewmembers attended to my immediate needs. As I stepped onto the plane, an attendant extended a hand to take my carry-on and led me to my seat, which was prepped with a pillow and blanket. The attendant made me feel right at home, and I could already feel my shoulders relax as I eased into my seat. A second flight attendant presented me with a warm towel and amenity kit. She also took a few minutes to open the kit and explain the contents, many of which were organic products made in Jordan. Newspapers were distributed throughout the cabin, although all of them appeared to be Arabic. Overall, I felt welcomed by the staff and surroundings, and as I began to get settled into my fully adjustable seat, I felt the tensions of the long drive to JFK begin to melt away. I got the sense this was going to be a great experience.
In-Flight: Royal Jordanian's Airbus A340 is a 2-2-2 cabin configuration equipped with infinitely adjustable Crown Class leather seats. When adjusted to the fully flat position, the bed measured to just more than 83 inches, meaning I had ample room to stretch my 6-foot, 1-inch frame and relax for the 12-hour flight. Each seat is equipped with a foldaway touch-screen television and full selection of Hollywood blockbusters and classic movie titles, short films and documentaries. The movie selection more than made up for the somewhat smallish screen monitor; in fact, I was shocked to find a sports documentary about one of my favorite professional cyclists within the library of programming. Royal Jordanian's IFE seemed to be more advanced and more user-friendly than others I have experienced lately.
Immediately after takeoff, the flight attendant presented the evening's cuisine options and offered a sampling of some of their onboard wines. Crown meals consist of four courses paired by the airline's menu planners to create a flavorful, well-rounded meal. Dinner was served about one hour into the flight, beginning with fresh breads and sliced vegetables. The main course selection included salmon with dill sauce, rosemary chicken or petit filet with sautéed mushrooms. I opted for the filet and took the advice of the attendant to pair it with a Calvet red wine. Dessert was a simple array of pastries and Arabian ice creams.
Following dinner, I folded the viewing monitor and slept for the remainder of the flight, which is a testament to how quiet and comfortable the cabin was.
The Experience: Royal Jordanian is celebrating its 50th anniversary. To some, the airline may sit quietly in the long shadow of the newer Gulf carriers, but to many who have been flying to the Middle East beyond the past decade, Royal Jordanian is truly the first and only Gulf carrier. It has a fiercely loyal following because of its commitment to outstanding quality and extraordinary customer service. If you are going beyond the Middle East, I highly recommend a stopover at the new Queen Alia International Airport in Amman, Jordan. The architecture inside the terminal is beautiful, and the Crown Class amenities will pamper you.
GT CHECKLIST
Less than 10 minutes for check-in
Friendly and helpful agents
Priority tagged baggage
Airport lounge
Complimentary in-lounge food
Priority boarding
Helpful and courteous flight attendants
Pre-flight beverage service
Pre-flight newspapers and magazines
Extensive on-demand entertainment
Amenity kits
Slippers
Lie-flat seat/bed
Turn-down service
In-flight menu with three entrée choices
Top-shelf wines and liquors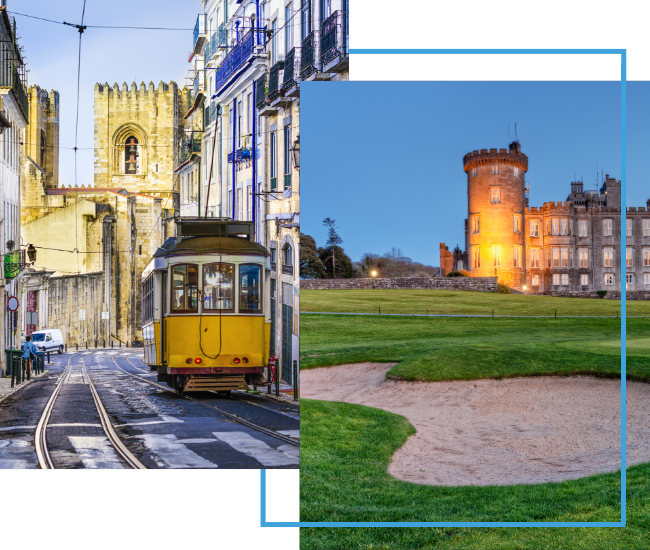 FX Excursions
FX Excursions offers the chance for once-in-a-lifetime experiences in destinations around the world.
Explore Excursions
Imagine yourself lounging in a stone cottage suite with a fireplace and freestanding tub, sipping hot chocolate in a rustic game and reading room with a raftered ceiling, and ice skating and cross-country skiing in the crisp mountain air. Sounds pretty perfect, doesn't it? Especially when you add in seasonal touches.
Sponsored Content
Whether it's the people, the craic (fun) or the coasts, travelers always find something to love about the island of Ireland. What fills your heart?
For the first time in Olympic history, when the 2024 Summer Olympics kick off on July 26, 2024, they will not do so in a stadium. Instead of an Olympic venue, the entire city of Paris will become the Olympic stadium, hosting the games among monuments, on bridges and on the grounds of some of the world's most historic sites. The Opening Ceremony will take place on the River Seine, where athletes will drift along on a flotilla of boats as spectators wave them on from the quays and bridges throughout the city.