PHILADELPHIA (PHL) TO MIAMI (MIA) TO BOGOTÁ (BOG)
On the Ground: As one of American Airlines' hubs and my own home base, flying AA through Philadelphia International Airport is my ideal situation — especially for an early-morning international flight. Breezing through an empty TSA checkpoint, I sat at my gate in the near-ghost town of Terminal C. The Airbus A321 arrived, and I soon boarded for my nearly three-hour flight to Miami, en route to Bogotá, Colombia.
Pre-Flight: As the American Airlines Airbus A321 is used primarily for U.S. domestic routes, the first-class cabin featured just 16 reclining seats in a 2-2 configuration, with the remaining 165 seats in economy class. The first-class section was cozy, comfortably quiet and perfect for a quick flight. The friendly and attentive flight attendants came through asking if they could hang my jacket and get me anything to drink. As it was 5:10 a.m., at this point I opted for an easy water and coffee combo and looked out over the Philadelphia lights as we took off.
In-Flight: A flight attendant came back around, dispersing Bose headphones and taking breakfast orders. With a choice of oatmeal or an omelet, I opted for a generous helping of mixed nuts to snack on instead. I played around with my seat for a bit, seeing how far back I could lie, bending my headrest and enjoying the ample legroom in front. I fumbled around with the headphones, trying to get them into the port to watch a movie on the built-in, touch-screen television, but either the headphones or my early-morning brain didn't work, so I stuck with my own personal pair.
We landed in Miami alongside a truly stunning sunrise. I quickly hopped on an Airbus A319 narrow-body jet to Bogotá, with just eight reclining seats in a 2-2 configuration. On board, attendants offered passengers a lunch of chicken or mozzarella-stuffed jalapeño peppers over Spanish rice. My choice, the jalapeños, arrived soon with some shrimp cocktail, a small salad and a large (crumbly) cookie. After I made a mess of the cookie, the observant and thoughtful flight attendant discretely brought over a few napkins and another coffee.
All of the AA crew and attendants I encountered on my flights were exceptionally kind and attentive, but I was especially impressed on my return flight from Bogotá. The service was fantastic as our flight attendant eased from Spanish to perfect English, from guest to guest, referring to everyone by name. Two individuals on my flight — one seated in first and one in economy — seemed to know the flight attendant, as they greeted each other excitedly. They could easily have been frequent flyers, as this flight attendant was just that good.
TOP TAKEAWAYS:
◆ AA service was personalized, warm and attentive without being overbearing.
◆ It's always fun to see a non-pasta vegetarian option!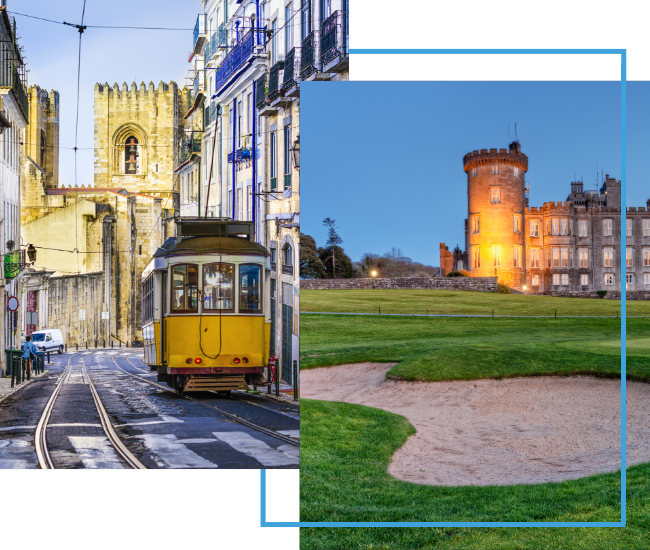 FX Excursions
FX Excursions offers the chance for once-in-a-lifetime experiences in destinations around the world.
Explore Excursions
One thing  surprising about the Prince Edward Island capital is its abundance of shops specializing in affordable, fashion-forward jewelry rendered in sterling silver, vermeil, 14K gold and semi-precious stones. Whether you prefer delicate pieces or bold wearable art, you can be assured the pieces for sale are inspired by the maritime island setting and, therefore, specific to the place where they are created. Here are a few shining, woman-owned examples:
Sponsored Content
The Islands of Tahiti offer a range of captivating activities for travelers with diverse interests, from hiking to breathtaking waterfalls, riding horses on secluded beaches; swimming with sharks; or immersing in Polynesian culture through traditional dance, music and art. For watersports enthusiasts, the crystal-clear lagoons offer exhilarating experiences like surfing, kiteboarding and paddleboarding. And if you're looking to relax, the pristine beaches, overwater bungalows and tropical sun offer the perfect setting. With 118 islands and atolls to explore, island hopping is an excellent way to experience the full diversity of The Islands of Tahiti. With its blend of adventure, culture and relaxation, The Islands of Tahiti offer a truly unique travel experience.
Norway, a haven for visionary artists, architects and designers, showcases an exceptionally diverse array of cultural attractions. This year, the country commemorates exciting milestones and unveilings captivating enthusiasts of the arts, from iconic scenic routes to new museums to gallery openings. Up Norway features these new offerings in personalized itineraries catered to aesthetes.