SAN FRANCISCO (SFO) TO LISBON (LIS)
On the Ground: I was lucky to be on board TAP Air Portugal's first flight from San Francisco to Lisbon, the first-ever route directly connecting the U.S. West Coast to Portugal. I'd traveled from Newark (EWR) that morning, so I didn't check in at SFO, and because of the special circumstances, I opted to forgo the lounge in order to enjoy the fanfare at the gate. This included Portuguese cuisine, a cake, a fado singer and speeches. You could feel the buzz and excitement in the air, and it was palpable what an important moment this was for both the airline and the San Francisco and Lisbon communities. A baggage snafu at SFO, outside of the airline's control, delayed us, but once boarding commenced, it was quick and efficient.
Pre-Flight: TAP's Executive Class features a 1-2-1 configuration. On this flight I was in the two-seat, middle section; however, each row features a different seat layout. For instance, on some single-aisle seats, the seat is right against the window, with the storage area to the aisle; in the next row, it's swapped. In the middle section, either the two seats are separated by the middle storage areas or the seats are next to each other with the storage areas to the aisle. I was seated in the former.
As it was a long flight, I unloaded my laptop, book and a few magazines before placing my belongings in the overhead compartment. I also plugged in my phone to charge before settling in. Flight attendants passed around welcome beverages; it was a celebration, so it seemed only fitting to opt for Champagne. Amenity kits and noisecancelling headphones, as well as a small, Portugal-made gift in honor of the inaugural flight, awaited business-class passengers at their seats.
In-Flight: This was my first time flying TAP Air Portugal, and I was eager to see what awaited me. I was familiar with the airline's Taste the Stars chefs program, so I was surprised to see a description of the program in the menu, but none of the food options boasted the program's logo to indicate they were chef-curated meals. I saw the designation on my return flight from Lisbon to Newark, however. The meal began with a tuna and cream cheese canapé as well as mixed nuts, followed by veal tonnato with radish and herb salad and mint pea soup. I chose the filet of beef with Madeira sauce for my entrée. I particularly enjoyed the au gratin potatoes on the side. I finished with strawberry ice cream. After recently completing our wine survey, I recognized some of the served wines from the tasting, and I was eager to try them. I found the Casa de Compostela Vinho Verde pleasant. The service was efficient if not overly effusive.
After purchasing an enhanced WiFi option on board in order to get some work done, I settled in to watch a few movies and sleep. I thought the onboard movie selection lacked a bit when it came to new releases, but I found, overall, plenty of films I wanted to watch. Before landing, a light breakfast was served, including cold cuts and cheese, jam, butter, fresh fruit, a bread and pastry selection and coffee and tea. I will say, caffeine addicts beware: The coffee/tea cups are quite small, so you'll need several cups to satisfy your cravings.
TOP TAKEAWAYS:
◆ A brand-new Airbus A330-900neo jet serves the SFO–LIS route, and the modern aircraft was pristine, comfortable and offered a peaceful in-flight environment.
◆ I appreciated the complimentary in-flight messaging that allowed me to send What's App and iMessages during the more than 10-hour flight.
◆ I usually sleep rather fitfully on flights, but the 180-degree, lie-flat seat and calm in-flight environment were conducive to sleep; and I arrived in Lisbon the next day feeling refreshed. However, as my seat was on the aisle, I found the provided blanket a bit too large for the space, as it kept falling into the aisle or getting stuck under the cart's wheels.
◆ The amenity kit bags feature cute scenes from Portuguese destinations. I don't always keep the bags, but this one was unique enough to save!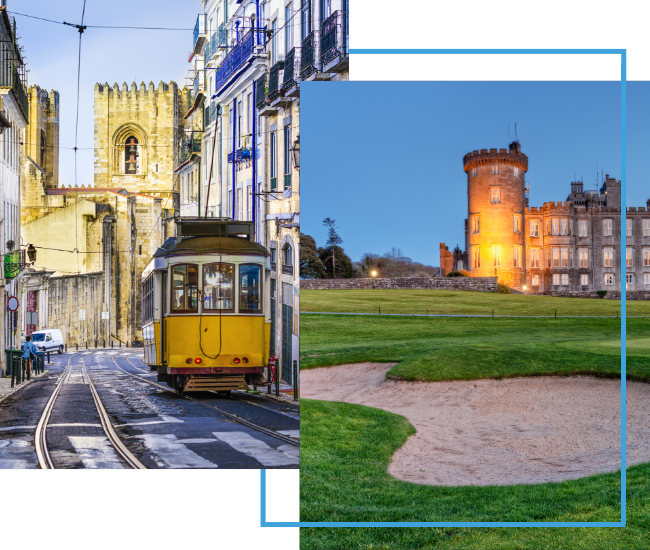 FX Excursions
FX Excursions offers the chance for once-in-a-lifetime experiences in destinations around the world.
Explore Excursions
If fabulous food and beverages are a must-have for any weekend getaway, then look no further than the City of Brotherly Love. Whether your palate has a penchant for vibrant Latin American fare or cozy French cuisine, whether you're an oenophile looking to swirl, sniff and sip your way around the globe or you'd rather sample farm-to-glass cocktails, Philly's got it all this fall. (With the exception of Bolo, which is a short taxi or Uber ride away and definitely worth the trip, the rest of these spots are all within walking distance of each other.)
Sponsored Content
Are you looking to enhance your business trip with a little leisure? Look no further than Portugal, a country renowned for its captivating blend of history, culture and natural beauty. And with TAP Air Portugal, you can effortlessly transform your business trip into an unforgettable bleisure adventure. Discover why Portugal and TAP Air Portugal are the perfect combination for an enriching and rejuvenating experience.
From Santoríni to Dubai to New York, some hotels just have that "it" factor that draws visitors far and wide. For some hotels it's their proximity to popular landmarks and attractions, for others it's their amenities. But these hotels have something few can claim: a true room with a view.