On the Ground: Check-in at Porto International Airport was pleasant and stress-free. Though there was only one agent handling Executive Class and only one person ahead of me in line, that passenger was having some issue related to luggage weight. Anticipating the possibility of a delay, a second TAP agent immediately stepped forward to assist me, with a smile, and I was on my way in minutes. The security line was short and efficiently handled. Total time from check-in to stepping into the elevator going to the lounge one level up was less than 15 minutes.
Pre-Flight: I arrived early for my 11:30 a.m. flight, and the ANA lounge in Terminal 1 used by TAP passengers was not at all crowded. There was a nice spread of fresh juices, teas, coffee, small sandwiches, fruit and freshly baked breads and pastries, including Portugal's famed custard tarts, pasteis de nata, on which I promptly focused. The interior space was nicely sectioned for privacy and working. The bathrooms, though immaculately clean, were located outside of the main lounge area across from the lounge check-in desk.
The Porto airport is relatively small, but a constant flood of natural light worked into the architecture and design gives the impression of spaciousness, which directly carries through to the lounge. Plate in hand, I chose an armchair on the open deck overlooking part of the terminal's retail zone. Though open to the surrounding area, the sound coming from below was muted and not at all distracting.
When the boarding call came, I was greeted by a hearty "Bom dia" by one of the cabin attendants, who took my coat and quickly offered me a glass of sparkling wine. A good selection of magazines and newspapers was offered, but I bypassed those in favor of a book I'd just acquired.
In-Flight: Following a fairly amusing safety video featuring TAP passengers, I explored my seat's adjustment options, which allowed an excellent range of positions and fully reclined for sleeping. The recently introduced headphones featured cutting-edge noise-canceling technology and did exactly that while also being extremely comfortable to wear. Another pleasant and recent change: Large, dark blue quilts have replaced the less cozy polar blankets previously used. Another surprise — and an especially nice touch — was the amenity kit, a pencil box-shaped tin with a lid decorated in original art, part of a project involving designs by three separate international artists commissioned by TAP specifically for this amenity.
During meal service, cabin lights were slightly dimmed, which had the pleasing effect of creating an intimate dining room ambience. My flight included lunch and a second, lighter meal prior to landing. Canapés with shrimp, blue cheese and nuts were offered following takeoff. Lunch included a beautiful salad prepared to order from a trolley seatside, with additional choices that included fresh mango and marinated scallops. Following a creamy basil soup finished with pesto and toasted pine nuts, I chose a main course of beef filet au poivre with an herb butter sauce, blanched potatoes and vegetables, and a glass of excellent Monte da Cal Reserva from the Alentejo region. Three additional choices, including a vegetarian meal, were also available. Though there was a tempting cheesecake for dessert, I selected the cheese plate with raspberry purée and a glass of sweet Vinho Porto Doce.
The Experience: Though I've flown TAP multiple times over the years and have always found the service friendly and extremely efficient, I would rate this flight experience as especially pleasurable.
GT CHECKLIST
Less than 10 minutes for check-in
Friendly and helpful agents
Priority tagged baggage
Airport lounge
Complimentary in-lounge food
Priority boarding
Helpful and courteous flight attendants
Pre-flight beverage service
Pre-flight newspapers and magazines
Extensive on-demand entertainment
Amenity kits
Slippers
Lie-flat seat/bed
Turn-down service
In-flight menu with three entrée choices

Top-shelf wines and liquors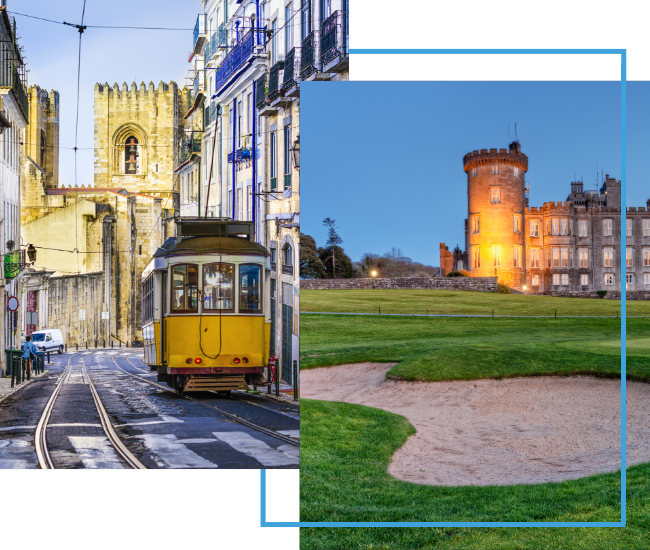 FX Excursions
FX Excursions offers the chance for once-in-a-lifetime experiences in destinations around the world.
Explore Excursions
As first-time restaurateurs, but with plenty of hospitality-related experience, Ria and Kevol (Kev) Graham were not entirely comfortable opening their first restaurant in the Brooklyn neighborhood of Williamsburg, where several upscale restaurants and 5-star hotel dining is just a block away. And to make matters worse, they opened in July 2020, when New York City was in the middle of the COVID-19 pandemic.
Sponsored Content
The Islands of Tahiti offer a range of captivating activities for travelers with diverse interests, from hiking to breathtaking waterfalls, riding horses on secluded beaches; swimming with sharks; or immersing in Polynesian culture through traditional dance, music and art. For watersports enthusiasts, the crystal-clear lagoons offer exhilarating experiences like surfing, kiteboarding and paddleboarding. And if you're looking to relax, the pristine beaches, overwater bungalows and tropical sun offer the perfect setting. With 118 islands and atolls to explore, island hopping is an excellent way to experience the full diversity of The Islands of Tahiti. With its blend of adventure, culture and relaxation, The Islands of Tahiti offer a truly unique travel experience.
In addition to intimate settings, smaller staff-to-passenger ratios, and personalized food and beverage options, river cruises have the advantage of providing a deeper dive into a region's culture, food and history. The Rhine, Rhône and Danube in Europe and the Mississippi River and St. Lawrence in North America have much to offer travelers with their itineraries, tying together beloved cities and lesser-known destinations along their routes.