On the Ground: I was so happy to be out of the cold rain drenching the New York City area, I didn't mind the 45-minute wait in the carrier's line in JFK's Terminal 8. The former Star Alliance partner officially began services as a oneworld member two days after my early-evening departure at the end of March, joining LAN Airlines, TAM's partner in LATAM Airlines Group, and the 13 other current member airlines. When I reached the counter, check-in was quick, and a friendly TAM agent informed me I would be upgraded.
Pre-Flight: With less than an hour until scheduled boarding time, I gazed out the windows at the rain-spattered runway and spotted TAM's Boeing 777-300ER, with "The Magic Red Carpet" slogan painted on its nose, that would transport me to South America, as well as LAN Airlines' Boeing 787 Dreamliner. The procedure for boarding began shortly after, with families with small children and elderly people called first, followed by premium passengers. Priority boarding was slightly chaotic, as those of us flying first and business classes waited in an unorganized crowd for 20 minutes before having our passports and visas checked.
In-Flight: I settled into my business-class seat, upholstered in red floral-patterned fabric, and took out my laptop to get some work done while the remaining business-class passengers entered the cabin, which was arranged in a 2-3-2 configuration. Courteous flight attendants offered glasses of Champagne, a selection of publications mainly in Portuguese and amenity kits before taking our dinner orders.
In the air, I continued to work on my laptop before dinner was served about an hour into the flight. TAM worked with Chef Bel Coelho to create its "Sabor Que Faz Bem" ("Flavors That Make You Feel Good") menu. My flight included dinner and breakfast prior to landing. A shrimp wrap appetizer on a bed of greens was served with my entrée choice of filet mignon cooked in a green pepper sauce with grilled vegetables and chateau potatoes. Other entrée choices included chicken fillet in a red wine sauce served with green beans and pearl barley, and cannelloni stuffed with cheese in an eggplant sauce paired with tomato concassé and mushrooms. Top-quality wines from different countries complemented the menu, as well as a variety of drinks, including traditional Brazilian caipirinha cocktails.
Following a slice of pear and almond pie, I explored the extensive entertainment system before getting a good night's sleep in my angled lie-flat bed. I woke up to the smell of coffee and enjoyed a filling breakfast of fruit, cold cuts, yogurt, grilled Canadian ham and a crêpe stuffed with scrambled eggs before landing on time in São Paulo.
The Experience: From wheels-up to touch-down, my experience flying TAM's "Magic Red Carpet" was comfortable and left me feeling relaxed and happy long after the flight, even while I endured a seemingly endless car ride in São Paulo's notorious traffic. LATAM offers U.S.-based travelers from Los Angeles, Miami, New York and Orlando an extensive route network, including 40 destinations in Brazil and 69 in the rest of South America.
GT CHECKLIST
[checklist]
[item]Less than 10 minutes for check-in[/item]
[item check=yes]Friendly and helpful agents[/item]
[item]Priority tagged baggage[/item]
[item check=yes]Airport lounge[/item]
[item check=yes]Complimentary in-lounge food[/item]
[item check=yes]Priority boarding[/item]
[item check=yes]Helpful and courteous flight attendants[/item]
[item check=yes]Pre-flight beverage service[/item]
[item check=yes]Pre-flight newspapers and magazines[/item]
[item check=yes]Extensive on-demand entertainment[/item]
[item check=yes]Amenity kits[/item]
[item]Slippers[/item]
[item check=yes]Lie-flat seat/bed[/item]
[item]Turn-down service[/item]
[item check=yes]In-flight menu with three entrée choices[/item]
[item check=yes]Top-shelf wines and liquors[/item]
[/checklist]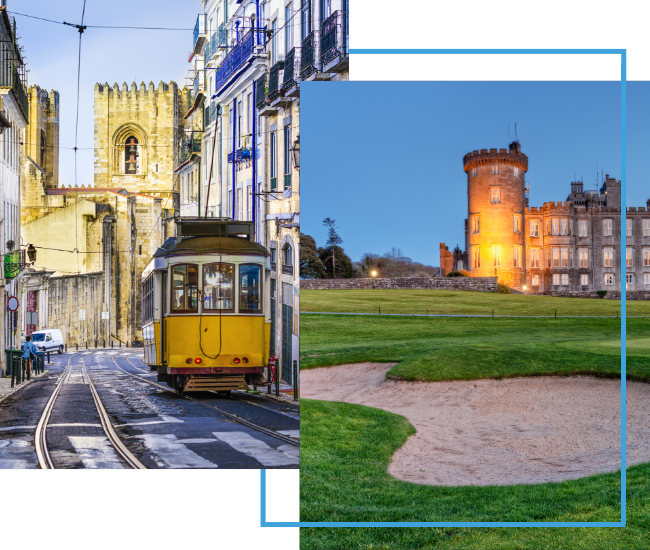 FX Excursions
FX Excursions offers the chance for once-in-a-lifetime experiences in destinations around the world.
Explore Excursions
Corsica with steep, gray cliffs overlooking the Mediterranean and sandy beaches attracting summer visitors, is a French-governed island sometimes confused with Sardinia and Sicily, Italian islands to the south. Fortunately, all three islands share the same love for good wine, food and sun-splashed beaches.
Sponsored Content
Whether it's the people, the craic (fun) or the coasts, travelers always find something to love about the island of Ireland. What fills your heart?
If you're ready to do a little holiday catch-up with your besties, make a beeline for Conrad New York Downtown. The lobby metamorphosed into a holiday forest of heavenly scented, decorated Virginia Spruce trees. Make your first stop ATRIO Barista Station in the lobby for a complimentary hot spiced apple cider (until Dec. 3) or hot chocolate (Dec. 22­–24).