On the Ground: I arrived at JFK early, excited to experience KLM's new World Business Class. One passenger was ahead of me in line, but I was immediately ushered to another counter, where I picked up my boarding pass. Another agent kindly accompanied me to the lounge, where I enjoyed some light snacks and water. Since I was so early, I had a chance to finish some work before heading to the gate.
Pre-Flight: As I found my way to my seat, the flight attendant took my jacket and I placed my belongings in the storage space. Before getting settled, I went to the upper deck of the business-class cabin to visit one of my travel companions. I had trouble returning to my seat, as other passengers were filtering into the aircraft. A flight attendant noticed my confused look and ushered me through the pantry area so I could make my way to my seat.
Dutch designer Hella Jongerius is responsible for the redesigned cabin interior. Each element was thoughtfully designed to embody sustainability, simplicity and personal comfort. Unique details include the new carpet using yarn made from old KLM flight attendant uniforms; cloth curtain pattern designs mimicking a beaded curtain; and a double-sided pillow matching the curtain pattern on one side, with a crisp white fabric on the other meant for sleeping.
Following the pre-flight drink service, the crew served light snacks. I opted for the seared scallop with avocado and salsa instead of the tomato and mozzarella salad. Once all the passengers in the cabin were seated, the flight attendant distributed amenity kits. I slipped out of my shoes and into the provided socks, finally ready to settle in for the flight.
In-Flight: Since I had time to answer emails while in the lounge, I chose to relax on my overnight flight. I reclined my seat and covered my legs with the blanket. After browsing the in-flight entertainment options, I switched on The Way Way Back. The pleasant flight attendant addressed me as "Ms. Skrzek" during the flight, apologizing for mispronouncing my difficult-to-pronounce last name — a problem that no longer fazes me. Top Michelin-awarded Dutch chefs prepare KLM's in-flight meals. I enjoyed the braised short ribs in Milanese sauce with mashed potatoes, Brussels sprouts and caramelized butternut squash. A mixed green salad with cherry tomatoes and a cheese selection accompanied the main course. The flight attendant helped me select the Aaldering Lady M Pinotage; the wine paired perfectly with my meal. I opted for a berry cheesecake for dessert.
After dinner, I decided to get some sleep. I employed the privacy screen and easy-to-operate fully flat seat. I slept peacefully and woke up shortly before landing. Still full from dinner, I skipped breakfast and had a glass of water as we smoothly landed in Amsterdam.
The Experience: My first time flying KLM was a pleasant experience. I felt completely at ease during the overnight flight, taken care of by the helpful and friendly staff.
Since the 1950s KLM has presented World Business Class passengers with a parting gift: a Delft Blue miniature traditional Dutch house filled with Dutch gin, also known as genever. Modeled after houses situated along the canals in Amsterdam, the keepsake reminds me of KLM and my trip every time I look at it.
GT CHECKLIST
[checklist]
[item check=yes]Less than 10 minutes for check-in[/item]
[item check=yes]Friendly and helpful agents[/item]
[item check=yes]Priority tagged baggage[/item]
[item check=yes]Airport lounge[/item]
[item check=yes]Complimentary in-lounge food[/item]
[item check=yes]Priority boarding[/item]
[item check=yes]Helpful and courteous flight attendants[/item]
[item check=yes]Pre-flight beverage service[/item]
[item check=yes]Pre-flight newspapers and magazines[/item]
[item check=yes]Extensive on-demand entertainment[/item]
[item check=yes]Amenity kits[/item]
[item]Slippers[/item]
[item check=yes]Lie-flat seat/bed[/item]
[item]Turn-down service[/item]
[item check=yes]In-flight menu with three entrée choices[/item]
[item check=yes]Top-shelf wines and liquors[/item]
[/checklist]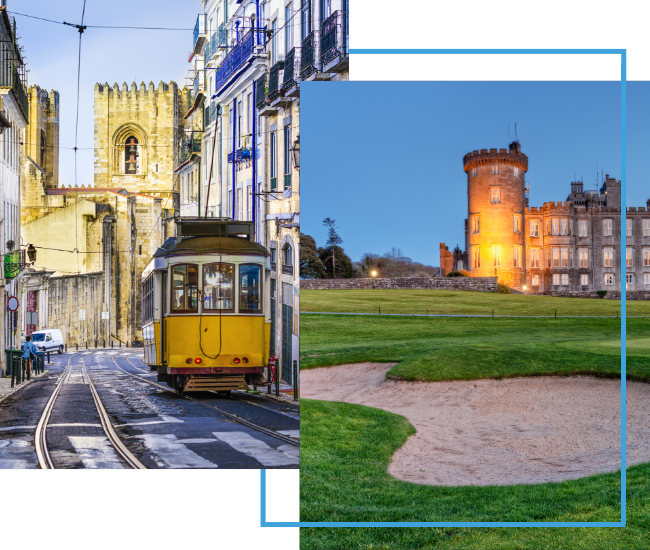 FX Excursions
FX Excursions offers the chance for once-in-a-lifetime experiences in destinations around the world.
Explore Excursions
One thing  surprising about the Prince Edward Island capital is its abundance of shops specializing in affordable, fashion-forward jewelry rendered in sterling silver, vermeil, 14K gold and semi-precious stones. Whether you prefer delicate pieces or bold wearable art, you can be assured the pieces for sale are inspired by the maritime island setting and, therefore, specific to the place where they are created. Here are a few shining, woman-owned examples:
Sponsored Content
The Islands of Tahiti offer a range of captivating activities for travelers with diverse interests, from hiking to breathtaking waterfalls, riding horses on secluded beaches; swimming with sharks; or immersing in Polynesian culture through traditional dance, music and art. For watersports enthusiasts, the crystal-clear lagoons offer exhilarating experiences like surfing, kiteboarding and paddleboarding. And if you're looking to relax, the pristine beaches, overwater bungalows and tropical sun offer the perfect setting. With 118 islands and atolls to explore, island hopping is an excellent way to experience the full diversity of The Islands of Tahiti. With its blend of adventure, culture and relaxation, The Islands of Tahiti offer a truly unique travel experience.
Norway, a haven for visionary artists, architects and designers, showcases an exceptionally diverse array of cultural attractions. This year, the country commemorates exciting milestones and unveilings captivating enthusiasts of the arts, from iconic scenic routes to new museums to gallery openings. Up Norway features these new offerings in personalized itineraries catered to aesthetes.