Following the thrill of the World Cup, it's an exciting time for South Africa. The same goes for its flagship carrier, South African Airways, with brand-new lounges, a new airline partnership and amazing deals on travel to South Africa.
Relax
SAA's Premium Business Class passengers and Star Alliance Gold frequent-flyer members now enjoy three brand new premium lounges at Johannesburg's O.R. Tambo International Airport, Cape Town International Airport and the new King Shaka International Airport in Durban.
Showcasing a décor of traditional African opulence with modern touches and amenities, the luxurious new lounge in Johannesburg takes passenger comfort to new heights with its stunning view of the airport runway, in addition to cozy snooze rooms, rainfall showers, an enclosed cigar lounge, an audio-visual entertainment room, Internet, boardrooms, a self-service food area, a serviced bar, a children's area and a baggage deposit space. The lounge has been designed to ensure passengers can spend hours relaxing or doing business in a warm and welcoming environment.
Also located within O.R. Tambo, SAA's new Arrivals Lounge offers food and beverage service, clothes pressing service and an email and Internet area — perfect for travelers catching connections.
The Domestic Departures Lounge at Cape Town International also features an eye-catching runway view, plus a food and beverage area, an audio-visual section, showers and children's area.
In May, SAA introduced the Domestic Business Class Lounge at the newly built King Shaka International Airport, north of Durban, with plush amenities and tasteful décor on par with the lounges in Johannesburg and Cape Town./p>
Travel
South African Airways now has a comprehensive interline agreement with JetBlue Airways. The agreement, effective May 12, 2010, means customers can purchase a single itinerary for travel on both carriers in just one transaction — a simple way to travel between South Africa and the United States. Passengers can also check bags to their final destinations and receive boarding passes for all legs of their trip upon check-in with either JetBlue in the U.S. or SAA in Africa.
Experience
Considering a trip to South Africa? Let South African Airways Vacations pave the way to adventure. Choose from a number of great packages, starting at $1,999 plus taxes, for an unforgettable South African experience.
The Safari Royale nine-day package includes round-trip airfare from the U.S., domestic flights within South Africa, four nights in Cape Town, a full-day Cape Peninsula tour, a half-day Winelands Tour, two nights in Kruger National Park, game drives, breakfasts, lunches and dinners.
The Classic South Africa package includes round-trip airfare from the U.S., flights within South Africa, four nights in Cape Town, two nights at the Lion Sands River Lodge, game drives and some meals. These are but a few examples of the dream vacations available, and packages can be customized.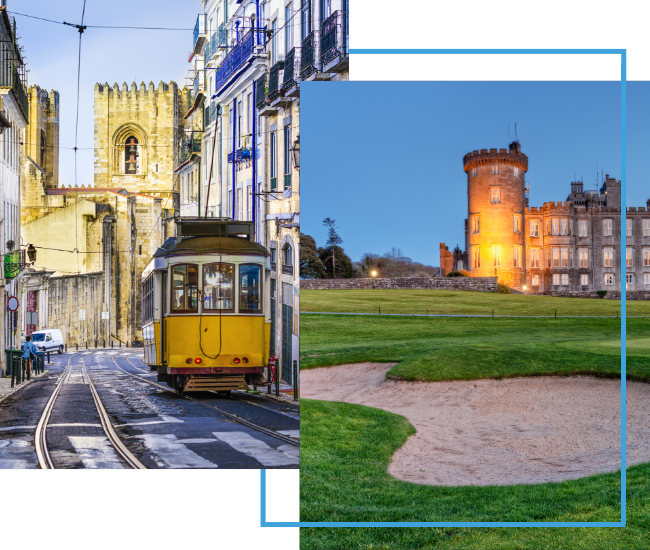 FX Excursions
FX Excursions offers the chance for once-in-a-lifetime experiences in destinations around the world.
Explore Excursions
Travel can take a toll on your body and soul; these products keep you looking (and feeling) good. From a clever shoe that puts a spring in your step (and is effortlessly easy to put on and remove) to a lightweight hair dryer and a night cream that works wonders on tired, dehydrated skin, here are three must-haves to tote on your next trip:
Sponsored Content
The Islands of Tahiti offer a range of captivating activities for travelers with diverse interests, from hiking to breathtaking waterfalls, riding horses on secluded beaches; swimming with sharks; or immersing in Polynesian culture through traditional dance, music and art. For watersports enthusiasts, the crystal-clear lagoons offer exhilarating experiences like surfing, kiteboarding and paddleboarding. And if you're looking to relax, the pristine beaches, overwater bungalows and tropical sun offer the perfect setting. With 118 islands and atolls to explore, island hopping is an excellent way to experience the full diversity of The Islands of Tahiti. With its blend of adventure, culture and relaxation, The Islands of Tahiti offer a truly unique travel experience.
Pleasant weather, autumn foliage and vibrant flowers are among the many delights awaiting nature lovers at botanical gardens and arboretums across the United States. However, some of these green spaces take on additional color this month and through Halloween when enterprising gardeners, landscape architects, management and other creative minds cast a spell with themed environments running the gamut from spooky to utterly bewitching.