On the Ground: I arrived at Heathrow Airport after a trip to London for the World Travel Market Conference. As I arrived at the Air Canada check-in counter, the helpful staff directed me to the security checkpoint. Once through the line, and a bit strapped for time, I walked quickly to my gate, where an extremely kind concierge service member greeted me. She asked how my trip was and said she had been watching for me so she could assist me with boarding early to ensure a calm and easy departure. She had assisted me earlier that week when I processed through security from Toronto to London, so it was nice closing my trip with a friendly face. She escorted me onto the plane and to my seat in the beautiful Signature Class cabin of the Boeing 787-8, introducing me to the flight attendant who would be directing cabin staff during my flight. I thanked the concierge for her hospitality throughout my journey. Experiencing what the Air Canada Super Elite-level members enjoy as features of their commitment to the brand helped me understand the appeal of retaining that status.
Pre-Flight: The Signature Class offers modern and spacious seating. The layout provided privacy and ample room to be comfortable whether one was seated at the inside or window side of the main aisles. The flight attendant offered juice, sparkling water or Champagne. (I opted for the Champagne.) I got situated in my seat and checked out the touchscreen menu and the provided headset and settled in for takeoff.
In-Flight: Once airborne we selected our main entrée. I opted for the lamb filet served with creamy fennel sauce, roasted potatoes, pumpkin and broccoli. The starters to this meal were delicious prawns and a garden salad, and for dessert I enjoyed the fresh fruit. Once I finished my meal, I checked to see if I could get started on some emails. Unfortunately, the WiFi was not functional on this flight. Air Canada was in the process of retrofitting these aircraft with the most up-to-date WiFi, but due to the MAX grounding over the past year could not take this 787 out of commission to update the technology. It all worked out, though, as I was able to still get some work done before taking a nap.
This flight departed mid-morning London time and would land in Toronto in late afternoon/early evening. I was quite comfortable during my nap, lying completely flat with a blanket and pillow of excellent quality. The restrooms in the business- class cabin were clean and spacious. Once we were about an hour or so from our arrival in Toronto, I enjoyed afternoon tea accompanied by delicious sandwiches. I spent that time watching a film and relaxing. After our smooth landing in Toronto, a concierge team member greeted me and directed me to the Maple Leaf Lounge, where I enjoyed a break and snack between flights. The flight, product and service were exceptional from start to finish. It is no wonder Global Traveler named Air Canada Airline of the Year in 2019. As Air Canada says in its advertisements, "Travel like a Canadian." I can tell you, I will be again!
TOP TAKEAWAYS:
◆ Build loyalty and miles with this award-winning airline to become an Air Canada Altitude Super Elite 100K member. Receive faster check-in and boarding, assistance with flight changes and transfers, and escorts between terminals and gates to ensure a seamless journey.
◆ Dine on Demand gives travelers the option to schedule when they eat to best suit their needs. Simply inform the flight attendant when you order your meal at the beginning of the flight.
◆ Save room for the world-class catering on board. I skipped breakfast in order to be hungry for my flight; the culinary options are a taste bud delight!
AIR CANADA
aircanada.com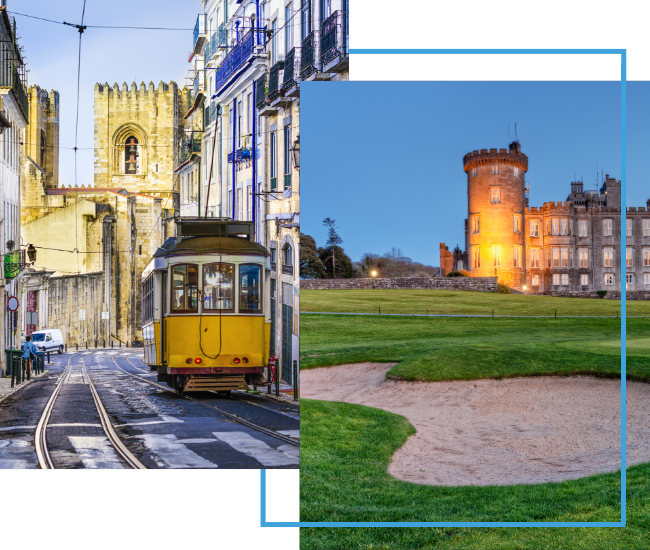 FX Excursions
FX Excursions offers the chance for once-in-a-lifetime experiences in destinations around the world.
Explore Excursions
There's no doubt the northern lights are awe-inspiring and spectacular. Unfortunately, they're also fickle and fleeting, and despite your best-laid plans of checking this item off your bucket list, sometimes Mother Nature's luminescent show just doesn't cooperate. But one cruise line has a new fail-safe in place.
Sponsored Content
Are you looking to enhance your business trip with a little leisure? Look no further than Portugal, a country renowned for its captivating blend of history, culture and natural beauty. And with TAP Air Portugal, you can effortlessly transform your business trip into an unforgettable bleisure adventure. Discover why Portugal and TAP Air Portugal are the perfect combination for an enriching and rejuvenating experience.
Think you need a degree in sailing to enjoy a yachting holiday? Dream Yacht Worldwide, a leader in yacht charters, wants you to relax and enjoy the journey. Newly expanded to include the British Virgin Islands, Martinique, Tahiti and the Seychelles, the "Easy Crewed" offered by Dream Yacht Worldwide also include charter options in Greece and Croatia.