ON THE GROUND: After a quick and somehow traffic- free ride from our home in Pennsylvania to Newark Liberty International Airport, my husband and I swiftly checked in for our overnight flight to Porto. We were in great spirits, as this trip was our honeymoon!
After an easy journey through security, we made our way to the lounge. TAP does not have a designated lounge in Newark, but travelers in Executive Class have the option of the Lufthansa or SAS lounge. We stayed in the former and found the lounge clean and comfortable with plenty of seating options for a couple. We enjoyed a celebratory glass of rosé Champagne as well as some light snacks before boarding our 10:30 p.m. flight.
PRE-FLIGHT: I was pleasantly surprised to find we were able to pre-order our meals through TAP's app. My husband and I both opted for the beef selection, and the flight attendants confirmed our selections prior to takeoff. We also received a hot towel after we settled into our fully lie-flat seats. Each seat had a reading light, USB port and noise-cancelling headphones for the in-flight entertainment system, which was crystal-clear and easy to navigate with a good selection of newer and classic movies and shows. The amenity kit was a beautiful charcoal and yellow geometric pattern and provided basic amenities, which I greatly appreciated as my toiletry kit was at the bottom of my suitcase. We took advantage of the complimentary WiFi offered for iMessage and WhatsApp to respond to well wishes for our honeymoon.
IN-FLIGHT: The star of the show was the delicious cuisine, attributed to the two-year partnership TAP signed with The Art of Tasting Portugal. The fresh and sustainably sourced menus are updated every two months, with a different chef highlighting a different region of the country. We had a selection of cuisines from Chef Cláudio Pontes, who hails from the Azores. As our flight was considered long-haul at six hours, we were treated to a "full gastronomic experience." We started with a sweet corn flan with herb-marinated shrimp and a tomato vinaigrette. Our main course was beef with herb butter, rajas con crema and rice, snap peas and carrots. The absolute highlight of the meal was the light and airy cheesecake dessert. The meal was impeccably paired with a selection of wine from the well-crafted Portuguese wine list. My beef paired nicely with a glass — or two — of Adega de Redondo Alentejo Reserva.
After dinner service ended, I put on Crazy Rich Asians and settled into a deep sleep on the comfortable pillows and under the wide, thick quilt that made me feel warm but not overheated. The crew were friendly and welcoming but not overbearing, which I appreciated while I was falling asleep. I was able to get about four hours of sleep before waking up to enjoy a light and tasty breakfast of fresh fruit, a croissant and delicious coffee. The flight landed right on time, and we disembarked directly onto the tarmac but then had to take a shuttle bus to the main terminal. There was a slight wait as all of the passengers departed the plane, but the drive to the terminal was quick, and we easily breezed through customs, ready to explore the first stop on our honeymoon.
TOP TAKEAWAYS:
TAP's free stopover program makes it easy to add stops throughout Portugal. Customers flying one-way or round-trip can effortlessly add a free stopover in Porto or Lisbon for up to 10 days, including promotions and discounts on lodging, restaurants, and exclusive experiences and activities. Customers also receive a 25 percent discount on a second domestic destination such as Madeira or the Azores.
Check TAP's website to see which chef will curate your meals, and use the order-ahead program to make your selection.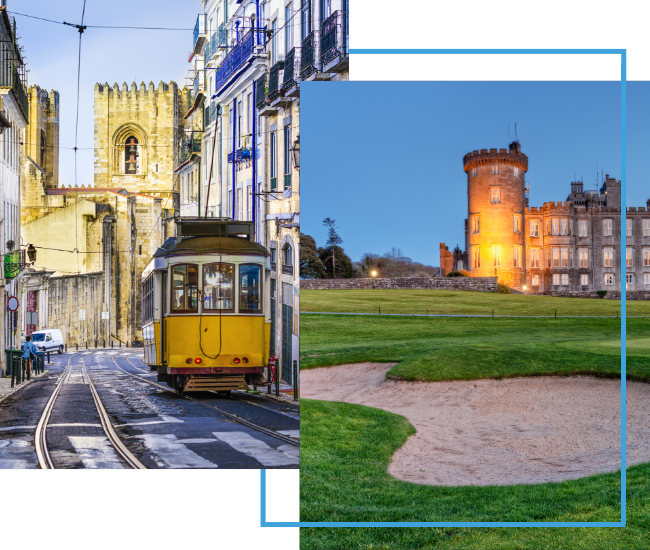 FX Excursions
FX Excursions offers the chance for once-in-a-lifetime experiences in destinations around the world.
Explore Excursions
Everyone loves a good Christmas tree, but these iconic hotels around the world take it one step further with designer-styled trees illuminating lobbies and public spaces, wowing all who enter. From Lela Rose to Louis Vuitton, don't miss these ultra-luxury trees redefining tree decorating as we know it.
Sponsored Content
In an increasingly digital and interconnected world, the Global Business Travel Association (GBTA) Convention remains an indispensable platform for business travel industry professionals seeking to make the most of the power of face-to-face connections. Taking place August 13–15 in Dallas, the 2023 GBTA Convention provides the unique opportunity for professionals and companies to join visionaries, thought leaders and industry experts for meaningful networking, cutting-edge insights and inspiring innovation.
As another phenomenal year of travel comes to an end, it's time, as always, for Global Traveler to celebrate and award those who do it best as we announce the 2023 winners of the GT Tested Reader Survey awards. But that's not the only cause for celebration here: We've hit another major milestone, as this marks our 20th year honoring the best of the best inn world of travel!