On the Ground: Arriving at London City Airport, just 10 minutes from the Four Seasons Hotel in Canary Wharf, I quickly learned that everyone on BA 001 is treated like a VIP. Check-in and security were the fastest I have seen since the 1970s: less than 10 minutes from curbside to gate. A gate agent is even positioned outside the main airport entrance, and there are multiple self-service kiosks just inside. (30/30)
Pre-flight: BA has made the departure gate into its lounge, where passengers are greeted by name. It has plenty of room for the 32 passengers on the flight. Friendly, helpful staff were ready with light snacks, including fresh fruit and Champagne. Passengers can check in just 15 minutes before boarding, which takes place just 10 minutes before departure, so there is no need for extensive services in the lounge. Boarding the narrow-body A318 took place outside via a single stairway but was accomplished efficiently. The first thing passengers notice on board is that there are only eight rows of 2-2 seating, with wide black leather seats which become fully flat sleepers. The plane projects a clubby atmosphere, almost like a private plane. (29/30)
In-flight: Since the runway at London City is too short for the narrow-body plane to take off with a full load of fuel, the flight must make a stop in Shannon, Ireland (SNN). On the 70-minute flight, drinks were served immediately after take-off, with a unique snack of a prosciutto-like ham atop a potato and apple salad with pea shoots. During the 35-minute stop in Shannon, passengers deplaned and quickly cleared American security screening and U.S. immigration and customs. While we waited in an adjacent lounge for 15 minutes before re-boarding, we enjoyed Irish coffee, Champagne and canapés while listening to a harpist. After take-off, an impressive dinner service was offered, with the choice of filet of beef with Madeira sauce, British corn-fed chicken with Somerset cider sauce, grilled sea bass with roasted fennel, pasta with zucchini and eggplant tomato sauce or smoked Scottish salmon and prawns. A single sour note was the beef, reheated beyond recognition and swimming in moisture from the accompanying vegetables. A single button turned the comfy chair into a sleeper. Once under the warm duvet cover, staying awake was impossible. Shortly before arrival at JFK, there was a full English tea with warm scones and clotted cream. Passengers also have access to WiFi for SMS, text by cellphone and web browsing, but no voice access. (37/40)
The Experience: The convenience of London City Airport to the financial district and Canary Wharf — and arriving without having to clear U.S. customs in New York — is unique in travel across the Atlantic. I was in a taxi at JFK 10 minutes after leaving the aircraft. So while the stop at Shannon makes the flight one-stop, the experience must be measured in door-to-door travel time. From start to finish, there was an admirable level of attention and comfort.
Total Score: 96/100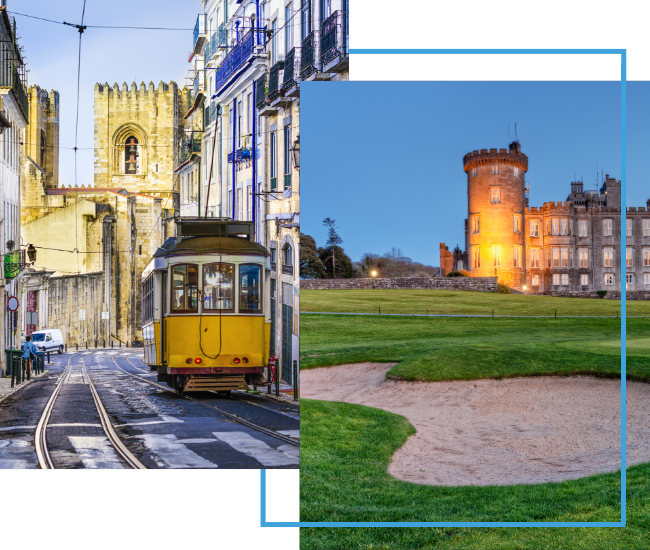 FX Excursions
FX Excursions offers the chance for once-in-a-lifetime experiences in destinations around the world.
Explore Excursions
There's no doubt the northern lights are awe-inspiring and spectacular. Unfortunately, they're also fickle and fleeting, and despite your best-laid plans of checking this item off your bucket list, sometimes Mother Nature's luminescent show just doesn't cooperate. But one cruise line has a new fail-safe in place.
Sponsored Content
Whether it's the people, the craic (fun) or the coasts, travelers always find something to love about the island of Ireland. What fills your heart?
Think you need a degree in sailing to enjoy a yachting holiday? Dream Yacht Worldwide, a leader in yacht charters, wants you to relax and enjoy the journey. Newly expanded to include the British Virgin Islands, Martinique, Tahiti and the Seychelles, the "Easy Crewed" offered by Dream Yacht Worldwide also include charter options in Greece and Croatia.