On the Ground: With virtually no wait in the designated check-in line for Premium Voyageur passengers, we were quickly assisted by pleasant and efficient agents. We happily checked our bags with their priority tags attached, passed quickly through the designated security line and made our way to L'Espace Lounge.
The small lounge offers separate zones (but not individual rooms) for dining, television watching or going online. Minimalist in design and slightly worn but clean, the room had large windows covered by opaque shades, which let in natural light and screened out the rooftop view of ducts and air-conditioning units. Leather club chairs with adjoining side tables and lamps and ample electrical outlets provided comfortable seating as I powered up my laptop to access the free WiFi. My husband checked out the three workstations and reported that one computer wasn't functioning and the rest were frustratingly slow.
Although we arrived just before 1 p.m. and were hoping to find lunch items, food offerings were limited to prepackaged snacks and small rounds of cheese. A little later, a few small sandwiches were set out — and depleted before I got to them. A good selection of sodas, soft drinks and bottled water were augmented by a self-service station of wines, Champagne and liquors.  The boarding announcement informed us of the time required to get to our gate —  very helpful.
Pre-flight: We boarded through a separate entrance but still found ourselves seated aft of the economy-class doorway, delaying attendant service. Our seats were stocked with an amenity kit (ear plugs, eye shade, toothbrush, comb, shoe horn, moisturizer,  headphone covers, socks and a shoe bag), blanket, pillow and bottled water.  Each also featured a USB port and electrical outlet, reading lamp, headphones and spaces for stowing personal gear. Once boarding was completed, we were offered Champagne,  juice and a selection of newspapers.
In-flight: Our dinner service — on white linen and china — began with an amuse-bouche of quail with chestnuts and cranberry preserves (and more Champagne) and proceeded to a delicious smoked duck and scallop flan appetizer and seasonal salad. The only disappointment here was the cold and rather dry rolls offered. Three entrées (including a vegetarian option) plus a special chicken dish were available; we both enjoyed the tournedos of beef in shallot sauce with two delicious red wine blends. A cheese plate (delectable brie and camembert at perfect room temperature) was followed by a trio of miniature desserts and a choice of coffee, tea or an assortment of after-dinner liqueurs.
Cabin lights dimmed, and after sampling the abundant entertainment on the AVOD system (movies, TV series, games, music), I reclined my seat into its self-contained shell and raised the footrest to achieve a not-flat-but-nevertheless-comfortable position for several hours of rest. I've found most cabins to be quite cool and prefer them so for sleeping, but on this flight I was actually too warm. Breakfast, served about 90 minutes before we reached Paris,  began with fresh fruit (the sweetest, juiciest pineapple I've had in a long time), yogurt and pastries and concluded with a choice of omelet and hash browns, blueberry crêpes or a cold plate of preserved meats and cheeses. I enjoyed the crêpes while my husband, the last to be served, had to accept the cold plate (and the front of the plane was not full — disappointing). Not being coffee drinkers, we both found the hot chocolate — thick, creamy and rich —  extremely satisfying.
The Experience: This was my first flight on Air France and one I would gladly repeat. The comfortable seat, fine service and delectable food and wine made the nearly 11-hour flight a pleasant one.
GT Checklist
Less than 10 minutes for check-in
Friendly and helpful agents
Priority tagged bags
Airport lounge
Complimentary in-lounge food and beverages
Priority boarding
Helpful and courteous in-flight staff
Pre-flight beverage service
Pre-flight newspapers and magazines
Amenity kits
Slippers
Lie-flat seat/bed
Mattress pad and comforter
In-flight menu offering choice of three entrées
Top-shelf wines and liquors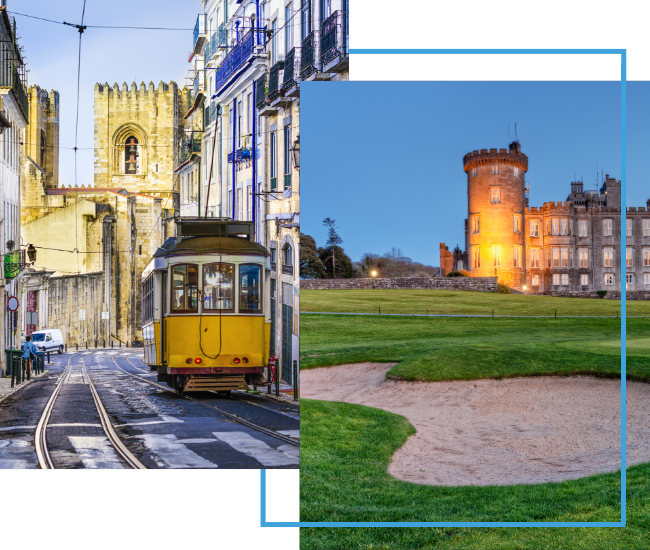 FX Excursions
FX Excursions offers the chance for once-in-a-lifetime experiences in destinations around the world.
Explore Excursions
If fabulous food and beverages are a must-have for any weekend getaway, then look no further than the City of Brotherly Love. Whether your palate has a penchant for vibrant Latin American fare or cozy French cuisine, whether you're an oenophile looking to swirl, sniff and sip your way around the globe or you'd rather sample farm-to-glass cocktails, Philly's got it all this fall. (With the exception of Bolo, which is a short taxi or Uber ride away and definitely worth the trip, the rest of these spots are all within walking distance of each other.)
Sponsored Content
Learning more about our readers' travel habits and preferences ensures Global Traveler delivers the content you desire. As the travel industry has adapted and changed over the last few years, it's more important than ever to connect. To best meet your short- and long-term travel content needs, please help us!
From Santoríni to Dubai to New York, some hotels just have that "it" factor that draws visitors far and wide. For some hotels it's their proximity to popular landmarks and attractions, for others it's their amenities. But these hotels have something few can claim: a true room with a view.