On the Ground: Weeks of careful deliberation went into deciding whether I should travel to Egypt following a recent botched terrorist attack on a popular tourist site in Luxor. I chose to go after discussing the pros and cons with colleagues, family and friends. I headed to JFK with a mix of excitement and anxiety, but my eagerness to explore the country and see the only remaining member of the Seven Wonders of the World outweighed my apprehension. Following an uneventful commute from Pennsylvania, I arrived for my evening flight in the early afternoon; any lingering unease was allayed by EgyptAir's simple and quick check-in process for premium passengers and my relaxing experience in the SWISS Business Class Lounge, shared by Star Alliance members.
Pre-Flight: After a roughly five-minute wait in the security line for premium passengers, I took a short walk to the SWISS Lounge, conveniently located in Terminal 4 on the second floor near a TravelEx post that quickly exchanged my U.S. dollars for Egyptian pounds. Though nearly empty when I first arrived about two hours before my flight, the relatively small space quickly filled up in the evening, with several premium passengers flying Star Alliance carriers filling the remaining comfortable seating, leaving others to sit in the less comfortable high-top seats. From my seat overlooking the runway, I enjoyed bites from the fresh food choices, including a cold appetizer of mushroom salad, a hot entrée of pepper steak with jasmine rice, a vegetable side of roasted bok choy with pearl onions and confit tomatoes and cream of broccoli soup, and selected a Brooklyn Lager from the extensive beverage selection.
I made the most of my waiting time by working on my laptop with free WiFi and was interrupted a bit later with a boarding notice. I found the priority line empty at my gate and boarded the Boeing 777-300 without delay. A flight attendant immediately guided me to my aisle-access seat in the middle section of the 2-3-2 configuration and offered a pre-flight beverage of fresh mango juice (EgyptAir is a dry airline), as well as magazines, newspapers, amenity kits and menus.
In-Flight: After an on-time take-off, food service started with an ample appetizer of tasty smoked salmon and marinated prawns served with avocado, tomato and cream cheese as well as a fresh salad, bread and a small plate of cheese and grapes. From the three entrée offers of beef, sea bass filet and chicken breast, I chose the filet of beef. While the meat was a bit too salty for my taste, I enjoyed the sides of grilled vegetables and mushroom risotto.
Too full, I skipped dessert and sipped on a soda before settling into A Most Violent Year and dozing off. The airline offers a number of new movies and popular TV shows in a variety of languages. I slept on and off for about five hours of the 10-hour flight, roused about 90 minutes before landing for breakfast. The flight attendants, who all spoke English well, offered rather heavy breakfast options, including my choice of omelet with cottage cheese accompanied with chicken sausage, potatoes, sautéed mushrooms and a tomato stuffed with baked beans that left me feeling sluggish when we landed in Cairo a short while later. Disembarkation was quick, as was clearing Immigration and picking up my priority tagged luggage, one of the first on the conveyor belt.
The Experience: Overall, my flight with EgyptAir was pleasant, setting me up for an incredibly memorable trip to a country attempting to boost tourism after years of unrest. Following the January 2011 uprising that toppled former President Hosni Mubarak, Egypt's tourism sector is only starting to rebound. The only issue I ran into involved acquiring a visa. I had to search for a different service in the airport to buy an Egyptian visa after the first told me it only accepted U.S. dollars; I eventually found a location nearby willing to accept Egyptian pounds.
GT CHECKLIST
[checklist]
[item check=yes]Less than 10 minutes for check-in[/item]
[item check=yes]Friendly and helpful agents[/item]
[item check=yes]Priority tagged baggage[/item]
[item check=yes]Airport lounge[/item]
[item check=yes]Complimentary in-lounge food[/item]
[item check=yes]Priority boarding[/item]
[item check=yes]Helpful and courteous flight attendants[/item]
[item check=yes]Pre-flight beverage service[/item]
[item check=yes]Pre-flight newspapers and magazines[/item]
[item check=yes]Extensive on-demand entertainment[/item]
[item check=yes]Amenity kits[/item]
[item check=yes]Slippers[/item]
[item check=yes]Lie-flat seat/bed[/item]
[item]Turn-down service[/item]
[item check=yes]In-flight menu with three entrée choices[/item]
[item]Top-shelf wines and liquors[/item]
[/checklist]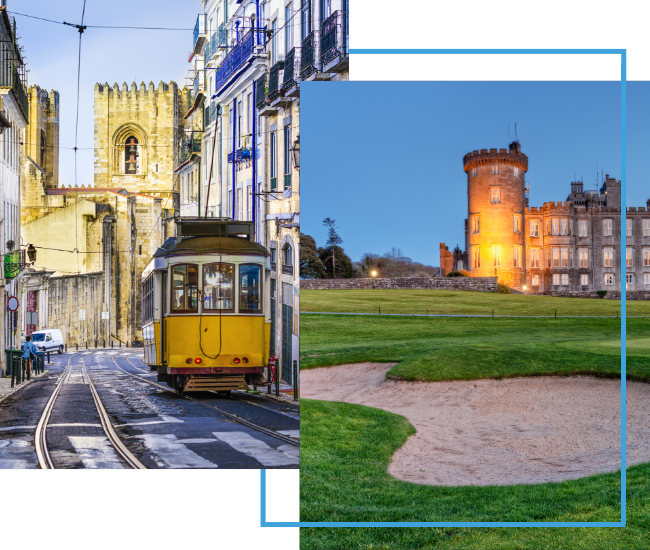 FX Excursions
FX Excursions offers the chance for once-in-a-lifetime experiences in destinations around the world.
Explore Excursions
There's no doubt the northern lights are awe-inspiring and spectacular. Unfortunately, they're also fickle and fleeting, and despite your best-laid plans of checking this item off your bucket list, sometimes Mother Nature's luminescent show just doesn't cooperate. But one cruise line has a new fail-safe in place.
Sponsored Content
Are you looking to enhance your business trip with a little leisure? Look no further than Portugal, a country renowned for its captivating blend of history, culture and natural beauty. And with TAP Air Portugal, you can effortlessly transform your business trip into an unforgettable bleisure adventure. Discover why Portugal and TAP Air Portugal are the perfect combination for an enriching and rejuvenating experience.
Think you need a degree in sailing to enjoy a yachting holiday? Dream Yacht Worldwide, a leader in yacht charters, wants you to relax and enjoy the journey. Newly expanded to include the British Virgin Islands, Martinique, Tahiti and the Seychelles, the "Easy Crewed" offered by Dream Yacht Worldwide also include charter options in Greece and Croatia.