ON THE GROUND: My colleague and I flew premium economy on Norse Atlantic Airways from Fort Lauderdale directly to Berlin, Germany, to participate in ITB Berlin Travel Fair. With an 11 p.m. departure and no online check-in available, we made sure to arrive 2.5 hours prior to our departure. Although there wasn't a designated queue for those flying premium economy (and a rather long line of customers), we mentioned our status to an attendant and were given priority access in line. We presented our passports, checked our luggage and smoothly made our way toward security and the gate.
PRE-FLIGHT: The premium cabin sits in a 2-3-2 configuration; and once I found my window seat, I was happy to learn the seat next to me would remain unoccupied. I settled in, discovering the tray table under my right armrest and entertainment screen under my left armrest. The entertainment screen offered a USB power source, while another universal power source sat between the seats near my feet. I received a blanket and a set of headphones prior to takeoff. From my window seat, I easily snapped a few quick photos for family and friends with the plane's right engine tailing in the background.
IN-FLIGHT: For passengers looking for extra legroom, Norse Atlantic Airways most certainly delivers. At 43 inches, the extra space is especially significant when compared to domestic premium-economy seating. Further, the seat reclines back a full 12 inches, and an adjustable foot rest supports your legs regardless of your seated position. I was a bit concerned reclining my seat back the full 12 inches might impose on the person behind me; but because the seat next to me was vacant, I simply switched seats while sleeping, allowing everyone enough space.
Although WiFi was not available, I did enjoy a couple of movies during the nearly 10-hour flight. I also received a warm meal of chicken and vegetables along with a glass of red wine prior to the cabin lights dimming for the evening's journey across the Atlantic.
As a final touch, during takeoff and landing Norse Atlantic Airways performs an interior light show, with soft colors fading in and out, resembling the northern lights. After a long flight, it's amazing how projecting a few iridescent lights at the top of the cabin can bring a smile to your face.
TOP TAKEAWAYS:
Seat pitch of 43 inches and reclined seating of 12 inches makes for a comfortable flight.
Unfortunately, there's no WiFi on board.
Additional food is available for purchase beyond the served warm meal.
NORSE ATLANTIC AIRWAYS
flynorse.com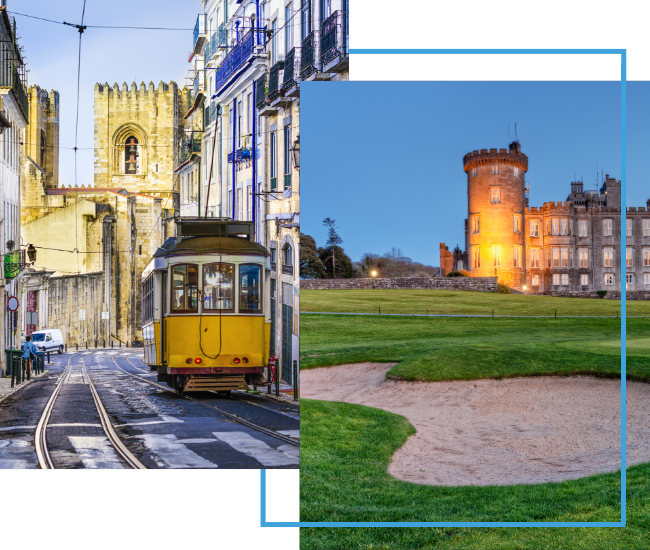 FX Excursions
FX Excursions offers the chance for once-in-a-lifetime experiences in destinations around the world.
Explore Excursions
It's time to start dreaming of your next trip. Here's some destination inspiration for you. Take a visual journey through these U.S. Christmas markets with us.
Sponsored Content
Are you looking to enhance your business trip with a little leisure? Look no further than Portugal, a country renowned for its captivating blend of history, culture and natural beauty. And with TAP Air Portugal, you can effortlessly transform your business trip into an unforgettable bleisure adventure. Discover why Portugal and TAP Air Portugal are the perfect combination for an enriching and rejuvenating experience.
Everyone loves a good Christmas tree, but these iconic hotels around the world take it one step further with designer-styled trees illuminating lobbies and public spaces, wowing all who enter. From Lela Rose to Louis Vuitton, don't miss these ultra-luxury trees redefining tree decorating as we know it.