Château Brown and Château Couhins lie in the Péssac- Léognan area of Bordeaux, south of the city of Bordeaux. Both produce red and white wines from classic Bordeaux grapes, and the wines of both tend to age well and long. Unlike a number of Bordeaux châteaux, however, both offer excellent wines at reasonable prices.
It is a small, elegant affair to honor a new job, a meaningful promotion, an intimate wedding, a special Father's Day. A celebration that involves family and closest friends calls for the best. And the best means Champagne's Prestige Cuvées. They are exceptionally fine Champagnes and tend to be expensive. But then, it is not an event where we pour Champagne for hundreds; it is a gathering for the few, the most meaningful people in our lives. I've recently tasted some Prestige Cuvée Champagnes I would gladly choose to serve at my own special celebration. Dom Ruinart represents one of the oldest firms in Champagne, begun in 1729, and it produces an outstanding blanc de blancs. Tasting the 2004 ($130) vintage, I found it aromatic with hints of citric fruits; a clean, smooth body; and lovely aftertaste. Overall, a most elegant Champagne. Like all blanc de blancs Champagnes, Taittinger Comtes de Champagne is made entirely of Chardonnay. Its Blanc de Blancs 2006 ($125) offers exceptionally fine bubbles and a lemony freshness. Lean and clean, it is satisfying and delicious. Perrier-Jouet Belle Epoque 2002 ($325), a blanc de blancs, offers a bouquet that reminds one of pear and tropical fruits. Add a floral delicacy in the aroma, a vivaciousness in the body and a finish that is all grace for a most stylish Champagne. In 1876, Czar Alexander II of Russia asked the Champagne house of Louis Roederer to create a special wine for him. It created Cristal, and 140 years later it still produces this special Champagne. Cristal's latest release, the vintage 2007 ($185), offers a rich bouquet of citric flavors, white fruits and crushed nuts and shows an overall harmonious balance. Moët & Chandon's Dom Perignon 2006 ($155) pleases as a bright, vibrant sparkler with a floral intensity and beautiful balance of flavors . . . a silky and appealing Champagne. The non-vintage Krug Grande Cuvée ($130) presents a bright, creamy, complex Champagne brimming with aromas of berries and almonds and with a zesty acidity. An intriguing Champagne. As they all are.
A country whose wine history stretches back to 1659, South Africa enjoyed an oenological rebirth in the mid-1990s after the death of apartheid and the birth of democracy. Today it boasts nearly 600 wineries, with 247,000 acres planted in vines, and produces a range of wines that catch the attention of wine lovers throughout the world. Recently I tasted a group of new releases of South African wines in the United States — some from well-established wineries, some from wineries just entering the international market. Highberry Sauvignon Blanc 2014 ($21) represents both. It hails from a new winery owned by three men with long wine experience, one of whom is Jabulani Ntshangase, the preeminent black South African in that country's wine world. Its first release is a delicate, subtly flavored, pale-shaded wine offering excellent balance and evoking flavorful citrus fruits. New on the international market, Virgin Earth Sauvignon Blanc 2015 ($19) calls to mind freshly mown grass, a basic aroma of its grape. It also offers a floral essence and a rich array of tropical fruits. With 18 percent of its vineyards planted to Chenin Blanc, South Africa is the world's largest producer of the grape. And Terre Brulée Chenin Blanc 2014 ($16) proves an interesting example of the many paths the grape can take. The winery's owner, from France's Loire, produced a smoky, spicy wine with good acidity and hints of honey and citrus. Pinotage is a grape created in South Africa in the 1920s. Radford Dale Frankenstein Pinotage 2014 ($35) captures the essence of the grape with its dark color, an aroma that recalls plums and other red fruits, and a lingering finish. Thelema remains one of South Africa's most dependable wineries, and its 100 percent Cabernet Sauvignon 2010 ($35) continues that reputation. A smooth, stylish, complex wine, it displays dark fruit flavors and a long finish. Ken Forrester Renegade 2011 ($20) offers a blend of Syrah and Grenache and melds the flavors of both — the spice and black olive of Syrah and the earthier flavors of Grenache. They add up to a distinctive, well-structured, full-bodied wine.
A little more a year ago, Depot Boijmans Van Beuningen, designed by architectural firm  MVRDV, opened to the public in Rotterdam. At Depot, everything revolves around the interaction between the visitors and more than 151,000 works stored in various areas of the unique building.
Sponsored Content
Europe is more fun with a Portugal Stopover.
With the start of spring, travelers have their choice of new design-centric boutique properties opening in the coming months. Check out these properties for travel inspiration.
Mendocino County is a self-contained universe of effortless, California-centric joy enveloped within the Redwood Forest National and State Parks, the rocky Pacific Coast and several prime wine production areas like Anderson Valley. If Highway 1 and Route 128 are the ribbons holding this package together, Elk Cove Inn & Spa can be considered the bow. Mendocino Coast's first vacation destination, established in 1968, is an ideal 16-room gateway to the destination.
Sponsored Content
FXExpress Traveler of the Year Contest 2023
YOTEL recently announced plans to open YOTELPAD London Stratford at the end of this year, making it the seventh YOTEL property in the United Kingdom and third in London, joining YOTEL London City and YOTEL London Shoreditch. YOTEL currently features properties in the United States and United Kingdom, with hotels in Boston, New York, San Francisco and, more recently, Washington, D.C.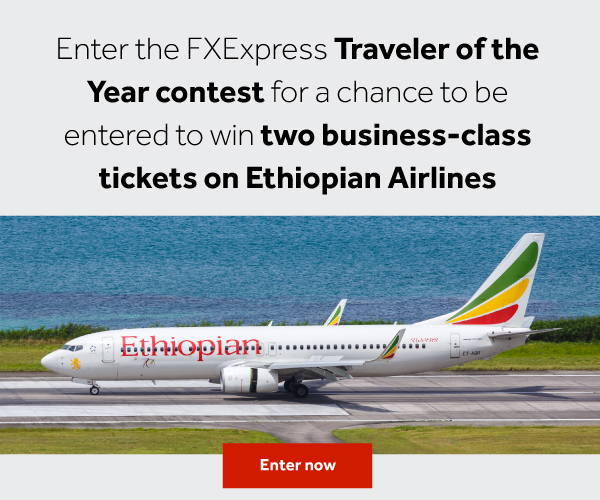 After a series of high-profile unruly passenger incidents, many of which made their way across the internet for thousands to see, a bipartisan group of lawmakers announced a new push for legislation to ban passengers fined or convicted of serious physical violence from commercial flights.
Sponsored Content
Now through May 8, sign up for a free six-month trial of the Global Traveler app and be automatically entered for a chance to win a $500 gift card of your choice for Amazon, Apple or American Express.
This May, London celebrates as King Charles III will officially be crowned in the coronation. To help travelers get into the royal spirit, Red Savannah recently introduced a variety of itineraries and destinations in the United Kingdom, including the homes of monarchs and historical figures, castles and gardens.