It is a small, elegant affair to honor a new job, a meaningful promotion, an intimate wedding, a special Father's Day. A celebration that involves family and closest friends calls for the best. And the best means Champagne's Prestige Cuvées. They are exceptionally fine Champagnes and tend to be expensive. But then, it is not an event where we pour Champagne for hundreds; it is a gathering for the few, the most meaningful people in our lives. I've recently tasted some Prestige Cuvée Champagnes I would gladly choose to serve at my own special celebration. Dom Ruinart represents one of the oldest firms in Champagne, begun in 1729, and it produces an outstanding blanc de blancs. Tasting the 2004 ($130) vintage, I found it aromatic with hints of citric fruits; a clean, smooth body; and lovely aftertaste. Overall, a most elegant Champagne. Like all blanc de blancs Champagnes, Taittinger Comtes de Champagne is made entirely of Chardonnay. Its Blanc de Blancs 2006 ($125) offers exceptionally fine bubbles and a lemony freshness. Lean and clean, it is satisfying and delicious. Perrier-Jouet Belle Epoque 2002 ($325), a blanc de blancs, offers a bouquet that reminds one of pear and tropical fruits. Add a floral delicacy in the aroma, a vivaciousness in the body and a finish that is all grace for a most stylish Champagne. In 1876, Czar Alexander II of Russia asked the Champagne house of Louis Roederer to create a special wine for him. It created Cristal, and 140 years later it still produces this special Champagne. Cristal's latest release, the vintage 2007 ($185), offers a rich bouquet of citric flavors, white fruits and crushed nuts and shows an overall harmonious balance. Moët & Chandon's Dom Perignon 2006 ($155) pleases as a bright, vibrant sparkler with a floral intensity and beautiful balance of flavors . . . a silky and appealing Champagne. The non-vintage Krug Grande Cuvée ($130) presents a bright, creamy, complex Champagne brimming with aromas of berries and almonds and with a zesty acidity. An intriguing Champagne. As they all are.
A country whose wine history stretches back to 1659, South Africa enjoyed an oenological rebirth in the mid-1990s after the death of apartheid and the birth of democracy. Today it boasts nearly 600 wineries, with 247,000 acres planted in vines, and produces a range of wines that catch the attention of wine lovers throughout the world. Recently I tasted a group of new releases of South African wines in the United States — some from well-established wineries, some from wineries just entering the international market. Highberry Sauvignon Blanc 2014 ($21) represents both. It hails from a new winery owned by three men with long wine experience, one of whom is Jabulani Ntshangase, the preeminent black South African in that country's wine world. Its first release is a delicate, subtly flavored, pale-shaded wine offering excellent balance and evoking flavorful citrus fruits. New on the international market, Virgin Earth Sauvignon Blanc 2015 ($19) calls to mind freshly mown grass, a basic aroma of its grape. It also offers a floral essence and a rich array of tropical fruits. With 18 percent of its vineyards planted to Chenin Blanc, South Africa is the world's largest producer of the grape. And Terre Brulée Chenin Blanc 2014 ($16) proves an interesting example of the many paths the grape can take. The winery's owner, from France's Loire, produced a smoky, spicy wine with good acidity and hints of honey and citrus. Pinotage is a grape created in South Africa in the 1920s. Radford Dale Frankenstein Pinotage 2014 ($35) captures the essence of the grape with its dark color, an aroma that recalls plums and other red fruits, and a lingering finish. Thelema remains one of South Africa's most dependable wineries, and its 100 percent Cabernet Sauvignon 2010 ($35) continues that reputation. A smooth, stylish, complex wine, it displays dark fruit flavors and a long finish. Ken Forrester Renegade 2011 ($20) offers a blend of Syrah and Grenache and melds the flavors of both — the spice and black olive of Syrah and the earthier flavors of Grenache. They add up to a distinctive, well-structured, full-bodied wine.
Marsha said, "I love red wine but I only drink white when I'm at a business function. I don't want to talk to a client when my teeth are stained with wine." Purple, she added, is her favorite color, just not on her teeth. But with a few precautions, Marsha need not worry. In fact, she might find red wine safer than white. And this is how we can best manage the problem.
DIYS.com, the world's largest D.I.Y. community, sought to find out which of the world's iconic Christmas trees are the most popular; the website analyzed monthly global search volume to rank the trees.
Sponsored Content
History and culture are etched into every corner of Greece. Beginning with its language, the oldest written language still in existence, and moving from the traces of passing civilizations and religions to pre-historic findings and works from many movements, there's a wealth of culture to discover on your next trip to Greece.
Hilton Lake Como recently unveiled a new winter culinary offering at its exclusive rooftop restaurant and bar, Terrazza 241. Executive chef Alessandro Ramella crafted the new menu to ensure each dish complemented the garden and 360-degree panoramic views of the surrounding landscape and lake. The hotel first opened in 2018, continually drawing in visitors for its gorgeous scenery, fine dining and luxury accommodations.
For the 11th consecutive year, Global Traveler honors the best of the best in the industry, naming 2021's Airline of the Year and Hotel of the Year.
Sponsored Content
IHG® Business Edge: Working Together with SMEs for a smarter way to manage travel
It's not an overstatement to say we've been through it all in the past 18 months as milestones, celebrations, and even hallmarks of our day-to-day lives were upended. But 2021 has certainly brought us a bit more due north with vaccine deployment, a return to in-person everything, countries around the world re-welcoming Americans and, more recently, with U.S. borders re-opening to vaccinated individuals from around the world. With all that good news, we chose the theme "Open the World" to celebrate the 2021 winners of the GT Tested Reader Survey awards, our 18th year honoring the best of the best in the world of travel.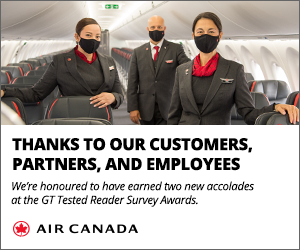 After being closed to travelers for a long period of time, Chile is officially ready to welcome fully vaccinated travelers from around the world. The National System of State Protected Wildlife Areas comprises 22 percent of domestic territory in Chile, and with 43 national parks, 45 national reserves and 18 natural monuments, the country is the perfect destination for travelers to participate in sustainable tourism.
Sponsored Content
GBTA's Convention 2021 will bring the business travel industry together for the first time in a long time. Once again, you'll learn and connect with experts and each other, along with discussions with leading thinkers, entrepreneurs and change makers addressing the issues that matter most.
Visitors to Paris are familiar with the Champs Elysées — the broad, tree-lined boulevard connecting the Place de la Concorde and Arc de Triomphe — and all the fashionable streets that lead from it, including Avenue George V. The flagship Louis Vuitton store and the red awning at Le Fouquets are the two gatekeepers to this stylish street, which boasts chic Hermes, Bulgari and Kenzo boutiques — and elegant hotels, including Prince de Galles, a Luxury Collection hotel.