Tarcisio Costa is smiling, and for good reason. As wine director and co-owner of Alfama, a Portuguese restaurant in Manhattan, Costa has amassed one of the greatest — if not the greatest —collections of fine, upscale Portu-guese wines in this country. While much of the wine world surrenders to Cabernet and Chardonnay, Portugal has remained loyal to its native grapes. Most of its varieties are old, but everything else is new — wineries, techniques, technology and thus the wines. If you haven't tasted Portugal's red wies in a while, you will be more than impressed: You will be amazed, just as I was at a recent tasting of wines selected from Alfama's 19-page wine list. Here's what I discovered:
Quinta dos Carvalhais Tinta Roriz 1998 from the Dão is made 100 percent from one of Portugal's top grapes. Its nose offers hints of cherry, other fruits and violets, while its flavors bring to mind delicate spice and currants.
Quinta da Cortezia Reserva 1999 from Estremadura blends Tinta Roriz and Touriga Nacional. With its dark color and an intense aroma that mingles chocolate and berries, it is a formidable, complex wine.
Frei João Reserva 1990 from Bairrada is also a blend — of Baga, Castelão Nacional, Moreto and Bastardo. Bairrada wines generally begin life hard and tannic and need time to evolve. This 14-year-old variety has reached the stage of mature suppleness and carries its age regally. A full-bodied wine, its flavors include soft leather, spices and a basketful of dark berries.
Quinta da Manuela 2000 is from the Douro, where the grapes for port are grown. Here, Tinta Roriz, Tinta Barroca and Touriga Nacional produce a fruity table wine with hints of clove and floral overtones. The same family has owned Manuela's vineyards for 350 years; this is the first time it has made wine instead of selling all its grapes.
The Alentejo is flat, hot, arid, and yet it can produce a wine as spectacular as Quinta da Terrugem 1999, a blend of Tinta Roriz, Aragonês and Trincadeira Preta. It is full-bodied, robust, with a whiff of vanilla, fresh berries and lightly peppery flavors.
These are wines that make boon companions to Alfama's foods. These are wines that make Portugal proud.
Alfama
551 Hudson St., New York, NY 10014
tel 212 645 2500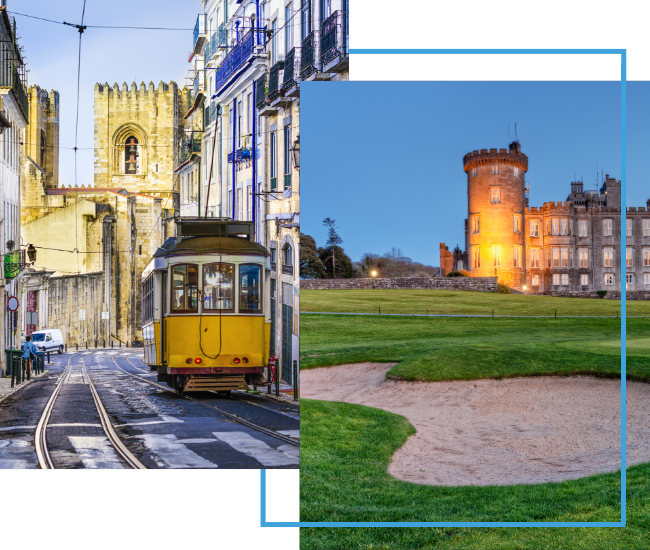 FX Excursions
FX Excursions offers the chance for once-in-a-lifetime experiences in destinations around the world.
Explore Excursions
There is something magical about sipping a glass of local wine while watching the sun slip into the Aegean Sea as the afterglow tinges traditional, white-washed Cycladic houses with glorious shades of rose, purple and gold. Ancient Greeks believed Helios, the Sun God, caused sunsets by driving his fiery chariot into the sea. Standing at water's edge in Mykonos, watching the sky slowly turn from purple to inky black, you almost believe it.
Sponsored Content
Nashville's once-modest skyline continues to evolve as its luxury market grows. Lavish hotel properties are added to the landscape while acclaimed chefs stake claim in the robust culinary scene and premier cultural offerings round out the city's repertoire.
The prospect of a post-visit treasure hunting session inside the shops of landmark museums such as the Louvre in Paris, the Uffizi Gallery in Florence and The British Museum in London can be irresistible. However, some of Europe's smaller and more unusual museums boast retail spaces with a surprising "wow" factor, often as well-curated as the galleries.