Meliá Hotels International, based in Spain, operates 350 hotels in 40 countries, but it offered none in the United States until opening INNSIDE New York Nomad in March. There, in an open, light-drenched space enhanced with earth and neutral shades, the hotel offers 300 guestrooms on 20 floors, a wellness suite and Impero Caffé, where well-known chef Scott Conant features Italian bistro cuisine. It also features two meeting rooms with floor-to-ceiling windows.
And this is where Global Traveler held its 12th annual Wines on the Wing International Airline Wine Competition, judging wines served on international first- and business-class flights throughout the world as well as a smaller third category, wines served on first- and business-class flights beginning and ending in North America. To judge the wines, GT invited 26 highly regarded wine professionals ranging from wine importers, wine retailers, winemakers and restaurant wine directors and sommeliers to wine educators, consultants and writers to taste the wines the airline entrants currently serve.
All wines were served in numbered glasses so the judges knew only the type of wine they were tasting, nothing more. They saw no bottles, no labels. They focused their decisions completely on the quality of the wine in the glass.
And they found much to admire. When the results were tallied, the airline that won first place among both International First Class and Business Class wines was Singapore Airlines, with its business-class category wines adding up to the highest score ever recorded in GT's 12 years of competition. Beyond that, its individual wines won a place in virtually every Top Wines list.
How does Singapore Airlines manage to offer such an amazing collection of wines? To begin, the wines are chosen by experts — Jeannie Cho Lee, Michael Hill Smith and Oz Clarke — who taste more than 1,000 wines each year before whittling their choices down. Then there is the quality of those choices. Singapore, for example, is the rare airline offering Grand Cru Burgundy and two prestige Champagne cuvées, Dom Pérignon and Krug Grand Cuvée.
"Our cellar is the result of extensive collaboration with the talented members of our international wine panel, a team that keeps us up to date in selecting many of the finest wines and Champagnes but also keeps us current on wine trends and developments," said Sek Eng Lee, regional vice president Americas, Singapore Airlines. He also congratulated GT's judges: "We are grateful to the experts convened by Global Traveler for recognizing our in-flight wine program."
In total, Singapore Airlines spends $16.5 million annually on its wine program. And it pulls the cork on 194,000 bottles of Champagne a year.
All Nippon Airways did exceedingly well, finishing second among International First Class airlines and third among all International Business entries, with many of its wines finishing among the top five in their categories.
American Airlines emerged as another major winner. Featured in both the Top International First Class and Top International Business Class categories, it also handily won as the Top North American First Class/Business Class Airline, sweeping that category with the Best North American Champagne/Sparkling Wine, Best North American White Wine and Best North American Red Wine.
American Airlines' wine program is a joint venture between Ken Chase, the airline's wine consultant, and Intervine, a Napa-based airline wine program management company. Together, they taste close to 10,000 wines each year in their efforts to select wines for American Airlines. A committee of American Airlines management tastes their selections semi-annually. In total, the airline serves passengers approximately 2 million bottles of wine per year.
Emirates also scored highly. Featured among both the Top Airlines International First Class and International Business Class, its François Villard Condrieu de Poncins 2014 was the highest-scoring white wine among International First Class entries.
"At Emirates, we're dedicated to providing the best experience for our passengers, and we have curated a wine program that is reflective of that promise," said Joost Heymeijer, senior vice president, catering, Emirates. "Receiving this award is truly a testament to our unrelenting effort to offer a consistently great product that delights passengers, and we believe this is what sets us apart. Our long-term planning strategy and investment is what allows us to procure rare and exclusive vintages that continue to surprise our passengers time and again."
To accomplish that, Emirates invests heavily in its wine program. Last year it spent more than $140 million, more than twice the amount spent the previous year, on wines for all three cabins. Many of those wines will be properly aged and not served for another 7 to 10 years. The increased investment, Emirates said, is in response to its expanding network.
Delta Air Lines finished second among the highest-scoring airlines in International Business Class, and its Business Class Champagne and Chardonnay were among the highest-scoring wines in their categories.
Of the airlines that participated in Global Traveler's 12th competition, 15 are members of three alliances: Star Alliance, oneworld and SkyTeam. The alliance whose members' wines totaled the highest averaged score was Star Alliance. Those Star Alliance members include Air Canada, All Nippon Airways, Brussels Airlines, Singapore Airlines and TAP Portugal.
Wine, to quote Ernest Hemingway, "is one of the most civilized things in the world and one of the most natural things in the world." Thanks to the excellent wines the airlines of the world provided, our judges enjoyed a most civilized, natural and enlightening afternoon.
JUDGING PROCESS
To participate in Global Traveler's competition, airlines throughout the world that operate long-haul international first-class and/or business-class service are invited to submit two white wines, two red wines and one Champagne or other sparkling wine currently on their wine lists as well as the wine lists themselves. The same rules apply to our category of North American airlines that have first-class and/or business-class service.
The wines are coded and divided into flights, or categories, according to their type. For example, all New Zealand Sauvignon Blanc submitted would be served together, as would all California Zinfandel. Wines are presented to judges in code-marked glasses. Judges are told only the type of wine and, when appropriate (vintage Champagne, for example), the year. If judges feel a wine is flawed, a reserve bottle is poured. Professional assistants pour the wines, and GT staff monitor the tasting.
Each wine is judged on a modified Davis 20-point scale. The judges' individual scores for each wine are added and averaged, and the averaged scores of an airline's submissions are totaled. Individual wines with the highest scores and the airlines with the highest total scores win Wines on the Wing awards.
JUDGES
MANOS ANGELAKIS is managing editor/publisher and senior wine and food writer for Luxury Web Magazine and a wine and food columnist for Epoch Times. He has particular expertise in Greek, Catalan and Chilean wines and judges at numerous wine competitions each year.
CESAR BAEZA is an enologist and a consultant for the wine industry. A native of Chile, he studied winemaking there and in France, Spain and California and worked in several wineries. For 20 years he was wine master and co-owner of Brotherhood Winery in New York.
RORY CALLAHAN, co-founder of the International Wine Center, is president of Wine & Food Associates, a market development firm whose wine clients have included New Zealand, Spain, South Africa and Chile. He attended the University of California-Davis School of Viticulture and has made wine commercially.
SCOTT CARNEY, M.S., is the dean of wine studies at the International Culinary Center, which has schools in New York City and California.
MOLLY CHOI, executive vice president of sales and marketing at Cape Classics, a leading South African wine import company, is responsible for the marketing of more than 20 wine estates. She has been with Cape Classics for 19 years.
LISA DONNESON, proprietor of Bouké and Bouquet Wines, produced on Long Island, N.Y., is a graduate of the Wine and Spirits Education Trust and a member of the Institute of Wines & Spirits and Long Island Wine Council.
JOHN FANNING, general manager of The Lambs Club, New York, has served as general manager and/or wine director of other restaurants in New York: SD26, Accademia di Vino, Il Trulli, Beppe, Felidia, Coco Pazzo, Le Madri and Palio; and in Rome: Bramante and San Michelle.
FRED FERRETTI is a wine and food writer whose articles appear in many national publications. Formerly a New York Times reporter, for many years he was also a columnist for Gourmet magazine.
DAVID FRIESER, president of Beekman Liquors, Inc., a 59-year-old wine shop in Manhattan, is a frequent wine lecturer for clients. He has been professionally involved in wine for more than 30 years.
CODY GOLDSTEIN, an experienced wine and food director, is founder of Muddling Memories, a bar consulting firm. His recipes have won many competitions, and his work has appeared in several magazines and newspapers. Time Out New York nominated him as one of the city's best bartenders.
CURTIS GREEN is president and founder of TenFolks Enterprises, a wine education and marketing company created to broaden interest in wine among African Americans. He is also publisher of SlitelyChilled.com, the online magazine geared to the African-American wine drinker.
FRANK JOHNSON is chairman and CEO of Frank Johnson Selections, an international wine brokerage firm. In his 39 years in wine, he has worked in various aspects of the business and has also authored and edited several wine publications.
KAREN KING is sales manager at Winebow, the wine-importing firm. She has been wine director at Union Square Café and beverage director at Gramercy Tavern and The Modern in New York and taught wine at The French Culinary Institute.
HARRIET LEMBECK is president of the Wine and Spirits Program where, for 32 years, she has taught consumers and wine trade personnel. She is the author of the sixth and seventh editions of Grossman's Guide to Wine, Beer and Spirits and is a contributor to Beverage Dynamics Magazine.
MICHAEL MANUPPELLI, a Certified Sommelier through the American Sommelier Association, has been a sommelier at The River Café in Brooklyn, N.Y., for two years. Previously, he was beverage director at the Cornelia Street Café in Manhattan.
GILLES MARTIN is the winemaker and director of operations at Sparkling Pointe winery on Long Island, N.Y. French-born, he studied winemaking at Montpelier and has worked at Roederer Estate and Delas Frères.
DAVID MILLIGAN is president of David Milligan Selections, representing fine French producers. In the wine trade for more than 40 years, he began his training in England. He also served as president of Seagram Chateau & Estate Wines.
KATHERINE MOORE, FWS, is general manager of Union Square Wine & Spirits, a large retail shop in Manhattan.
JOHANNES NECKERMANN is a wine consultant. A native of Germany, he has worked at Champagne Taittinger as a sommelier and in wine retail. He has taught wine at SUNY's adult program and produced a private-label Chardonnay at Hermann J. Wiemer Vineyards, New York.
LIZ PALMER is a wine journalist whose articles have appeared in Forbes, China Wine News and many other publications. Her book, The Ultimate Guide to Champagne, will be published this fall. She has been a wine host and a wine judge at various events throughout the world.
JUDY RUNDEL has been on the staff of Heights Chateau, a wine shop in Brooklyn Heights, for more than 20 years, where she takes part in wine buying decisions, coordinates the Wine of the Month Club and writes content for the shop's website. She also conducts wine tastings and classes.
ARNO SCHMIDT has been the executive chef at New York's Waldorf Astoria, The Plaza and other prestigious hotels, where he organized numerous wine and food events. A native of Austria, he has worked in hospitality since 1946.
CHARLES SCICOLONE is the wine and food editor of iItaly.org, an Italian- American web magazine; author of the wine blog Charles Scicolone on Wine; consultant for the wine importer Grapes on the Go; and a wine educator.
WILLIAM SHORT is regional manager, New York, for Dreyfus, Ashby & Co. At 33 years, he is the longest-tenured salesman in the fine-wine importing company's history. Before joining the wine business, he taught school for 10 years.
TIM SOMERS has worked in wine and spirits for 28 years and has been involved in start-up wineries in California, North Carolina and China. He is currently vice president of training at Pernod Ricard.
ERIC WHITE is the manager of The Winery, a Manhattan wine shop. He has worked in the wine industry for more than 20 years. For the last 11 years he has concentrated on wine consulting and tasting.
TOP FIVE INTERNATIONAL FIRST-CLASS WINES ON THE WING 1. Singapore Airlines 2. All Nippon Airways 3. American Airlines 4. British Airways 5. Emirates
TOP FIVE INTERNATIONAL BUSINESS-CLASS WINES ON THE WING 1. Singapore Airlines 2. Delta Air Lines 3. All Nippon Airways 4. Brussels Airlines 5. Emirates
TOP FIVE CHAMPAGNES INTERNATIONAL FIRST CLASS 1. Laurent-Perrier Grand Siècle, Grande Cuvée, NV (British Airways) tie Dom Pérignon 2006 (Singapore Airlines) 2. Krug Grande Cuvée, NV (All Nippon Airways) 3. Dom Pérignon Rosé 2003 (Emirates) 4. Laurent-Perrier Grand Siècle, Grande Cuvée, NV (American Airlines)
TOP FIVE CHAMPAGNES INTERNATIONAL BUSINESS CLASS 1. Charles Heidsieck Brut Réserve, NV (Singapore Airlines) 2. Pol Roger Extra Cuvée de Réserve, NV (Delta Air Lines) 3. Veuve Cliquot Yellow Label, NV (Emirates) 4. Jean Pernet Tradition, NV (Aer Lingus) 5. Canard Duchêne, Cuvée Leonie, NV (All Nippon Airways)
TOP FIVE WHITE WINES INTERNATIONAL FIRST CLASS 1. François Villard Condrieu de Poncins 2014 (Emirates) 2. Domaine René Lequin-Colin Clos Devant Chassagne-Montrachet 2014 (American Airlines) 3. Dr. Pauly-Bergweiler Riesling 2013, Mosel, Germany (All Nippon Airways) 4. Vincent Girardin Chassagne-Montrachet Le Cailleret 2011 (British Airways) 5. Greywacke Sauvignon Blanc 2014, New Zealand (Singapore Airlines)
TOP FIVE WHITE WINES INTERNATIONAL BUSINESS CLASS 1. Paulo Laureano Reserva 2014, Alentejo, Portugal (TAP Portugal) 2. Shaw + Smith Sauvignon Blanc 2014, Australia (Fiji Airways) 3. Matahiwi Estate Sauvignon Blanc 2015, New Zealand (All Nippon Airways) 4. Stulmuller Vineyards Chardonnay 2013, Sonoma, California (Delta Air Lines) 5. Devil's Lair, The Hidden Cave Chardonnay 2014, Australia (Singapore Airlines)
TOP FIVE RED WINES INTERNATIONAL FIRST CLASS 1. Monte Zovo Amarone della Valpolicella 2012, Italy (American Airlines) 2. Crasto Reserva 2012, Douro, Portugal (All Nippon Airways) 3. Château de Beaucastel 2007, Châteauneuf du Pape, France (Emirates) 4. La Follette Pinot Noir 2012, Sonoma, California (British Airways) 5. Clonakilla O'Riada Shiraz 2013, Austalia (Singapore Airlines)
TOP FIVE RED WINES INTERNATIONAL BUSINESS CLASS 1. Domaine de la Présidente, Cairanne 2013, Côtes du Rhône, France (American Airlines) 2. Churchill's Estates Grande Reserva 2011, Douro, Portugal (TAP Portugal) 3. Crasto 2014, Douro, Portugal (Brussels Airlines) 4. Portia Ebeia Roble 2014, Ribera del Duero, Spain (Air Canada) 5. Ferraton-Père & Fils La Matinière Crozes-Hermitage 2011, France (Singapore Airlines)
TOP NORTH AMERICAN FIRST CLASS/BUSINESS CLASS WINES ON THE WING 1. American Airlines 2. Delta Air Lines 3. JetBlue
TOP NORTH AMERICAN CHAMPAGNE/SPARKLING WINE Lanson Black Label Champagne, NV (American Airlines)
TOP NORTH AMERICAN WHITE WINE Bouchard Aîné & Fils 2014, Vieilles Vignes, Burgundy, France (American Airlines)
TOP NORTH AMERICAN RED WINE Viñalba Malbec Reserva 2013, Argentina (American Airlines)
TOP AIRLINE ALLIANCE Star Alliance Represented by Air Canada, All Nippon Airways, Brussels Airlines, Singapore Airlines and TAP Portugal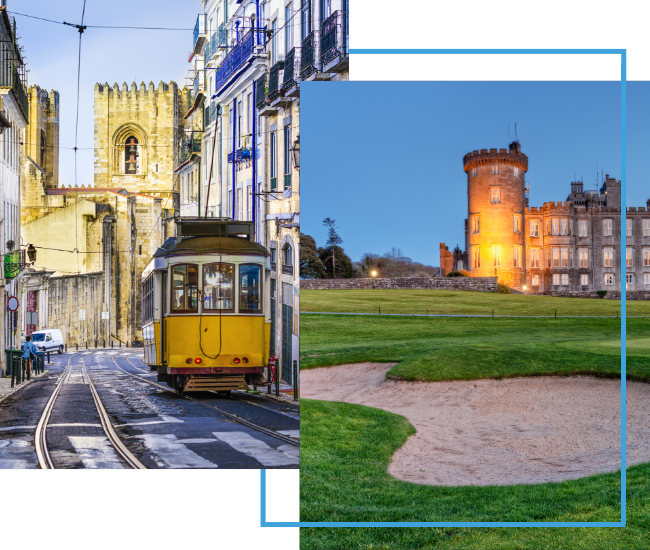 FX Excursions
FX Excursions offers the chance for once-in-a-lifetime experiences in destinations around the world.
Explore Excursions
A new and expanded campus at the Buffalo AKG Art Museum has been completed, reopening this summer and featuring new architecture designed by the architectural office of OMA New York, led by partner Shohei Shigematsu and project architects Lawrence Siu and Paxton Sheldahl, with Cooper Robertson (executive architect). The new expansion includes the Jeffrey E. Gundlach Building and extensive renovations to existing buildings. A $20-million commitment from New York State and Governor Kathy Hochul helped fulfill the expansion's budget and completes the $230 million capital campaign, the largest campaign for a cultural institution in the history of Western New York State.
Sponsored Content
Learning more about our readers' travel habits and preferences ensures Global Traveler delivers the content you desire. As the travel industry has adapted and changed over the last few years, it's more important than ever to connect. To best meet your short- and long-term travel content needs, please help us!
Ever since opening in 2021, Nobu London Portman Square has served as the focal point for many gatherings, stays and experiences. This fall the hotel's Nobu Bar adds four more reasons to visit with an exciting array of offerings, menus and events.