You've decorated for the holidays, set out the hors d'oeuvres and are ready to host your party. But should you also be bartender? Is it possible to make individual drinks to please each guest and still be free to enjoy the evening?
Not likely. So, instead, serve punch — one big bowl where guests meet and mingle and fill their cups. Prepare it in advance and have refills in the kitchen.
Here are a few suggestions for punch recipes. Notice none include Champagne or other sparkling wines. The reason: While their sparkle is festive, once the bubbles dissipate — and they will quickly in a bowl — what is left is a flat, highly acidic wine. Better to concentrate on other ingredients and spirits. To serve punch cold, float a block of ice in the bowl rather than ice cubes, which melt more quickly and dilute the punch.
A WINTER'S TALE
1 large lemon, squeezed
1 pint maple syrup
6 cinnamon sticks
2 750-ml bottles of rye, bourbon or Canadian whiskey
Simmer lemon juice, maple syrup and cinnamon, stirring well, until maple syrup is dissolved. Add whiskey and mix. Makes about 25 servings.
CHRISTMAS PUNCH
1 bottle rye whiskey
2 ounces Southern Comfort
2 ounces dark rum
Slices of lemon and orange, each stuck with cloves
Cinnamon to taste
Blend the three spirits. Float fruit slices and cinnamon in the punch bowl.
HOLIDAY CHEER
1½ cups sugar
12 oranges
1 small block of ice
One bottle Pinot Noir
One bottle ruby Port
One bottle brandy
In a large bowl dissolve the sugar in the juice of six of the oranges. Add the block of ice, Pinot Noir, Port and brandy. Garnish with half slices of the remaining oranges. Serves 25.
WASSAIL
A drink that goes back 1,000 years, wassail now has 1,000 variations. Make it 1,001 by creating your own. Start with beer, ale, cider, Madeira, sherry, Port or any other alcoholic beverage. Add nutmeg, ginger, cinnamon, cloves, sugar and/or lemon juice. Float slices of baked apple on top.
Wassail, in Old English, was was hael and meant "to your good health."
In this season of good will and joy, create your own original wassail. Raise a glass and toast your guests with a hearty "Was hael!"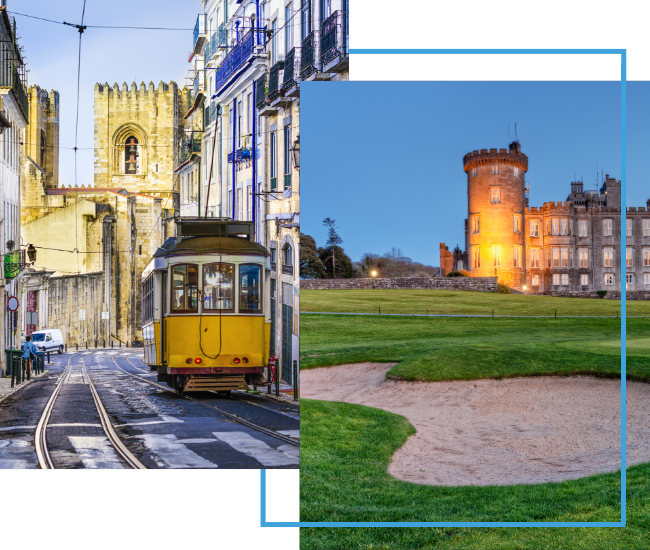 FX Excursions
FX Excursions offers the chance for once-in-a-lifetime experiences in destinations around the world.
Explore Excursions
Mazatlán, Mexico, has long been an attractive home destination for Canadian and American retirees, but, in recent years, young, digital nomads have also discovered the charms of this coastal city, finding inexpensive accommodations, beautiful weather and plenty of bandwidth for working remotely. The laid-back beach scene definitely eases the transition of relocating to Mexico's West Coast.
Sponsored Content
Whether it's the people, the craic (fun) or the coasts, travelers always find something to love about the island of Ireland. What fills your heart?
For its third year, Global Traveler awards the airline, cruise line and hotel brand best representing diversity, equity and inclusion within the travel industry. Over the past year Global Traveler analyzed many airlines, cruise lines and hotel brands to determine which companies prove most committed to changing the world through diversity and inclusion.