CITY WINERY IS JUST WHAT its name says: a working winery in the heart of a city — New York City, in fact. Opened in 2009 by wine enthusiast Michael Dorf, it offers the rare urban setting where wine lovers can make their own wine from grapes chief winemaker David Lecomte selects in California, New York state, Oregon and Argentina. They can bottle their wine and add custom labels. They can attend wine and food courses, wine tastings, wine seminars and wine dinners. And they can celebrate the joy of it all with music programs in the evening in City Winery's adjoining large social space.
So successful has the concept become, Dorf now has a City Winery in Chicago, Nashville and Atlanta and is scheduled to open one in Boston in September.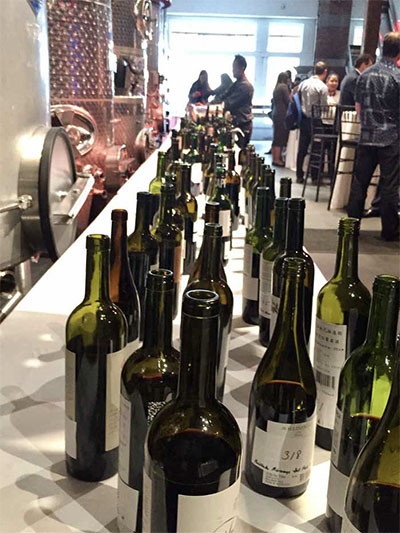 And so, what more appropriate place to hold a wine competition than at the working winery within City Winery? And that is just where Global Traveler hosted its 13th annual Wines on the Wing International Airline Wine Competition.
Seated amid tanks and winemaking equipment, 21 judges examined wines from 25 countries and three American states — California, New York and Washington — sampling wine currently being served on international first- and business-class airline flights throughout the world and, in a smaller, third, North American category, wines served on first- and business-class flights beginning and ending in North America.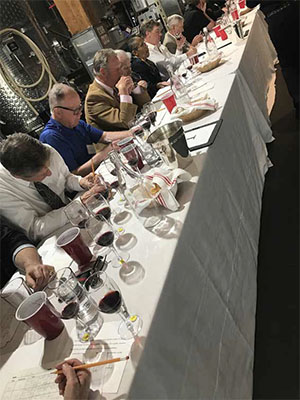 The judges, all wine professionals, were served the wines in numbered glasses and told only the general type they were to taste — Pinot Noir or Sauvignon Blanc, for example. They swirled, they sniffed, they tasted and, using their expertise and experience, rated each wine.
When all the wines were tasted and the results tallied, the airline whose wines added up to the highest overall score among first-class entries was awarded gold for Best International First-Class Wines on the Wing. That airline was Asiana Airlines. The South Korea-based airline's Chardonnay and both of its red wines earned gold and silver in their categories, while its Barons de Rothschild Blanc de Blancs scored well among the Champagne winners.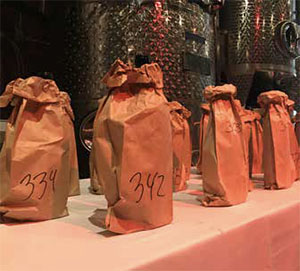 "We're proud to be the 2017 winner of the Wines on the Wing First Class category," said Ja-Joon Goo, executive vice president, Asiana Airlines. "At Asiana we strive to provide our passengers with the best quality of flight and comfort, and that philosophy translates down to the fine details such as the wine we feature on our flights.
"In order to showcase the diverse network of cultures we connect through our airline, we select wines not only from the classic vineyards of Bordeaux, Burgundy and Champagne but also from America, Australia, South Africa, Chile, Argentina and New Zealand. We want our passengers to feel as though they are dining on fine cuisine and drinking fine wine at a top-rated restaurant."
And how much does its wine program cost the airline? Wines poured in first class come to $300,000 a year, while the annual cost for its business-class wines is about $1.8 million.
Asiana opens about 210,000 bottles of wine annually on its firstand business-class international flights. Almost 45,000 of those bottles are Champagne. In both classes, the airline has almost twice as many calls for red wines as it does for white wines.
Asiana, established in 1988 and today one of South Korea's two major airlines, flies to 65 cities in 23 countries.
British Airways earned silver among International First-Class Wines, and United reaped bronze, followed by high-scoring Singapore Airlines and American Airlines.
Air Canada won gold for the fine showing of its wines in International Business-Class Wines. "We're thrilled our business-class wines scored highly in Global Traveler magazine's 2017 Wines on the Wing airline competition," said Andrew Yiu, managing director, product design, Air Canada. "Along with Véronique Rivest, our internationally acclaimed sommelier, we strive to bring our customers great wines from around the world, wines with superb balance and food friendliness."
Rivest, with a supporting committee, chooses the wines served on Air Canada. And that adds up to 360,000 bottles opened a year in international business class. The wine selection in business class changes every three months.
The airline began in 1937 as Trans-Canada Airline and was renamed Air Canada in 1964. Today it carries 41 million customers annually to 200 airports on six continents.
Brussels Airlines won silver and TAP Portugal garnered bronze in International Business Class, while airberlin and Aeroflot held the fourth- and fifth-highest scores.
For the second year, American Airlines won gold in Best North American First Class/Business Class Wines on the Wing. Not only did its wines add up to the highest score among North American entries, both its white and its red each won gold in their categories.
American also did well in the international contests, with its Taittinger Champagne earning a silver in Top Five Champagnes International First Class; its Louis Robin Chablis and Joseph Mellot Domaine de Bellecours Sancerre placing among the Top Five White Wines International First Class, and Cono Sur Vineyard Syrah winning silver in Top Five Red Wines International Business Class.
Among other high scorers in International First Class were British Airways' Laurent-Perrier Grand Siècle, Grande Cuvée Champagne; Singapore Airlines' Dog Point Vineyard Sauvignon Blanc; and two St. Emilion reds — Esprit de Valandraud from United and Château La Dominique from British Airways.
Wines scoring high in International Business Class included Brussels Airlines' Laurent-Perrier, Hainan Airlines' Leventre-Dedieu Grand Cru and airberlin's Louis d'Or Special Edition among Champagnes; Selbach Riesling Kabinett (Singapore Airlines) and Paulo Laureano Reserve Bianco (TAP Portugal) among whites; and Dona Maria, blend (TAP Portugal) and Château Malescasse (Brussels Airlines).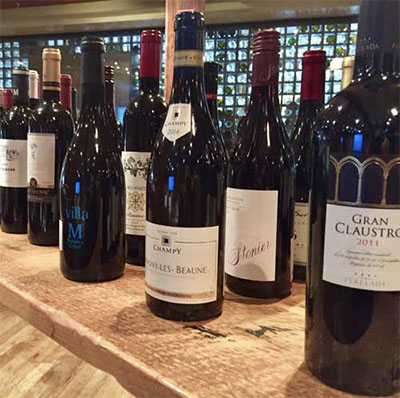 Twenty-four of the airlines participating in this year's Wines on the Wing competition are members of an airline alliance. The alliance whose member airlines scored the highest average this year is oneworld, represented by airberlin, American Airlines and British Airways.
Shakespeare titled one of his comedies All's Well That Ends Well. Global Traveler could readily borrow the bard's title as the outcome of its 13th annual Wines on the Wing International Airline Wine Competition.
JUDGING PROCESS
To participate in Global Traveler's competition, airlines throughout the world that operate long-haul international first-class and/or business-class service are invited to submit two white wines, two red wines and one Champagne or other sparkling wine currently on their wine lists, as well as the wine lists themselves. The same rules apply to our category of North American airlines that have first-class and/ or business-class service.
The wines are coded and divided into flights, or groups, according to their type. For example, all Rioja reds submitted would be in one flight, all New Zealand Sauvignon Blancs in another. Wines are served to the judges in code-marked glasses. Judges are told only the type of wine. If judges feel a wine is flawed, a reserve bottle of wine is then opened and poured. Professional assistants serve the wines, and GT staff monitor the tasting.
Each wine is judged on a modified Davis 20-point scale. The judges' individual scores for each wine are added and averaged, and the averaged scores of an airline's submissions are totaled. Airlines with the highest total scores and individual wines with the highest scores win Wines on the Wing awards.
WINNERS' CIRCLE
TOP FIVE INTERNATIONAL FIRST-CLASS WINES ON THE WING
Gold Asiana Airlines
Silver British Airways
Bronze United Airlines
4. Singapore Airlines
5. American Airlines
TOP FIVE INTERNATIONAL BUSINESS-CLASS WINES ON THE WING
Gold Air Canada
Silver Brussels Airlines
Bronze TAP Portugal
4. airberlin
5. Aeroflot
TOP FIVE CHAMPAGNES INTERNATIONAL FIRST CLASS
Gold Joseph Perrier Brut Cuvée Royale 2004 (United Airlines)
Silver Taittinger Brut Millésime 2008 (American Airlines)
Bronze Dom Perignon 2006 (Singapore Airlines)
4. Barons de Rothschild Blanc de Blancs, NV (Asiana Airlines)
5. Laurent-Perrier Grand Siècle, Grande Cuvée, NV (British Airways)
TOP FIVE CHAMPAGNES INTERNATIONAL BUSINESS CLASS
Gold Ayala Brut Majeur, NV (Aeroflot)
Silver Collet Brut Art Déco, NV (All Nippon Airways)
Bronze Charles Heidsieck Brut Réserve, NV (Delta Air Lines)
4. Laurent-Perrier Brut, NV (Brussels Airlines) Leventre-Dedieu Grand Cru, NV (Hainan Airlines)
5. Louis d'Or Brut Special Edition (airberlin)
TOP FIVE SPARKLING WINES INTERNATIONAL BUSINESS CLASS
Gold Luis Pato Blanc de Blancs, NV (TAP Portugal)
Silver Ferrari Maximum Brut, NV (Alitalia)
Bronze Flor Prosecco, NV (Hawaiian Airlines)
TOP FIVE WHITE WINES INTERNATIONAL FIRST CLASS
Gold Vitkin Winery Grenache Blanc 2015, Israel (EL AL Israel Airlines)
Silver R de Rieussec Bordeaux Blanc 2015, France (All Nippon Airways) Robert Mondavi Chardonnay Reserve 2014, California (Asiana Airlines)
Bronze Domaine Thibault Pouilly-Fumé 2015, France (British Airways)
4. Dog Point Vineyard Sauvignon Blanc 2015, New Zealand (Singapore Airlines) Louis Robin Chablis 2014, Vosgros, 1er Cru, France (American Airlines)
5. Joseph Mellot Domaine de Bellecours Sancerre 2015, France (American Airlines)
TOP FIVE WHITE WINES INTERNATIONAL BUSINESS CLASS
Gold Jurtschitsch Grüner Veltliner 2016, Austria (Air Canada) Steininger Grüner Veltliner 2015, Austria (Brussels Airlines)
Silver Radovanović Chardonnay 2013, Serbia (Air Serbia)
Bronze Weingut Robert Weil Riesling 2014, Germany (United Airlines)
4. Selbach Riesling Kabinett 2014, Germany (Singapore Airlines)
5. Paulo Laureano Reserve Bianco 2015, Portugal (TAP Portugal)
TOP FIVE RED WINES INTERNATIONAL FIRST CLASS
Gold Gran Claustro 2011, Spain (Asiana Airlines)
Silver Château Fleur Cardinale 2011, St. Emilion, France (Asiana Airlines)
Bronze Cloudy Bay Pinot Noir 2014, New Zealand (Singapore Airlines)
4. Esprit de Valandraud 2014, St. Emilion, France (United Airlines)
5. Château La Dominique 2008, St. Emilion, France (British Airways)
TOP FIVE RED WINES INTERNATIONAL BUSINESS CLASS
Gold Drumheller Cabernet Sauvignon 2015, Washington (All Nippon Airways)
Silver Cono Sur Single Vineyard Syrah 2016, Chile (American Airlines)
Bronze Montes Alpha Cabernet Sauvignon 2014, Chile (Aeromexico)
4. Dona Maria 2014, Alentejo, Portugal (TAP Portugal)
5. Château Malescasse 2012, Bordeaux, France (Brussels Airlines)
BEST NORTH AMERICAN FIRST CLASS/BUSINESS WINES ON THE WING
Gold American Airlines
Silver JetBlue
Bronze Delta Air Lines
BEST NORTH AMERICAN CHAMPAGNE/SPARKLING WINE
Gold Flor Prosecco, NV, Italy (Hawaiian Airlines)
Silver Mito Ca Di Rajo, Italy (Delta Air Lines) Roederer Estate Brut, NV, California (JetBlue)
Bronze Bottega Prosecco, NV, Italy (Virgin America)
BEST NORTH AMERICAN RED WINE
Gold La Ferme du Monte du Côtes du Rhône 2014, France (American Airlines)
Silver Bedrock Wine Co. Old Vine Zinfandel 2014, California (JetBlue)
Bronze Trefethen Merlot 2013, California (Delta Air Lines)
BEST NORTH AMERICAN WHITE WINE
Gold Domaine de la Chaise Sauvignon 2016, France (American Airlines)
Silver Heredad de Emina Verdejo 2015, Spain (United Airlines)
Bronze Hermann J. Wiemer Vineyard Dry Riesling 2015, New York (JetBlue)
BEST ALLIANCE WINES ON THE WING
Gold oneworld
Silver Star Alliance
Bronze SkyTeam
JUDGES' BIOS
SCOTT CARNEY, MS, is the dean of wine studies at the International Culinary Center, which has schools in New York City and Silicon Valley, Calif.
JOSEPH DELISSIO has been wine director of the River Café in Brooklyn for the past 37 years. He is also the author of The River Café Wine Primer and a frequent wine consultant and lecturer.
JOHN FANNING is general manager of The Lambs Club, New York. He has been wine director and/or general manager of other restaurants in New York: SD26, Accademia di Vino, Il Trulli, Beppe, Felidia, Coco Pazzo, Le Madri and Palio; and in Rome: Bramante and San Michelle.
FRED FERRETTI is a wine and food writer whose articles appear in many national publications. Formerly a New York Times reporter, he was also a columnist for Gourmet magazine for many years.
XAVIER FLOURET is owner of Cognac One, LLC, a national wine importer and New York wine wholesaler. The company focuses on sustainable and organic privately owned wine estates around the world that specialize in the best expressions of terroir and wine appellations.
DAVID FRIESER is president of Beekman Liquors, Inc., a 60-yearold wine shop in Manhattan, and a frequent wine lecturer for clients. He has been professionally involved in wine for more than 30 years.
CODY GOLDSTEIN, an experienced wine director, is founder of Muddling Memories, a beverage and branding management firm. He has been featured on television and radio, and his drink recipes have been published in national media outlets. His latest book is Gone with the Gin: Cocktails with a Hollywood Twist.
FRANK JOHNSON is chairman and CEO of Frank Johnson Selections, an international wine brokerage firm. In his 40 years in wine, he has worked in various aspects of the business. He is also the author and editor of several wine publications.
KAREN KING is director of onpremise development at Winebow, the wine importing firm. She has been wine director at Union Square Café, beverage director at Gramercy Tavern and The Modern in New York and has taught wine at The French Culinary Institute.
DAVID LECOMTE is chief winemaker at City Winery. A native of France's Rhône Valley, he earned degrees in viticulture and winemaking in France and worked in French, American and Chinese wineries before making wine in the middle of Manhattan.
GILLES MARTIN is the winemaker and director of operations at Sparkling Pointe winery on Long Island, N.Y., and a consultant to many other Long Island wineries. French-born, he studied winemaking at Montpelier and has worked at Roederer Estate and Delas Frères.
DAVID MILLIGAN is president of David Milligan Selections, representing fine French producers. He has been in the wine trade for more than 40 years, beginning with his training in England. He also served as president of Seagram Chateau & Estate Wines.
KATHERINE MOORE, FWS, is general manager of Union Square Wine & Spirits, a large retail shop in Manhattan.
JOHANNES NECKERMANN is a wine consultant. A native of Germany, he has worked at Champagne Taittinger as a sommelier and in wine retail and has taught wine in SUNY's adult program.
CAMILLE PARSON is the director of operations at Norwood, a private arts club in New York City where, for the past seven years, she has been in charge of its wine cellar, wine list, wine tastings and wine dinners. Previously, she was wine and service director for Three Sixty Hospitality.
JUDY RUNDEL has been on the staff of Heights Chateau, a wine shop in Brooklyn Heights, for more than 20 years, where she takes part in wine buying decisions, coordinates the Wine of the Month Club and writes content for the shop's website. She also conducts wine tastings and classes.
ARNO SCHMIDT has been the executive chef at New York's Waldorf Astoria, The Plaza and other hotels where he organized numerous wine and food events. A native of Austria, he has worked in hospitality since 1946.
BOB SHACK is owner and president of HB Wine Merchants/R. Shack Selections and of Clos Robert Winery in Sonoma, Calif. Previously he served as vice president and manager of the Premiere Wine Merchants Division of Rémy Martin Amerique for 20 years.
WILLIAM SHORT is regional manager, New York for Dreyfus, Ashby & Co., a fine-wine importing company. At 34 years he is the longest-tenured salesman in the company's history. Before joining the wine business, he taught for 10 years.
TIM SOMERS has worked in wine and spirits for 29 years and has been involved in startup wineries in California, North Carolina and China. He is currently vice president of commercial capabilities at Pernod Ricard and is a Certified Specialist of Wine: Society of Wine Educators.
PAMELA WITTMANN is the principal of Millissime, Ltd., her 15-yearold public relations and marketing firm specializing in helping foreign wineries entering the U.S. market. She has degrees in oenology and business and has worked in wineries and in wine sales.
Stay informed with our most popular weekly email, eFlyer USA, including exclusive GT Deals listings, GT News headlines and reviews from destinations known and unknown. Sign up now.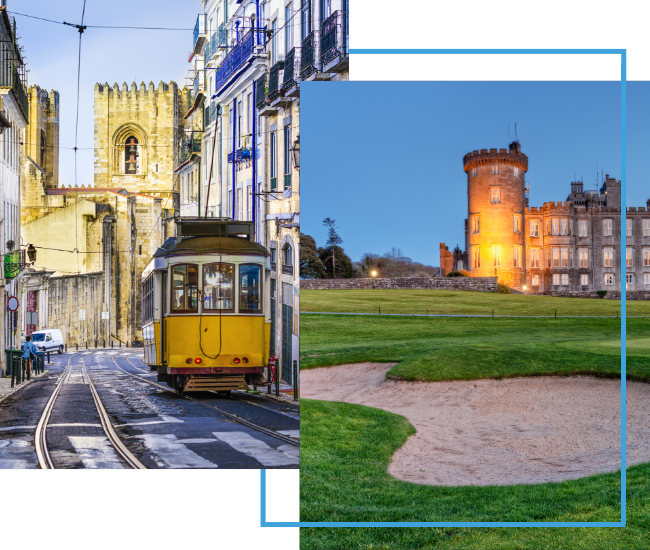 FX Excursions
FX Excursions offers the chance for once-in-a-lifetime experiences in destinations around the world.
Explore Excursions
Corsica with steep, gray cliffs overlooking the Mediterranean and sandy beaches attracting summer visitors, is a French-governed island sometimes confused with Sardinia and Sicily, Italian islands to the south. Fortunately, all three islands share the same love for good wine, food and sun-splashed beaches.
Sponsored Content
Learning more about our readers' travel habits and preferences ensures Global Traveler delivers the content you desire. As the travel industry has adapted and changed over the last few years, it's more important than ever to connect. To best meet your short- and long-term travel content needs, please help us!
If you're ready to do a little holiday catch-up with your besties, make a beeline for Conrad New York Downtown. The lobby metamorphosed into a holiday forest of heavenly scented, decorated Virginia Spruce trees. Make your first stop ATRIO Barista Station in the lobby for a complimentary hot spiced apple cider (until Dec. 3) or hot chocolate (Dec. 22­–24).