Ever since 1974, when the Cunard Line inaugurated its "Cunard Insights" program of guest speakers — including the likes of Nelson Mandela, Jimmy Carter and John Cleese — onboard lecturers have delighted and enlightened cruise passengers. This trend is gathering momentum, with a variety of major guest speakers slated on upcoming voyages across the globe.
Many cruises feature experts who can provide an insider's view of the exotic locations in which they sail. On its upcoming Oct. 25–Nov. 3 voyage to the Marquesas, Tuamotus and Society islands, for example, the 332-passenger m/s Paul Gauguin will welcome aboard legendary maritime explorer, film producer and environmentalist Jean-Michel Cousteau. Son and heir of the iconic Jacques Cousteau, Jean-Michel will not only deliver lectures and present videos related to his South Seas adventures but also lead passengers on several dives along the way.
Similarly, far-sighted passengers booking Holland America Line's "Eclipse Cruise" March 1–17, 2016, a roundtrip from Singapore on the 1,432-passenger ms Volendam, will find their experience of a total solar eclipse enhanced by the presence of two star-studded lecturers from Sky & Telescope magazine, editor in chief Bob Naeye and Australian editor Greg Bryant.
Destination lecturers — those experts who cover ports of call on the ship's itinerary — are common on many cruise lines. Such speakers, often supplied by cruise lecture agencies, are often unpaid, although most receive free airfare and a stateroom. A destination speaker casts light on the history, culture and sights not to miss at ports of call. Meanwhile, another type of speaker, known as an enrichment or special-interest lecturer, addresses a topic completely unrelated to the ship's destination. Several cruise lines offer enrichment programs with distinguished hosts — including authors, journalists, naturalists, diplomats and celebrities — who beguile their audiences by speaking on the topics they know best, from politics to Hollywood.
Silversea Cruises, for example, has scheduled celebrated civil trial lawyer Martin Aronson to present his interactive "Courtroom Cinema" program on a Dec. 20, 2014–Jan. 7, 2015 cruise from Chile to Florida aboard the 382-passenger Silver Shadow. Aronson will deliver his verdict on Hollywood's depiction of lawyers, juries and judges after the at-sea screenings of four cinema classics.
Silversea also plans to enhance its Nov. 22–Dec. 1 sailing from Portugal to Fort Lauderdale, Fla., on the 296-passenger Silver Cloud, with a series of lectures and discussions by maritime historian Peter Knego. Knego is a dedicated cruiseship aficionado who grew up in Los Angeles photographing every ocean liner that docked there, and he has augmented his obsession by collecting fittings and art from dismantled cruise ships around the world. If you've ever wondered what became of a retired cruise liner, famous or obscure, Knego has the story.
For those contemplating a North American cruise this fall, Crystal Cruises provides an array of speakers as part of its "Crystal Visions Enrichment" series. On its "Historic Harbors" cruise from Québec to New York Oct. 26–Nov. 5, Ken Walsh, chief White House correspondent and author of the "Presidency" column for U.S. News & World Report, will give passengers aboard the 1,070-passenger Crystal Serenity a behind-the-scenes look at executive power. On the same voyage, Scotland's Ronald Sampson will speak on the Falkland Islands, and San Francisco film critic Jan Wahl will talk about movies. Crystal's autumn lecture series continues this year on the "Colonial Collection" cruise Nov. 5–19, when Ken Walsh will share lecture duties with Clint Van Zandt, former FBI chief negotiator and profiler in the "Silence of the Lambs" unit. Two more lecturers, Stephen Beaumont and Anthony Caporale, come aboard as well to address the topic of microbrews.
Fans of public broadcasting can enhance their cruise to the Far East this winter by booking the "Jewels of the Orient" cruise, offered by Regent Seven Seas Cruises. Departing Hong Kong Feb. 5, 2015, the 16-night sailing on the 700-passenger, all-suite, allbalcony Seven Seas Voyager calls on ports in Japan, South Korea and China while providing lectures, panel discussions, cocktail receptions and dinners with PBS and NPR personalities. The lineup is not yet confirmed, but past public broadcasting cruises have featured such luminaries as Gwen Ifill and Jim Lehrer (PBS NewsHour), Scott Simon (NPR's Weekend Edition), Michele Norris (NPR's All Things Considered) and Leigh and Leslie Keno (PBS's Antiques Roadshow).
Current events is also the bailiwick of Martin Bell, BBC correspondent and current U.N. ambassador, who will inform and divert Voyages to Antiquity cruise passengers aboard the 350-passenger MV Aegean Odyssey March 22–April 13, 2015, during a voyage through India's Golden Triangle and ancient Jordan.
When it comes to the political dimensions of lectures at sea, some passengers lean to the port side and some to starboard. Upcoming cruises feature enrichment speakers that tilt to either side. Port-side guests might favor "The Nation Cruise" on Holland America Line's 2,104-passenger ms Eurodam when it makes a round-trip voyage from Fort Lauderdale through the Caribbean Dec. 14–21. Joining editors and writers of The Nation magazine are speakers Oliver Stone, Calvin Trillin and Melissa V. Harris-Perry.
Starboard-leaning passengers, on the other hand, might consider shipping out on Regent Seven Seas' "Young America's Foundation Cruise" aboard the 700-passenger Seven Seas Mariner Sept. 23–Oct. 3 from Venice to Rome, where they can party and dine with speakers Michelle Easton, Ed Meese and former Minnesota governor Tim Pawlenty. Another opportunity is the "National Review Post-Election Caribbean Cruise" Nov. 9–16 on Royal Caribbean International's mega cruise ship Allure of the Seas. Dozens of conservative speakers, including Ralph Reed, former U.S. Sen. John Kyl, Cal Thomas and politician/actor Fred Thompson, will be on hand for poolside cocktail receptions and night-owl sessions as they mull over the outcome of the midterm elections.
Whether the topic is media or movies, politics or beer, enrichment lectures can make cruising edifying as well as entertaining, a nice bonus for passengers looking for diversions beyond the casinos and shows.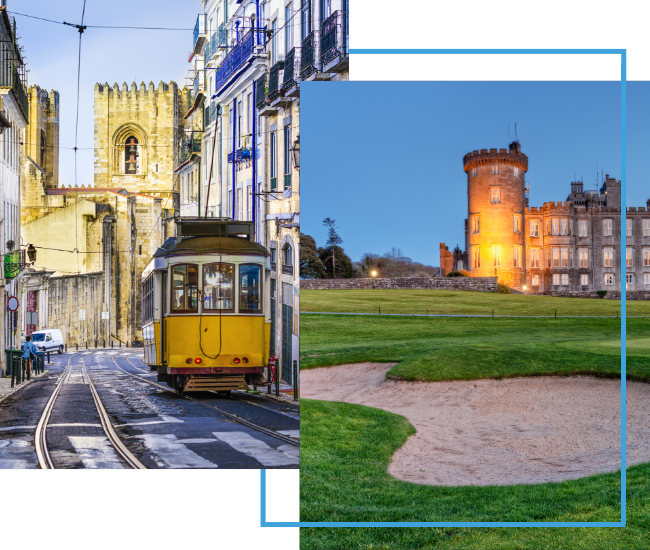 FX Excursions
FX Excursions offers the chance for once-in-a-lifetime experiences in destinations around the world.
Explore Excursions
There's no doubt the northern lights are awe-inspiring and spectacular. Unfortunately, they're also fickle and fleeting, and despite your best-laid plans of checking this item off your bucket list, sometimes Mother Nature's luminescent show just doesn't cooperate. But one cruise line has a new fail-safe in place.
Sponsored Content
In an increasingly digital and interconnected world, the Global Business Travel Association (GBTA) Convention remains an indispensable platform for business travel industry professionals seeking to make the most of the power of face-to-face connections. Taking place August 13–15 in Dallas, the 2023 GBTA Convention provides the unique opportunity for professionals and companies to join visionaries, thought leaders and industry experts for meaningful networking, cutting-edge insights and inspiring innovation.
Think you need a degree in sailing to enjoy a yachting holiday? Dream Yacht Worldwide, a leader in yacht charters, wants you to relax and enjoy the journey. Newly expanded to include the British Virgin Islands, Martinique, Tahiti and the Seychelles, the "Easy Crewed" offered by Dream Yacht Worldwide also include charter options in Greece and Croatia.