For passengers at sea, a suite has three advantages over a standard, cramped stateroom: a surplus of space, a largesse of luxuries and a plethora of perks.
Consider the experience of residing for a week in an owner's suite on either of Oceania Cruises' newest ships, the Marina or the Riviera. First you get space, oodles of it, with 2,000 square feet inside and a veranda outside spacious enough for its own whirlpool tub and flat-screen TV. Then there are luxury enhancements: separate living and dining rooms, a state-of-the-art media center, a fitness room and — what's surely sheer luxury on any ship — his-and-her walk-in closets. Oh, yes, there's a baby grand piano in there somewhere, too. Beyond sheer poshness, residents of Oceania's owner's suite receive early boarding, en-suite dining, access to private lounges and whatever else a passenger and the suite's butler can dream up.
Every cruise company offers its own lineup of suites, from slightly enlarged staterooms to over-the-top maritime villas like those on Oceania. Suites exude their own sense of style and character, too. Cunard Line's flagship Queen Mary 2, for example, has tailored its suites to reflect the Art Deco era. Cunard was the first company to take passengers on regularly scheduled trans-Atlantic crossings, and from the beginning it divided its accommodations by class, from steerage for the common man to suites for the upper crust. Something of this distinction survives today aboard the QM2, where Britannia Class passengers (85 percent) have an entire floating city to explore, but Grill Class passengers (15 percent) claim the grandest cabins. QM2's suites, which come in many sizes and configurations, are grand indeed. The two-story Balmoral and Sandringham duplexes, with sweeping staircases and domed ceilings, are the largest, covering some 2,249 square feet, while the junior suites with private balconies and whirlpool tubs occupy a mere 381 square feet — still twice the size of standard Britannia Class cabins. Grill Class passengers enjoy their own concierge, lounge and sundeck and their own top-grade restaurant and afternoon high tea served by the fabled White Star staff.
Many premium cruise lines, such as Crystal Cruises, do not sail in the past, however. Instead, they add the latest technology and plenty of bling to their suites. After a redesign in November 2013, the 1,100-passenger Crystal Serenity gave its four 1,345-square-foot penthouse suites a thoroughly contemporary polish, introducing 3-D TVs to its den-library-media rooms and equipping its spacious ocean-view bathrooms with whirlpool tubs, separate showers, bidets, two sinks and two more TVs. Suites occupy their own two decks on the Crystal Serenity, and all come with butlers, afternoon tea service and evening hors d'oeuvres.
The suite experience, with its plus-size measurements, ample amenities and privileges, is not confined to larger lines like Cunard and Crystal. The 332-passenger M/S Paul Gauguin plies the South Pacific with nine suites aboard, four of which provide butler service, verandas and a complimentary cocktail party for eight. The suites on the 148-passenger Wind Star, a yacht-styled cruiser with computer-controlled sails, are not vast (376–575 square feet), but they cover more than twice the floor space of the standard cabins. The even smaller Sanctuary Yangzi Explorer, with 62 cabins, offers luxury river cruises for top-of-the-line Abercrombie & Kent tours in China; and two of its suites, at 1,183 square feet each, are the largest on the Yangzi. Even the tiny 88-guest S.S. Legacy, the newest vessel in the Un-Cruise Adventures fleet, has room for one suite, perched just behind the bridge on this replica turn-of-the-century coastal steamer now sailing Alaska and the Columbia and Snake rivers. The owner's suite has a separate living room, bedroom and bathroom with whirlpool and period tile work. The living room features a library and dining table, evening hors d'oeuvres service, a 56-inch TV and a wet bar with Gold Rush-era copper sinks.
Suites are also an option on cruise lines that cater to families with children and grandchildren. Disney Cruise Line's two newest ships, the Disney Dream and the Disney Fantasy, offer Concierge suites with living rooms, walk-in closets, media players, plush amenities and verandas. The Concierge Royal Suite, with hot tub and wet bar, is more than 10 times as large as Disney's smallest standard cabin. And suite holders enjoy plenty of perks, including priority boarding and a special welcome reception, iPods on loan and the use of a private lounge and sundeck.
Some premium cruise lines, such as Silversea Cruises, offer nothing but suites, in categories defined by size and price. On Silversea's newest ship, the 540-passenger Silver Spirit, choices range from the 312-square-foot Vista suites, with no balconies, to the two-bedroom owner's suite with 1,614 square feet, making for a fully appointed apartment at sea. And while size matters, Silversea suites in all categories come with personalized butler service, a choice of nine pillow types, walk-in closets, separate showers and Laura Tonatto-brand diffused aromatherapy air fragrances.
On a recent cruise aboard the 450-passenger Seabourn Odyssey, another all-suite vessel, we booked a Verandah Suite. While not a large suite at 365 square feet, it was a stunningly spacious stateroom compared to a standard cabin. We had our own private balcony, a very welcome walk-in closet, his-and-her sinks, separate shower and tub, a flat-screen TV, makeup counter, veranda, sofa and dining table. While we needed no more, Seabourn offers larger accommodations. The Wintergreen suites are nearly three times roomier and provide dining for six, a pantry with wet bar, two flat-screen TVs, complimentary WiFi, a glassed-in solarium with soaking tub and lounge bed, and a veranda bowed out over the side of the ship. Wintergreen accommodations are certainly enhanced, but our smaller suite delivered all we desired, and more than we had ever received with any standard cabin, making the voyage especially enjoyable. A suite on a cruise ship is like a business-class seat on a plane or an executive-floor room in a hotel — it can make all the difference, especially over the long haul. If one expects to stretch out, satisfy the senses and recharge the brain cells on a cruise, a suite is the stateroom of choice.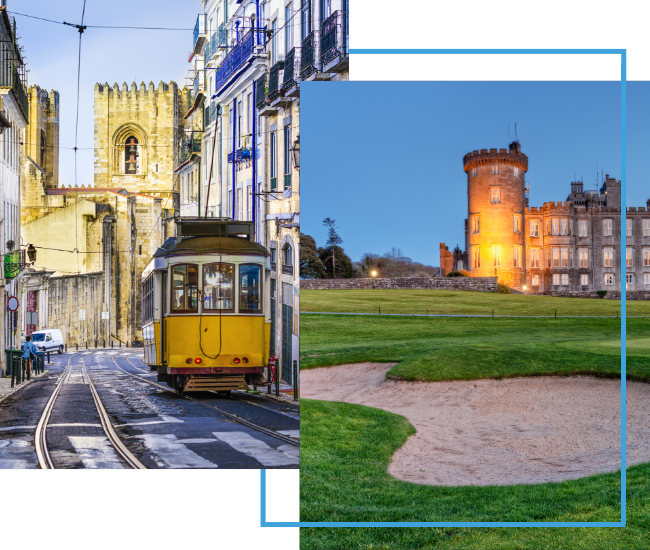 FX Excursions
FX Excursions offers the chance for once-in-a-lifetime experiences in destinations around the world.
Explore Excursions
If fabulous food and beverages are a must-have for any weekend getaway, then look no further than the City of Brotherly Love. Whether your palate has a penchant for vibrant Latin American fare or cozy French cuisine, whether you're an oenophile looking to swirl, sniff and sip your way around the globe or you'd rather sample farm-to-glass cocktails, Philly's got it all this fall. (With the exception of Bolo, which is a short taxi or Uber ride away and definitely worth the trip, the rest of these spots are all within walking distance of each other.)
Sponsored Content
The Global Business Travel Association (GBTA) believes business travel is a fundamental force for good and brings the industry together to connect, innovate and set new standards. With members from across the globe, GBTA engages the many voices of business travel to build a collective future, providing a platform for buyers and suppliers to come together, connect with peers, grow their network and shape the future of the industry.
From Santoríni to Dubai to New York, some hotels just have that "it" factor that draws visitors far and wide. For some hotels it's their proximity to popular landmarks and attractions, for others it's their amenities. But these hotels have something few can claim: a true room with a view.