Life at sea has expanded by leaps and bounds on luxury cruises, especially with the advent of specialty dining, butler service, full-service spas, spacious suites, photography workshops and a host of other perks once found only at land-based vacation resorts. But shore excursions have kept pace, too. Port calls are no longer restricted to bus tours, museum visits, beach time and shopping sprees. In fact, some of the most memorable cruise experiences these days take place when the cruise ship is at anchor and passengers go ashore, putting aside the life of luxury and leisure for a few hours.
The highlight of our first Caribbean cruise with Holland America, for instance, was not the fine dining or floor shows but a shore excursion on Sint Maarten which enabled us to crew on an actual 12-meter racing yacht, Dennis Connor's cup-winning Stars & Stripes, during a mini America's Cup regatta. We were each assigned a work station where we could grind a winch, trim a sail or even take the helm as our yacht took on two other America's Cup vessels in a short but spirited version of the most exclusive sporting event in the world. The race was exhilarating and highly competitive, and we rounded the course just ahead of Canada II and True North on a once-in-a-lifetime adventure, punctuated by a post-race rum punch party with our fellow passengers-turned-sailors. Holland America Line still offers this shore excursion on its Eastern Caribbean itineraries, as do some other cruise lines.
Joining the crew of an America's Cup yacht is just one of many unusual, sometimes exclusive shore excursions offered on sailings worldwide, an opportunity to turn a port call into a moment few will ever experience. Once you've booked a cruise, it's worthwhile checking the shore excursions offered and booking those as well. The best and the most unusual often fill up fast. Most come at an additional charge. Some tours are geared to active and adventurous passengers — snorkeling with stingrays, for example — while others might be cultural in nature — a chance to taste wine with a world-renowned winemaker, cook dinner with a Michelin-starred chef or tour an art museum with the director after hours. Small, private, boutique tours are the most expensive and sought-after, but if you know what you want to see or do while in a particular port, then the ultimate shore excursion is a car-and-driver package which you design yourself, often with the advice and assistance of an onboard shore excursion concierge to handle all the details.
Wherever in the world you sail, chances are the cruise line offers at least one shore excursion that's like no other you've experienced, whether it be snorkeling in Alaska, camping out in Antarctica or helicoptering over skyscrapers in Hong Kong. Unique shore excursions need not be only for daredevils, however. Among the more than 2,000 Crystal Adventures Crystal Cruises provides in its ports of call, a select few are designed so guests can spend time ashore volunteering to work with local charity and environmental groups. Crystal Cruises' boutique shore excursions run the gamut from lunch at a small family-run winery in Madeira to a private viewing of the Contini Bonacossi Collection at the Uffizi Gallery in Florence. When docked at Valencia, Spain, Crystal Cruises offers a shore excursion to the Oceanogràfic aquarium, Europe's largest and one of the world's biggest aquamarine facilities. Guests receive a behind-the-scenes tour, led by the biology department's staff, of the tanks inhabited by whales and walruses and finish up with an underwater lunch at Submarine, a restaurant encased in a lively circular aquarium.
Another unusual shore excursion comes during Silversea's 2016 world cruise, when guests disembark and board a chartered seaplane to Kandy in the jungle heartland of Sri Lanka. The chief draw is one of the world's signature Buddhist sites, Sri Dalada Maligawa, or the Temple of the Tooth, which houses one of the Buddha's most rare sacred relics. Unique shore excursions are sometimes pegged to historic anniversaries. Celebrity Cruises' nine-night Scandinavia & Shakespeare voyage on the 2,886-passenger Celebrity Silhouette, departing Southampton April 23, 2016, includes an excursion to Hamlet's castle in Helsingborg, where a feast celebrates Shakespeare's 400th birthday.
Longer luxury cruises can be laden with extended overnights in some ports, allowing for quite remarkable shore excursions. During Seabourn Cruises' 56-day Antarctica & South American Exploration sailing from Chile to Fort Lauderdale Feb. 3–March 30, 2016, passengers can expect at least two exceptional land tour options. One starts in the port of Saint Lucia, as guests rise 2,000 feet above sea level on a gondola into a Caribbean oceanic forest, hike along the summit and zipline back down, suspended just above a canopy of gargantuan trees — a flight even Peter Pan might envy. If that's not exotic enough, during the same cruise Seabourn offers its passengers a night in the jungles of the Amazon. From the Amazon Ecopark Jungle Lodge, guests explore six miles of tropical trails rife with uncatalogued species. Dinner is followed by a canoe ride in search of small alligators.
Oceania Cruises offers unusual shore excursions around the globe. On its Southern Africa voyages that call on the port of Lüderitz in Namibia, guests drive through the skeletal Namib Desert bordering the Atlantic Ocean to a remote watering hole frequented by wild horses. The origin of these wild hoses remains enigmatic — perhaps they are the survivors of a 19th-century shipwreck — but regardless, several dozen adapted to this harsh, barren, seldom-visited environment. In another sector of the globe entirely, Oceania's 684-passenger Nautica anchors at Shanghai, China's boomtown, during a 20-day Beijing-to-Hong Kong cruise, where it offers a shore excursion that explores the Jewish history of this former colonial port. Jewish people arrived in Shanghai during the 19th century, and the tour visits the original Ohel Moshe Synagogue, once the center of worship for Jews who fled the Nazi regime. This excursion also takes in parts of Shanghai's former French Quarter, where one of many former Jewish-owned mansions now houses the Arts and Crafts Research Institute.
Finally, for anyone who dreams of riding a helicopter into the Alaskan wilderness, landing on a glacier and taking the reins of a dogsled for an Iditarod-style romp on ice and snow, Princess Cruises offers a shore excursion for that, available on many of its summer cruises to the 50th state.
Booking excursions with your cruise line ahead of time remains the surest, easiest way to enhance that once-in-a-lifetime cruise with a once-in-a-lifetime port adventure, but there are alternatives. You can book tours directly through local agencies at each port and hire taxis for the day. You can also shop online at sites such as CruiseComplete or Viator (a TripAdvisor company). They list and sell third-party shore excursions that match your cruise ship's schedule, and they do so at lower prices and with guaranteed on-time returns to your ship.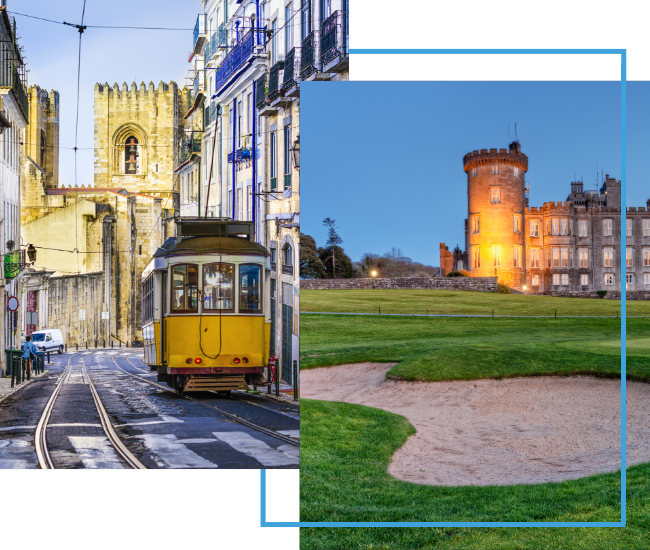 FX Excursions
FX Excursions offers the chance for once-in-a-lifetime experiences in destinations around the world.
Explore Excursions
One thing  surprising about the Prince Edward Island capital is its abundance of shops specializing in affordable, fashion-forward jewelry rendered in sterling silver, vermeil, 14K gold and semi-precious stones. Whether you prefer delicate pieces or bold wearable art, you can be assured the pieces for sale are inspired by the maritime island setting and, therefore, specific to the place where they are created. Here are a few shining, woman-owned examples:
Sponsored Content
IHG Hotels & Resorts is thrilled to announce the launch of a new mobile product feature for members: IHG Wi-Fi Auto Connect. This feature is now available exclusively in the IHG One Rewards mobile app for both iOS and Android users and will automatically connect IHG One Rewards members to WiFi upon arrival at more than 5,000 IHG hotels worldwide — no separate passwords or log-ins needed. This is in addition to the exciting benefits of being an IHG Business Edge member. IHG Business Edge provides small- and medium-sized businesses access to a user-friendly portal that displays comprehensive spending and savings data while providing the convenience of direct booking with a guaranteed discount.
Norway, a haven for visionary artists, architects and designers, showcases an exceptionally diverse array of cultural attractions. This year, the country commemorates exciting milestones and unveilings captivating enthusiasts of the arts, from iconic scenic routes to new museums to gallery openings. Up Norway features these new offerings in personalized itineraries catered to aesthetes.