When Magellan took charge of the first around-the-world voyage nearly 500 years ago, he did not survive the long ordeal, but modern passengers can survive a circumnavigation of the globe in comfort and style aboard a number of today's luxurious cruise ships.
Cunard Line inaugurated the first world cruise for its passengers in 1922, visiting a multitude of exotic ports during a gargantuan roundtrip from England, a tradition it continues to this day. With enough leisure and money, travelers can duplicate Magellan's feat in 2015 on one of Cunard's lavish cruise ships in considerably less than the nearly three years the original 16th-century sailing required. Cunard's 2,092-passenger Queen Elizabeth makes its 2015 world cruise in 112 days, round-trip from Southampton starting Jan. 10, with stops at the Panama Canal, Hawai'i, Australia, Vietnam, Japan, China, India, Dubai, İstanbul, Malta and Portugal. The price tag? About $14,000 to $66,000 per person. Cunard's majestic 2,620-passenger Queen Mary 2 makes a 113-day world loop to and from Southampton as well, departing the same day as the Queen Elizabeth but sailing a different route that touches on Spain, Italy, Egypt, India, Cambodia, Vietnam, China, Australia, Madagascar, Namibia and the Canary Islands.
In both cases, passengers can sample a round-the-world sailing by booking select segments of Cunard's world cruises, running from 10 to 34 nights, meaning that those who book the full navigation will be joined at several points along the way by a new group of passengers. For those who love cruising, however, especially the experiences offered on board such as Cunard's White Star service, the allures of a full round-the-world cruise are obvious, bearing in mind that most of a very long vacation at sea is just that — at sea. The amenities and diversions a particular ship offers become vital. So do the ports of call and the length of time devoted to shore excursions. A worldwide cruise offers an unparalleled opportunity to taste many diverse cultures and explore a wide range of exotic ports. With the right ship and itinerary, a circumnavigation is a fine way to see the world — unpacking just once, never changing rooms and avoiding airport after airport along the way.
P&O Cruises, like Cunard, uses Southampton as its home port for two world cruises in 2015. Setting out Jan. 8, P&O's 1,868-passenger Aurora visits 38 ports in 17 countries in 105 days. A second ship, the 2,064-passenger Arcadia, departing Jan. 6, visits 28 countries in 106 days, pausing at 41 ports including Pago Pago; Borneo; Ho Chi Minh City; and Oman's capital, Muscat. Both of P&O's world cruises make transits of the Panama Canal, and both voyages circumnavigate the entire globe. P&O has a long history with long-haul passenger cruises, its steamships plying the London-to-India route as far back as 1842. It's widely believed the word "posh" originated with these eastwest cruises, "posh" being an anagram for "port out, starboard home," referring to the most comfortable, shady and lavish staterooms in the respective directions to and from England. In fact, the word did not come from early long-distance cruises, but today's world cruises can certainly be described as posh.
Three major cruise lines have slated world cruises that depart from American ports in 2015. On Jan. 5, Holland America's 1,380-passenger ms Amsterdam makes a 114-day worldwide voyage round-trip from Fort Lauderdale that traverses the Panama Canal on its way to Tahiti and the South Pacific islands, Australia and New Zealand, Bali, Singapore, Myanmar (Burma), Mumbai, Egypt, the Suez Canal, Greece, Italy and Portugal.
Princess Cruises' 688-passenger Pacific Princess departs Jan. 23 from Los Angeles on a 111-day world round-trip voyage that calls on Hawai'i, Samoa, Australia, New Zealand, Hong Kong, Vietnam, Oman, Aqaba, the Suez Canal, Nice, Madeira, Pompeii, Rome, Bermuda, the Panama Canal and Costa Rica. In 2016, the Pacific Princess will make a similar grand circuit, calling at ports on six continents.
Silversea Cruises' world voyage begins Jan. 5, 2015, in Los Angeles and ends May 1, 2015, in Fort Lauderdale — not technically a circumnavigation, perhaps, but the cruise covers 50 ports in 30 countries, including Australia, Indonesia, Vietnam, India, Malaysia and South Africa. Fares for 2015 start at $58,950 per person, topping out at $173,250, with most stateroom categories already sold out. The same vessel, the 388-passenger Silver Whisper, undertakes another world cruise in 2016, with plenty of perks for those who book ahead, including free business-class airfare, $4,000 onboard spending credits and free laundry and Internet services.
Another smaller ship with a high degree of luxury making a 2015 round-the-world cruise is Crystal Cruises'1,090-passenger Serenity, already wait-listed and departing Miami Jan. 14. Crystal's 108-day world tour crosses the Caribbean, makes a transit of the Panama Canal, visits Easter Island and calls on ports in Australia, New Zealand, Europe, Africa and South America. Crystal can be counted on to entrance world cruisers on those long days at sea between landfalls with a changing slate of lecturers, workshops and entertainers.
The lengthiest of full round-the-world cruises in 2015, occupying 180 days, will sail twice aboard Oceania Cruises' 684-passenger Insignia, which departs Miami Jan. 10 and again July 8. The first voyage, with 15 overnight port calls, sails through the Caribbean to Brazil, eastward to Africa, onward to Asia (including China and Japan), down through Australia and the South Pacific, and homeward via Hawai'i, Mexico and the Panama Canal. The July world cruise, with 14 overnights, goes north to Canada; eastward through Greenland, Iceland, Norway and Denmark; around Europe and through the Mediterranean to the Red Sea, the Middle East, India, Myanmar, Cambodia, Vietnam, Thailand and Hong Kong; finally returning to Miami through Africa, South America and the Caribbean. Oceania continues its "Around the World in 180 Days" cruises in 2016, departing Miami Jan. 4, 2016. Oceania's fares start at $41,999 per person, with first-class airfare and onboard laundry and Internet included.
"Penny-pinchers" might opt to circle the globe on Costa Cruises, where the 115-day round-trip voyage from Savona, Italy, aboard the 2,260-passenger Costa Deliziosa, calls on 40 ports on five continents, with fares ranging from $19,274 to a "mere" $31,246 per person.
World cruises, whatever their cost or departure point, usually depart in January, and most circumnavigations must be booked well in advance. No matter which line one chooses, a world cruise is a hallmark for any traveler. It may have taken Jules Verne's fictional traveler Phileas Fogg 80 days to go around the world in the 19th century (largely by train and steamer), but cruise passengers in the 21st century won't begrudge a lengthier adventure, given the luxuries of a modern stateroom, the extravagances of fine dining, the attentions of an experienced concierge, the variety of fascinating port calls and a crew Magellan himself would have died for.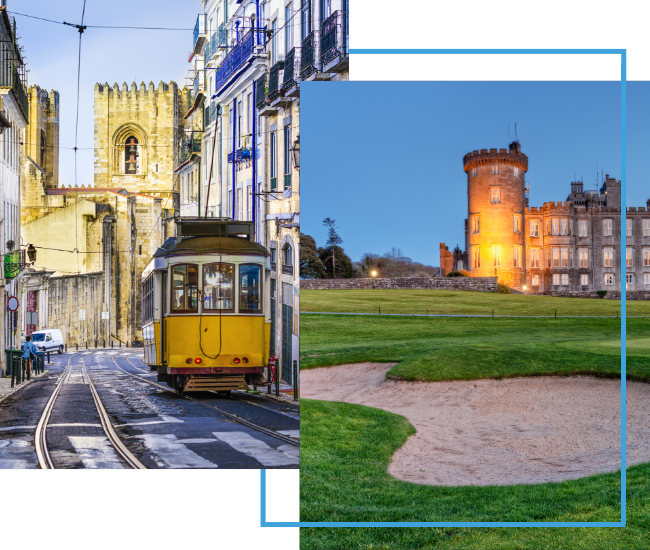 FX Excursions
FX Excursions offers the chance for once-in-a-lifetime experiences in destinations around the world.
Explore Excursions
If fabulous food and beverages are a must-have for any weekend getaway, then look no further than the City of Brotherly Love. Whether your palate has a penchant for vibrant Latin American fare or cozy French cuisine, whether you're an oenophile looking to swirl, sniff and sip your way around the globe or you'd rather sample farm-to-glass cocktails, Philly's got it all this fall. (With the exception of Bolo, which is a short taxi or Uber ride away and definitely worth the trip, the rest of these spots are all within walking distance of each other.)
Sponsored Content
United Airlines is in the midst of a major initiative to modernize its fleet over the next several years. After first announcing the plan in 2021, planes fitted with United's signature interior are finally beginning to appear across the airline's narrowbody fleet of Boeing and Airbus planes. United flyers are sure to notice these enhancements from the moment they step on board: Each new or updated plane sports remodeled seats, seatback entertainment screens for everyone, Bluetooth connectivity and more, all adding up to a better experience on every journey.
From Santoríni to Dubai to New York, some hotels just have that "it" factor that draws visitors far and wide. For some hotels it's their proximity to popular landmarks and attractions, for others it's their amenities. But these hotels have something few can claim: a true room with a view.