Contrary to impressions gleaned from the familiar title of Strauss' beloved waltz, the Danube is not blue. Like most rivers, it has a grayish hue, and in some parts a muddy murkiness. However, catch the Danube in the right light, perhaps as you picnic on its banks after a bike ride, and an ultramarine glimmer might catch your eye. Despite misleading references regarding its color, the marvelous Danube surely conjures more storybook visions than any other river on Earth. The second-longest river in Europe, a serpentine enormity, it flows through 10 countries for more than 1,770 miles, from Bavaria to the Black Sea. A fount of legends and history, it has harbored ancient cultures, served as a key trade route for centuries, and today provides its best-known cities — Vienna, Budapest, Belgrade — with drinking water.
To cruise the Danube from either direction is to immerse in a sensory overload of visceral joy. Castles and fortified abbeys crown hills, terraced vineyards unfurl alongside the water, apricot orchards emit intoxicating scents, charming villages seem frozen in time, and grand cities beg to be explored along its course. Fringing its shores, bygone towpaths transformed to bike trails which bustle with cyclists — especially in warmer months. In winter, the Danube leads to festive holiday celebrations, with most towns hosting Christmas markets.
Those choosing to embark on a river cruise through these waters will gift themselves with some of the most jaw-dropping views in Europe from the decks of some of the world's swankiest ships. Small enough to moor anywhere along the way, Danube cruises can take guests to the front doors of show-stopping monuments, such as Melk Abbey, and into ornate cities as diverse as Budapest and Passau. Most boats provide bikes to borrow so you can race your vessel to its next port or just take a relaxing exploratory ride alongside the locals. On every cruise expect cultural entertainment, VIP tours of castles and villas, dedicated experts on a variety of subjects, fresh farm- to-table cuisine, exclusive entrance to regional festivals and a slew of other curiosity-satisfying excursions and opportunities. Finally, with inclusions that range from meals to activities, Danube cruises please intrepid travelers who love the whirlwind euphoria of seeing a plethora of sites while also ensuring they only have to unpack once.
One of the world's most popular cruising adventures, the Danube River attracts a number of.  unique, upscale vendors each vying for your business. Uniworld Boutique River Cruises, with elegantly appointed rooms and a boutique hotel feel, gets accolades for its generous staff-to-guest ratio. Besides classic Danube sailings, it offers a variety of captivating rail-and-sail combination trips incorporating the acclaimed river route. In 2022 its "Cruise & Rail: Castles of Transylvania & The Enchanting Danube" adds a private train journey through Romania to the mix.
Viking River Cruises refers to itself as "the thinking person's cruise," exemplified by its focus on art, music and cuisine. Also, beloved for its European sensibility and stunning longships, it offers a number of cruise options, including the eight-day "Danube Waltz," sailing from Passau to Hungary and offering inventive activities such as waltzing lessons in Vienna and thermal soaks in Budapest.
Luxurious AmaWaterways boasts AmaMagna, a ship which expands to twice the width of traditional European river ships. The company vaunts spacious accommodations and sought-after amenities — including four restaurants and five bars. Partake of walking tours, taste wine and attend concerts on the seven-day "Magna on the Danube" cruise.
In 2022 Tauck will present 10 itineraries on the Danube, including one that. highlights the history and culture of classical music, one for families, and a holiday season tour of the region. Expect a deep commitment to music on board with experts, scholars, performers and dedicated workshops enhancing the experience. A boon for solo travelers, Tauck waives the infamous single supplement on all Category 1 cabins.
Both Backroads and VBT re-interpret Danube cruising by proposing trips that showcase the stellar cycling opportunities along the Danube's shores. With various options for all levels of athletes, their journeys can be adjusted to be as relaxed or sporty as desired and to include many cultural and sightseeing activities, from wine tasting to castle tours.
THE DANUBE BIKE PATH
Austria's Wachau Valley, a stretch of the Danube River Valley between Melk and Krems, reigns as its most breathtaking and notable portion. A realm of apricot orchards, family-owned vineyards and wineries, castles, abbeys, monasteries, forests and eye-catching villages, it exudes romance and feels unchanged by time. Part of the famous Danube Bike Path (or Donauradweg), which extends from Passau to Budapest, the Wachau Valley section of the river teems with enthusiastic cyclists in warmer months. The bike path generally follows both sides of the river and can be viewed from the deck of your ship.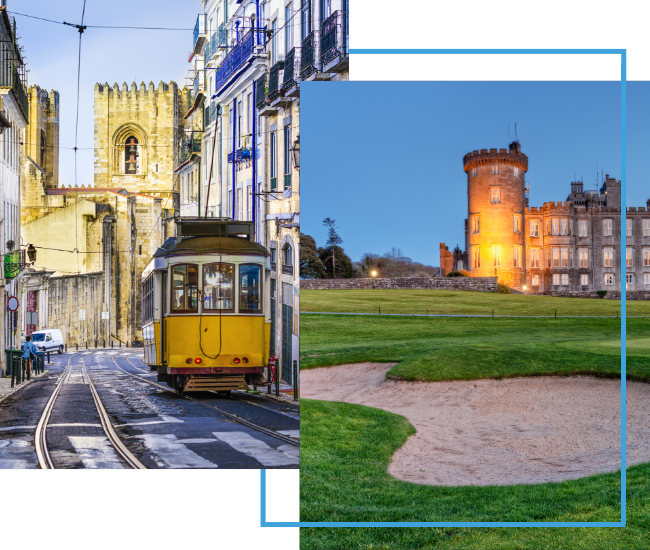 FX Excursions
FX Excursions offers the chance for once-in-a-lifetime experiences in destinations around the world.
Explore Excursions
Ever want handcrafted martinis and freshly shucked oysters delivered straight to your room? The Read House's New Martinis & Pearls service has you covered. Shining in 1920s-themed decor, the historic hotel in the heart of Chattanooga offers a true Gatsby-esque experience, now further elevated with this upscale amenity. Guests can now indulge in their perfectly chilled martini, made to order, and "pearls" (oysters) in the comfort of their room.
Sponsored Content
United Airlines is in the midst of a major initiative to modernize its fleet over the next several years. After first announcing the plan in 2021, planes fitted with United's signature interior are finally beginning to appear across the airline's narrowbody fleet of Boeing and Airbus planes. United flyers are sure to notice these enhancements from the moment they step on board: Each new or updated plane sports remodeled seats, seatback entertainment screens for everyone, Bluetooth connectivity and more, all adding up to a better experience on every journey.
If your idea of fun in New York City is to get the adrenaline flowing and your heart racing rather than engage in more relaxed pursuits like shopping, seeing Broadway shows and visiting museums, here are four activities that are anything but low-key: