Ports of Call: We sailed MS Antonella from Split, Croatia, to Milna, Bol, Hvar, Korčula, Miljet, Pelješac Peninsula and Makarska, and returning to Split.
Embarkation/Disembarkation: The round-trip Croatian voyage from Split was a cycling cruise, with a mountain bike provided and an e-bike option available. We averaged 28 kilometers (about 17 miles) per day as we soaked up the amazing land and sea views. We stopped along the way for a cold drink or the occasional leisurely swim. It was seven days of cycle, eat, rest, gaze, laugh, repeat.
Stateroom: I stayed in an under-deck cabin with a porthole. All cabins are en-suite on the small ship.
Services/Amenities: Each day on this sun-drenched, small-ship cycling cruise took us to another exotic port on the Dalmatian Coast; we were dropped off at one end of the island to cycle to the other, where our ship waited for us.
The ship included a dining hall, half-board, captain's dinner and a sun deck. I traveled solo and was one of only two Americans on the 30-passenger ship. I thoroughly enjoyed getting to meet and know everyone by name. The crew and guides spoke fluent English.
TOP TAKEAWAYS:
◆ Day 2 We had a long, steady climb to the crest of a hill, past mulberry and fig trees, pine forests, olive groves and vineyards. We passed white marble quarries used for The White House in Washington, D.C. After 35 kilometers of cycling, we stopped at the little shepherd's village Gažul with its stone houses and enjoyed an authentic local lunch of grilled meats and local distilled liqueurs. We cycled another 10 kilometers to Bol; on the descent to the beach, we marveled at the breathtaking panoramic views of Hvar in the distance, making the morning's climb worth the effort.
◆ Day 4 In Korčula we had evening drinks atop a castle; the only way to get beverages there was for the waitress to hoist them up by pulley.
◆ Day 6 The Makarska Riviera offered sweeping vistas and dozens of activities in which to participate.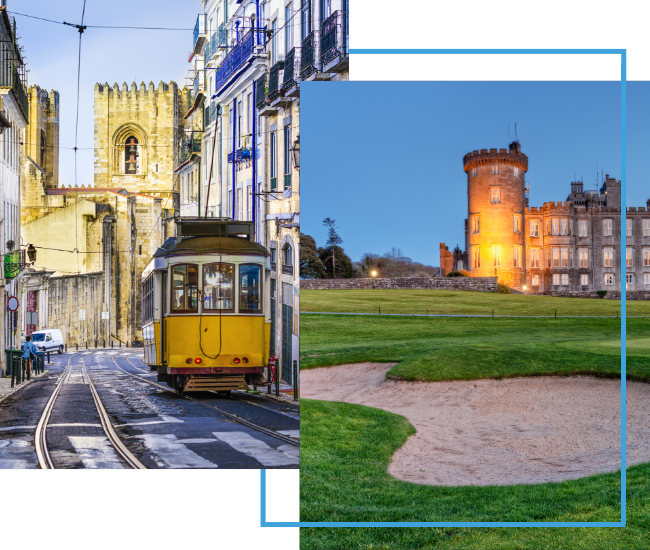 FX Excursions
FX Excursions offers the chance for once-in-a-lifetime experiences in destinations around the world.
Explore Excursions
Corsica with steep, gray cliffs overlooking the Mediterranean and sandy beaches attracting summer visitors, is a French-governed island sometimes confused with Sardinia and Sicily, Italian islands to the south. Fortunately, all three islands share the same love for good wine, food and sun-splashed beaches.
Sponsored Content
Learning more about our readers' travel habits and preferences ensures Global Traveler delivers the content you desire. As the travel industry has adapted and changed over the last few years, it's more important than ever to connect. To best meet your short- and long-term travel content needs, please help us!
If you're ready to do a little holiday catch-up with your besties, make a beeline for Conrad New York Downtown. The lobby metamorphosed into a holiday forest of heavenly scented, decorated Virginia Spruce trees. Make your first stop ATRIO Barista Station in the lobby for a complimentary hot spiced apple cider (until Dec. 3) or hot chocolate (Dec. 22­–24).