ALTHOUGH THE UNITED STATES ELIMINATED its cruise travel to Cuba in June, affecting some 800,000 passengers, travel by sea shows no sign of slowing worldwide, and cruise lines are expanding their fleets and destinations for 2020, expected to be a record year. North Americans will make up nearly half of the expected 30 million passengers in the coming year, an increase spurred on by the continuing popularity of cruises to Alaska, the Caribbean and the Mediterranean, along with the rising tide of river cruises and expedition-style sailing.
A score of brand-new ships, ranging from luxury-laden yachts to lavish floating resorts, will take to the waters in 2020. Virgin Voyages launches its first vessel, the 2,800-passenger Scarlet Lady, while The Ritz-Carlton Yacht Collection introduces the first of its three yachts, the 298-passenger Azora. Princess Cruises will showcase its newest ship, the 3,660-passenger Enchanted Princess, on 21 alternating seven-day Caribbean sailings out of Fort Lauderdale starting in November 2020.
In most cases, new ships mean added luxuries and novel features. Celebrity Cruises' new ship for 2020, the 2,800-passenger Celebrity Apex, will feature the "Magic Carpet," a movable deck cantilevered over the side of the ship that elevates from decks 2 to 16 to serve as a restaurant and embarkation plat- form. P&O's new Iona, powered by liquid natural gas, includes a half-mile-long lanai deck featuring 17 eateries, 12 bars, 13 entertainment venues, 16 whirlpools and four swimming pools.
Silversea Cruises will debut two new ships in 2020, the 596-passenger Silver Moon and the 100-passenger Silver Origin, an ultra-luxury expedition ship specially designed for Galápagos cruising, with eight Zodiacs and butler service for all suites.
Among other full-luxury expedition ships christened next year are Lindblad Expeditions' 126-passenger National Geographic Endurance, with saunas, yoga rooms and infinity Jacuzzis; Crystal Cruises' 200-passenger Crystal Endeavor, designed for polar exploration with helicopters and a submarine aboard; and Scenic Cruises' 228-passenger, all-suite Scenic Eclipse II, also with its own submarine and helicopters as well as 10 dining options, a gym and butler service.
While smaller ships with bigger luxuries are leading the way in 2020, new mega-ships have not been pushed aside. Royal Caribbean will launch another in its line of behemoth cruisers, the 4,246-passenger Odyssey of the Seas, complete with room for bumper cars, robotic bartenders and "virtual balconies" for its inside cabins. MSC Cruises' MSC Virtuoso is laden with 6,334 passenger berths, a fine arts museum, "cluster cabins" for families, Cirque du Soleil performances and a double-deck amusement park. And Carnival Cruise Line's Carnival Mardi Gras, coming August 2020, will accommodate 6,600 passengers, a new world record.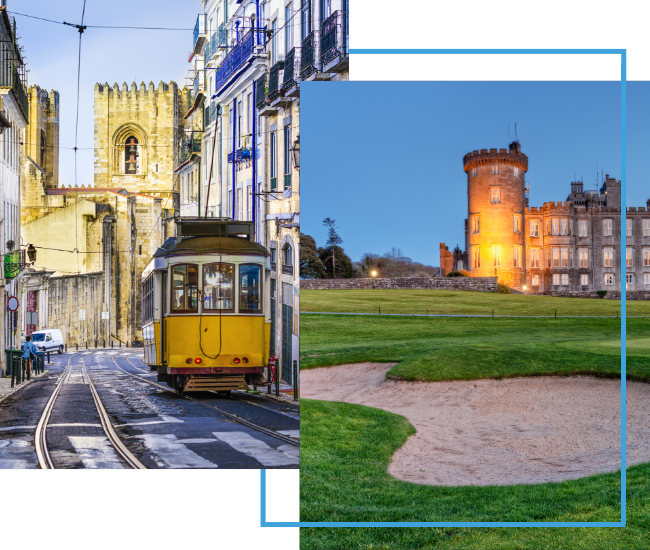 FX Excursions
FX Excursions offers the chance for once-in-a-lifetime experiences in destinations around the world.
Explore Excursions
Pleasant weather, autumn foliage and vibrant flowers are among the many delights awaiting nature lovers at botanical gardens and arboretums across the United States. However, some of these green spaces take on additional color this month and through Halloween when enterprising gardeners, landscape architects, management and other creative minds cast a spell with themed environments running the gamut from spooky to utterly bewitching.
Sponsored Content
IHG Hotels & Resorts is thrilled to announce the launch of a new mobile product feature for members: IHG Wi-Fi Auto Connect. This feature is now available exclusively in the IHG One Rewards mobile app for both iOS and Android users and will automatically connect IHG One Rewards members to WiFi upon arrival at more than 5,000 IHG hotels worldwide — no separate passwords or log-ins needed. This is in addition to the exciting benefits of being an IHG Business Edge member. IHG Business Edge provides small- and medium-sized businesses access to a user-friendly portal that displays comprehensive spending and savings data while providing the convenience of direct booking with a guaranteed discount.
For travelers who love all things autumn, Crystal Springs Resort, New York City's closest destination resort, features special offers and experiences to meet the demands of everyone's fall bucket list. Located only 80 minutes outside New York City in Sussex County, New Jersey, Crystal Springs Resort offers a quick getaway to enjoy fall foliage. Are any of these new offers or experiences on your bucket list?