Whether you like to line dance, swing dance, rock out, salsa or just chill and listen to tunes, there's a music- themed cruise for you. Mix all the best components of a music festival with the ease, amenities and excursion opportunities of a cruise, and you can see why music lovers are ready to set sail. In the past 20 years music cruises have proved popular, with just about every genre represented.
One of the largest producers of music cruises, Sixthman Productions, offers cruises such as the Rock Boat, KISS Kruise, Outlaw Country Cruise and Keeping the Blues Alive at Sea. Or choose Broadway, disco, soul and even cruises themed by decades.
In addition to the performances, music fans also enjoy a more relaxed atmosphere on most music cruises. "All rules are relaxed and changed," said Scott Burnett, marketing director, Legendary Rhythm & Blues Cruise. "There is no formal dining and no dress code. Even the ship personnel are in a different vibe and mood."
Some music cruises encourage a different type of dress code, with popular theme nights like Pajama Night, Mardi Gras or Wig Night.
Laura and Tom Calk of Atlanta, Georgia, went on a week-long cruise one year with Legendary Rhythm & Blues Cruise to celebrate their anniversary and see Tom's favorite band, Tedeschi Trucks. According to the couple, "We had a blast. There was a theme night every night. One night we dressed as Gumby and Pokey. And we rode the elevator with members of Tedeschi Trucks!"
Fans also flock to music cruises to meet and chat with musicians, an experience you seldom get at a concert or music festival. Scheduled opportunities to meet artists include meet-and-greets and autograph sessions.
And you are literally in the same boat with all the musicians you came to see — they hang out by the pool, attend the same concerts, dine in the same restaurants and go on the same excursions.
Robert Levy from Glen Allen, Virginia, sailed on three music- themed cruises.
"I like the chance to see so many acts back-to-back-to-back and to meet the musicians and talk to them like normal people, one cruiser to another," he said. "I met John Lodge of the Moody Blues at Ernest Hemingway's house in Key West, Florida, and we just hung out and talked, one tourist to another."
"We loved sitting in the audience with members of other bands," Laura Calk said. "You may find yourself sitting next to a musician you had just seen play."
On some cruises you can even jam with musicians. The Legendary Rhythm & Blues Cruise hosts nightly jams, and guests can join in and play or sing. It's not unusual to see guests board a music cruise with a guitar or other instrument.
The artists love the jam sessions, as well. "Sometimes musicians get on the stage with other musicians they have never played with before, and you can hear combinations of artists you've never heard," said Legendary's Burnett. "Some of the magic happens with these open jam sessions."
While music cruises can offer a place for emerging artists to play — and many started their careers that way — big-name musicians love to perform on board as well, including Melissa Etheridge, Kiss, Yes, The Moody Blues and Peter Frampton. After Johnny Winter played the Legendary Rhythm & Blues Cruise, he said, "This blues cruise was better than Woodstock!"
Burnett said a week-long Legendary cruise can present more than 100 acts, resulting in an intense pace. "Some people go to bed right after dinner and set an alarm to wake up later for their favorite acts," he said.
No worries if you need a quiet moment away. "We loved hanging by the pool and seeing so many different acts. But I needed a break sometimes," Laura Calk said. "I could always find a quiet place to escape and read three novels on my cruise."
The percentage of repeat visitors on music cruises remains high, with fans returning for encore performances of their favorite bands every year and forming bonds with other fans.
"We have about a 70 percent repeat rate," said Burnett. "We typically have guests from 15 to 20 countries on board. I've seen many of them make lasting friendships, then stay in touch through our chat room or on Facebook."
FESTIVALS AT SEA
Find your favorite genre among these music-themed voyages. Cruises fill up fast, so book early.
1940s Transatlantic Crossing with the Glenn Miller Band
ahoyvintagecruises.com/glenn-miller- orchestra-crossing
Jam Rock Reggae Cruise
welcometojamrockreggaecruise.com
The Jazz Cruise
thejazzcruise.com
Legendary Rhythm & Blues Cruise
bluescruise.com
Outlaw Country Music
outlawcountrycruise.com
The Ultimate Disco Cruise
ultimatediscocruise.com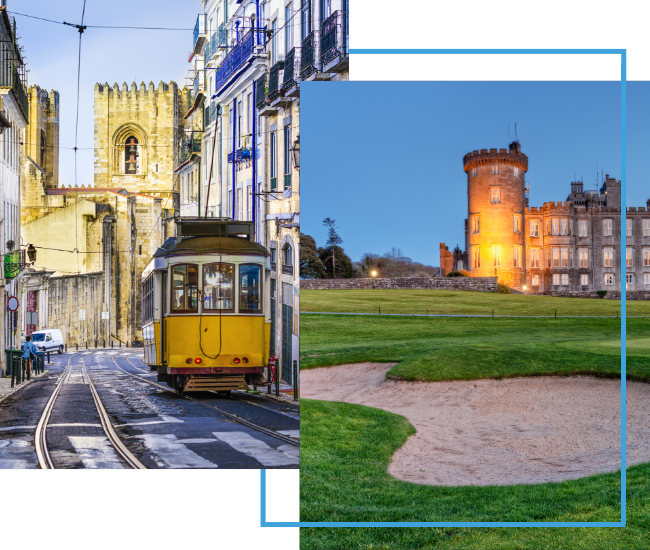 FX Excursions
FX Excursions offers the chance for once-in-a-lifetime experiences in destinations around the world.
Explore Excursions
Travel can take a toll on your body and soul; these products keep you looking (and feeling) good. From a clever shoe that puts a spring in your step (and is effortlessly easy to put on and remove) to a lightweight hair dryer and a night cream that works wonders on tired, dehydrated skin, here are three must-haves to tote on your next trip:
Sponsored Content
Don't risk losing all the money you've spent if you must cancel your trip at the last minute. Allianz Travel Insurance can give you:
Pleasant weather, autumn foliage and vibrant flowers are among the many delights awaiting nature lovers at botanical gardens and arboretums across the United States. However, some of these green spaces take on additional color this month and through Halloween when enterprising gardeners, landscape architects, management and other creative minds cast a spell with themed environments running the gamut from spooky to utterly bewitching.