Exploring South America can require the full resources of the independent traveler or the fortitude of the backpacker. It's a rewarding but vast continent to cover. Fortunately, cruise lines offer a less demanding, more luxurious alternative, enabling visitors to sample a wide range of exotic attractions spread across the varying terrains and cultures of some 17 nations.
While South America encompasses many of the world's best cruise destinations — from the jungles of the Amazon and the fjords of Chile to the beaches of Brazil and land's end in Tierra del Fuego — this continent ranks far behind the Caribbean, the Mediterranean, Northern Europe and even Alaska and Asia in terms of cruise ship deployments. Nevertheless, big cruise lines such as Holland America and Princess sail significant members of their fleets on a regular basis each year in this region. And so do several smaller international luxury lines. This yields a number of intriguing itineraries for passengers seeking to cover multiple major destinations in the relatively uncrowded waters of the Southern Hemisphere, especially November through February, when it's summer in that part of the world.
One convenient choice is to sail down the west coast of South America via the Panama Canal from Fort Lauderdale on Celebrity Cruises. Departing Florida Dec. 5, the 2,170-passenger Celebrity Infinity visits the walled colonial city of Cartagena, Colombia, on its way to Colón, Panama, and a transit of the Canal, emerging on the Pacific Ocean side in Manta, Ecuador, a beach and party town favored by windsurfers. The Celebrity Infinity continues south with calls on historic Lima, Peru, and on Chile's "City of Eternal Spring," Arica, reaching its final destination, Valparaíso, just before Christmas. Valparaíso is Chile's official Cultural Capital, a UNESCO World Heritage site and "Little San Francisco," its hills inundated with funicular lifts.
Several luxury lines ply a more popular South American route, along the Atlantic coast. Silversea Cruises runs its 540-passenger Silver Spirit from Bridgetown, Barbados, to Buenos Aires, Argentina, with a departure Jan. 25, 2016. The 21-day voyage visits the fabled Devil's Island penal colony in French Guiana and makes numerous stops in Brazil — at Fortaleza, at the fortress of Natal and at "Brazil's Venice," Recife, with three days at anchor in Rio de Janeiro. There are visits to Uruguay as well — at colonial Montevideo, the modern capital, and at Punta del Este, the "Monaco of South America," near the largest seal colony in the South Atlantic — before arrival in Buenos Aires, Argentina's capital of tango and wine tasting.
Brazil has recently become the focus of several other luxury cruises that visit South America's sun-drenched Atlantic coast in the winter. Crystal Cruises celebrates a 15-day Brazilian Holiday Dec. 19, 2015–Jan. 3, 2016, aboard the 960-passenger Crystal Symphony. Setting out from San Juan, Puerto Rico, the Crystal Symphony brightens the holidays with time in Trinidad and Tobago and stops at Devil's Island, Fortaleza, always-dazzling Recife and, ultimately, Rio. Regent Seven Seas also focuses on Brazil this winter with a 21-night cruise setting out from Rio for Miami. This cruise on the 708-passenger Seven Seas Mariner features an enrichment program conducted by Smithsonian Journeys, highlighted by an eight-day cruise up and down the Amazon River, one of South America's premier cruising destinations.
Oceania Cruises offers its own Brazilian Adventure departing a bit earlier, with a 25-day cruise on the 684-passenger Regatta Nov. 4–29. This voyage begins and ends in Miami and includes a trip up and down the Amazon River, along with plenty of overnights in the Caribbean on both ends.
Perhaps the most adventurous South American cruising itinerary includes both sides of the continent with a round-the-Horn trip through the turbulent Tierra del Fuego. Oceania Cruises devotes 16 days to a sailing from Buenos Aires on the Atlantic to Valparaíso, Chile, on the Pacific on the 1,258-passenger Marina. The Dec. 22, 2015–Jan. 7, 2016, swing around South America's southernmost point makes a stop at Port Stanley in the Falkland Islands and Ushuaia, Argentina, the southernmost city in the world and the gateway to Antarctica. The same cruise takes passengers through the spectacular Chilean fjords.
Seabourn makes an extensive series of interconnected South American sailings, setting out Oct. 15 from Fort Lauderdale. The all-inclusive, 450-passenger Seabourn Quest begins its long southern excursion with a 15-day cruise through the Caribbean and up and down the Amazon River, then crosses the equator for other cruise segments highlighted by visits to Rio, Montevideo, Buenos Aires, the Falkland Islands, the Strait of Magellan and the Chilean fjords, finally reaching Valparaíso, Chile, a total of 56 days later on Dec. 20. From there the Quest reverses course and rounds Cape Horn again on a 24-day voyage to Buenos Aires that takes in South Georgia Island, Patagonia and Antarctica. The Seabourn Quest continues its South American peregrinations for several more months, finally returning to Fort Lauderdale in late March 2016.
For those with an ambition to see it all, Regent Seven Seas offers a 72-night circumnavigation of the entire continent, Miami to Miami, Jan. 13–March 25, 2016. Striking out for the Pacific via the Panama Canal, the Seven Seas Mariner visits Venezuela, Colombia, Ecuador, Peru, Chile, Argentina, the Falklands, Uruguay, Brazil, the Amazon River and the Caribbean — an exhaustive roundabout that can be broken into 12- to 33-day segments.
Whichever route passengers choose for cruising in South America, they will find mountains to equal those of Alaska, beaches as sunny as any in the Mediterranean, cuisine as tantalizing as that of Asia and cultures as varied and exotic as those in the remotest regions of the globe — a perfect getaway to take off the chill of winter.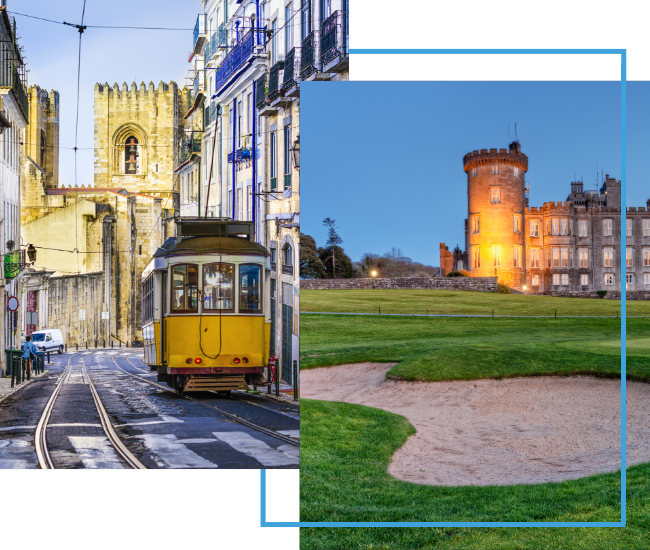 FX Excursions
FX Excursions offers the chance for once-in-a-lifetime experiences in destinations around the world.
Explore Excursions
The Perelman Performing Arts Center (PAC NYC), the cultural cornerstone and final public element of the World Trade Center site, opened this September.  The new performing arts center in Lower Manhattan provides a dynamic home for the arts, serving audiences and creators through flexible venues enabling the facility to embrace wide-ranging artistic programs.
Sponsored Content
Are you looking to enhance your business trip with a little leisure? Look no further than Portugal, a country renowned for its captivating blend of history, culture and natural beauty. And with TAP Air Portugal, you can effortlessly transform your business trip into an unforgettable bleisure adventure. Discover why Portugal and TAP Air Portugal are the perfect combination for an enriching and rejuvenating experience.
Whether you call secondhand fashion treasure troves "thrift stores," "fripperies," "charity shops," "vintage boutiques" or something else, shifting the paradigm from "old clothes" to "new finds," you may find the best, most conversation-starting souvenirs inside these shops and neighborhoods located in the world's most fashionable cities and a few unexpected places.