Christopher Columbus got here first — making The Bahamas the first port of call on his first voyage to the New World in 1492. Five centuries later, 4 million cruise passengers a year make landfall in The Bahamas, and perhaps with the same intent as the crews of the Nina, the Pinta and the Santa Maria: to experience some much-needed, top-notch R&R. With 300 days of sunshine a year and its very name meaning "shallow seas," The Bahamas is certainly the right place to tie up for rest and recreation, a world-class tropical getaway. There's an abundance of the requisite white-sand beaches, water sports and nightlife; and daytime temperatures waver only slightly from the 80-degree mark year-round.
North Americans seeking sunny waters find The Bahamas not only enticing but also convenient. No long flights, no jet lag, no visas required for U.S. citizens. Beginning just 50 miles off the coast of Florida, the whole low-lying archipelago of The Bahamas, encompassing more than 700 islands, islets and cays, lies within easy reach not only of Miami and Fort Lauderdale but also of Galveston, New Orleans, Baltimore, even New York.
While commonly thought of as a Caribbean chain, The Bahamas is actually closer to the waters of the West Indies, although Bahamians consider themselves neither West Indian nor Caribbean. The islands became a British Crown Colony in 1718, serving as a refuge for American Loyalists and slaveholders. The slaves were freed in 1834, and their descendants make up 85 percent of the population today, while the descendants of white American Southerners and British Puritans account for most of the rest. In 1973, The Bahamas achieved complete independence although it retains Queen Elizabeth as its monarch, English as its official language and driving on the left side of the road as marks of its heritage. Today, tourism drives much of the economy, supplying half of all jobs — and cruise-ship passengers account for 70 percent of visitors.
The main question for those sailing to The Bahamas is which cruise to take. Plenty are offered, even during hurricane season, August through November. Some cruises are short, some are long; some are fit for families, some for party animals. Many cruises call on ports geared to shoppers, gamblers or golfers; others visit islands suited for adventurers, divers or fans of beach sports. And some cruises find harbors on private islands and cays, hideaways owned or leased by individual cruise lines.
In fact, perhaps what most distinguishes a Bahamas sailing are the private islands. These exclusive beachside retreats function as tropical resorts, offering their own cabana rentals, beach toys, shore excursions, boutiques, barbecues, bars and buffets. Castaway Cay in the northern Bahamas is the private hideaway for Disney Cruise Line passengers, a thousand-acre spread with its own dock and separate beachfront areas for families, teens and adults. CocoCay, located between Nassau and Freeport, is a 140-acre playground reserved for Royal Caribbean and Celebrity Cruises passengers. Norwegian Cruise Line's 250-acre hideaway is Great Stirrup Cay; Princess Cruises passengers have a mile and a half of beachfront to themselves at Princess Cays; and, not to be outdone, Holland America Line purchased a 2,400-acre island of its own in The Bahamas, Little San Salvador, redubbing it Half Moon Cay.
Full voyages, lasting a week or more, usually make the line's private island a prominent dish in a banquet of The Bahamas' best beaches and top towns. Princess Cruises, for example, offering roundtrips from Houston in February and March 2016 aboard the 3,114-passenger Caribbean Princess, touches base in The Bahamas first at Freeport and then at its own private retreat, Princess Cays, on the isle of Eleuthera. Many of Holland America's Caribbean weeklong cruises call on its private isle as well. Norwegian Cruise Line sails nearly every week October through December and February through April from New York on seven-day voyages to its private cay, as well as the Bahamian capital of Nassau.
Nassau, on New Providence Island (where segments of The Beatles' signature movie Help were filmed) is overwhelmingly the most popular choice of major cruise lines plying The Bahamas. Of the 380,000 residents of these islands, 250,000 reside in Nassau. Connected by bridge to the aptly named Paradise Island, Nassau offers visitors a full range of attractions, from beaches and markets to casinos and historic forts. Chief among Nassau's diversions are attractions like the Atlantis Resort with its phantasmagorical architecture, casino, night club and beach strip; the Ardastra Gardens, Zoo and Conservation Centre, featuring the famous marching flamingos, parrots and 300 other species; the Straw Market, recently relocated to Bay Street, showcasing nearly 500 vendors; Blue Lagoon Island (Salt Cay), where beach sports compete with 30-minute dolphin encounters; Fort Charlotte, an 18th-century fortress with dungeons, underground passages and fortifications with a view; and the interactive Pirates of Nassau museum, a family favorite. Aside from fine seafood dining, vibrant nightclubs and duty-free shopping, Nassau boasts more than 50 fun-in-the-sun beaches.
Freeport, the main port on Grand Bahama Island, is the islands' second city, six times smaller than Nassau but a Las Vegas in miniature, with an array of casinos, night spots, boutiques and beaches. Freeport is also the gateway to The Bahamas' chief ecological wonder, the underwater limestone caves of Lucayan National Park.
Nassau and Freeport are often the focus of short Bahamian cruise junkets. Quick, cheap and sharply focused, these popular two- to five-night voyages can function as long weekends or short holiday escapes. If sailing in high luxury is your desire, Celebrity Cruises runs four-night cruises from Fort Lauderdale all year that spend a day in Nassau on the 2,170-passenger Celebrity Constellation.
If your vacation time is particularly pinched and you are partial to partying, the newly launched Bahamas Paradise Cruise Line sails every other day year-round from West Palm Beach, Fla., to Grand Bahama Island. You spend a single day in The Bahamas doing whatever you wish — snorkeling among coral reefs, shopping, gambling, swimming with dolphins, making a Jeep tour or simply relaxing on the stunning sands. The 1,896-passenger Grand Celebration serves as Bahamas Paradise Cruise Line's party ship. Equipped with a spa, a casino, five swimming pools, eight bars and lounges and headline performers, this vessel departs Florida at 6 p.m. and returns two nights later at 7 a.m., completing a hop designed for those seeking the ultimate midweek or weekend break.
Five centuries after Columbus weighed anchor here, The Bahamas offers cruise passengers from the New World a perfect place in the sun that's exhilarating and exotic yet close to home.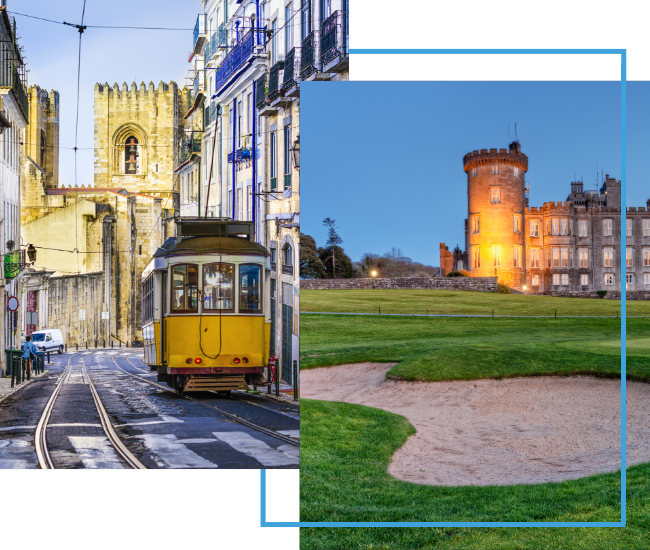 FX Excursions
FX Excursions offers the chance for once-in-a-lifetime experiences in destinations around the world.
Explore Excursions
Pleasant weather, autumn foliage and vibrant flowers are among the many delights awaiting nature lovers at botanical gardens and arboretums across the United States. However, some of these green spaces take on additional color this month and through Halloween when enterprising gardeners, landscape architects, management and other creative minds cast a spell with themed environments running the gamut from spooky to utterly bewitching.
Sponsored Content
United Airlines is in the midst of a major initiative to modernize its fleet over the next several years. After first announcing the plan in 2021, planes fitted with United's signature interior are finally beginning to appear across the airline's narrowbody fleet of Boeing and Airbus planes. United flyers are sure to notice these enhancements from the moment they step on board: Each new or updated plane sports remodeled seats, seatback entertainment screens for everyone, Bluetooth connectivity and more, all adding up to a better experience on every journey.
For travelers who love all things autumn, Crystal Springs Resort, New York City's closest destination resort, features special offers and experiences to meet the demands of everyone's fall bucket list. Located only 80 minutes outside New York City in Sussex County, New Jersey, Crystal Springs Resort offers a quick getaway to enjoy fall foliage. Are any of these new offers or experiences on your bucket list?