WITH HYBRID AND ELECTRIC CARS sparking a revolution in land-based vehicles, cruise lines worldwide are riding a green wave as well. Everything from diesel fuel to plastic drinking straws is walking the plank in the name of improving the environment and combating climate change.
As cruise ships clean up their act, passengers become more directly involved. Most major lines now have environmental officers to oversee that greener measures take hold from stem to stern. One prime target: the plastic straw as well as the plastic drink container itself. These staples of a happy holiday cruise are on their way out. Crystal Cruises, for example, will replace plastic straws and stirrers with bamboo and metal versions, while Holland America Line and Carnival Cruises hand out plastic straws only upon request. Going a step further, Norwegian Cruise Line and Regent Seven Seas Cruises pledged to eliminate all unreusable plastic water bottles. And Disney Cruise Line aims to reduce plastics in its staterooms by 80 percent by relying on refillable in-room amenities instead.
While cruise lines join the crusade to eliminate single-use plastics, they also look to curb climate-changing emissions. One notable green technology routinely incorporated into new ships and retrofits is shore-power hookups that enable ships in select ports to shut down their engines and plug into less-polluting power sources on land. In addition, many new ships contain exhaust gas cleaning systems which "scrub out" sulfur compounds and particulates produced by engines. Royal Caribbean, Azamara and Celebrity Cruises managed to reduce emissions by 20 percent in this way on their newest ships.
In the search for cleaner fuels, the cruise industry is investing some $8 billion in alternative propellants. The most popular alternative is liquefied natural gas, the world's cleanest fossil fuel. German- based AIDA Cruises recently introduced the world's first passenger ship powered exclusively by low-emission LNG, the AIDAnova. Many other lines are using or developing LNG-powered ships to reduce greenhouse gases.
Another route seeks to offset CO2 emissions. Starting in 2020, MSC Cruises, a fleet of 17 ships, will become the world's first large cruise line to go carbon neutral. MSC plans to purchase carbon offsets to capture emissions equal to the greenhouse gases it produces. These offsets involve investments in tree- planting operations, wetlands and kelp and algae farms that absorb carbon dioxide.
The future of cruise ship power may well lie in reducing the use of fossil fuels by switching to hybrid propulsion systems that employ electric batteries. Ponant will launch Le Commandant Charcot in 2021, described as "the world's first luxury polar vessel powered by LNG and electric battery." Underscoring the expansion of battery power in the cruise ship industry, Paul Gauguin Cruises (recently acquired by Ponant) will add two new 230-passenger ships to its French Polynesia fleet that feature "the most extensive battery package application in the market, allowing smokeless operation at anchor, in ports and in environmentally sensitive areas." And next year AIDA Cruises will be the first to test an even greener technology, fuel cells, for use on passenger ships.
For the pollutant-prone passenger ships of the past, the handwriting is on the hull. And for Holland America Line, which prints all its onboard materials using soy- based ink, even that handwriting has a greener tint. Cruise lines are on course to deep-sixing single-use plastics and curbing carbon emissions. A generation of super-green, all-electric cruise ships no longer seems beyond the farthest port.
WHO'S THE GREENEST OF THEM ALL?
With fierce competition among the major cruise lines to produce the most environmentally advanced fleet, determining the greenest of the green is perhaps impossible, but Hurtigruten, an expedition line busily expanding its operations to the North American market, makes a strong case. Hurtigruten's CEO Daniel Skjeldam proclaims the company's goal is to be "the greenest cruise line in the world."
Indeed, Hurtigruten was the first cruise line to ban single- use plastics, including drinking straws, cups, bags, cutlery and butter packages. But its biggest shift to green came this past summer in Alaska where its first hybrid electric-powered ship, the 530-passenger MS Roald Amundsen, began operations. The first hybrid passenger liner at sea, this ship sails silently for nearly an hour at a time at full cruising speed and several hours at slow speed on battery power alone while reducing harmful emissions by up to 20 percent.
Hurtigruten's second hybrid, MS Fridtjof Nansen, debuts this year with sailings in the Antarctic region, and a third hybrid, larger than the first two, sets out next year. Currently Hurtigruten is retrofitting its older expedition ships as well, replacing diesel fuel with a combination of large batteries, liquid natural gas and biogas, a fossil- free renewable fuel consisting of organic wastes including a truly maritime ingredient: dead fish.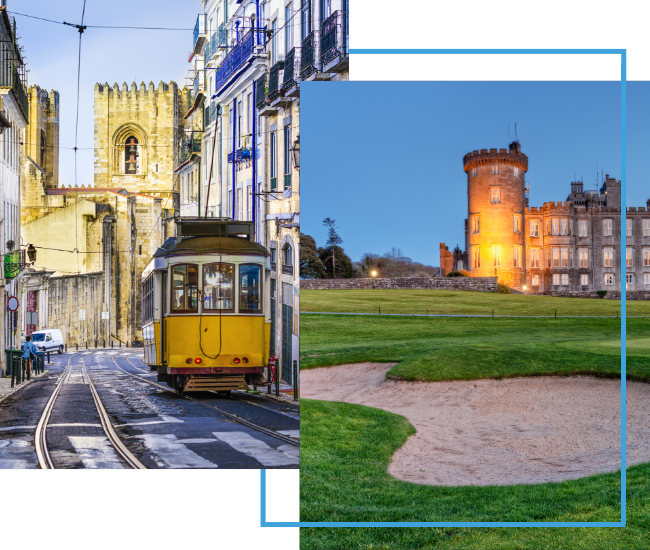 FX Excursions
FX Excursions offers the chance for once-in-a-lifetime experiences in destinations around the world.
Explore Excursions
Did the new film Oppenheimer rouse your interest in the nefarious world of international espionage? You can go straight to the real-life setting for covert actions this November (Nov. 10–12), when La Fonda on the Plaza in Santa Fe hosts a specially themed "Spies, Lies and Nukes" weekend. The hotel actually served as the retreat location for Manhattan Project scientists, who stayed at La Fonda on the Plaza to take a break from the stress of their work. During the weekend, the property's La Fiesta Lounge will make a tasty nod to those days by serving up a special Atomic Martini.
Sponsored Content
In an increasingly digital and interconnected world, the Global Business Travel Association (GBTA) Convention remains an indispensable platform for business travel industry professionals seeking to make the most of the power of face-to-face connections. Taking place August 13–15 in Dallas, the 2023 GBTA Convention provides the unique opportunity for professionals and companies to join visionaries, thought leaders and industry experts for meaningful networking, cutting-edge insights and inspiring innovation.
Ever want handcrafted martinis and freshly shucked oysters delivered straight to your room? The Read House's New Martinis & Pearls service has you covered. Shining in 1920s-themed decor, the historic hotel in the heart of Chattanooga offers a true Gatsby-esque experience, now further elevated with this upscale amenity. Guests can now indulge in their perfectly chilled martini, made to order, and "pearls" (oysters) in the comfort of their room.