In 1817, when New York's Black Ball Line launched the first regularly scheduled passenger service between New York and England, the journey eastward took about 40 days and the return 23. Amenities were limited and included in-cabin skylights and, in the dining room, whale-oil lanterns and silver service.
That all changed in June 1900 when Victoria Luise, the world's first purpose-built passenger ship, launched from Hamburg for a 35-day journey through the Caribbean to Venezuela. The well- appointed, 240-passenger ship was outfitted with a promenade for strolling, a gym and, surprisingly, a darkroom for amateur photographers. Live musicians provided entertainment during meals and social events.
The owners of Victoria Luise were on to something. More than 100 years later, cruising has become one of the most popular forms of leisure travel: According to a recent survey by AAA, 41 percent of Americans are considering booking a cruise in the future.
One reason for cruising's popularity might be the sheer number of choices available. Currently, about 323 cruise vessels ply the world's oceans. The smallest is generally recognized as Emerald Azzurra, which carries 100 passengers on a variety of itineraries, while the largest is Wonder of the Seas, Royal Caribbean's 6,988-passenger behemoth. In between, passengers can choose from not only a range of sizes but a vast range of experiences as well.
Though no official size classes exist in the cruise industry, ships are generally organized into five categories, based on the number of passengers they carry. It makes sense the larger the ship the more amenities it will offer, but that doesn't necessarily tell the whole story. Ships within the fleets of Disney Cruise Line and Cunard Line, for instance, may be of similar size but offer very different activities.
AT ONE TIME, 3,500 passengers aboard a single ship seemed mind-blowing, but today three cruise lines — Royal Caribbean, MSC Cruises and Carnival Cruise Line — boast several mega ships within their fleets that cross the 6,000-passenger mark. Thesehuge vessels, larger than aircraft carriers, offer a remarkable array of diversions. Carnival's 6,465-passenger Mardi Gras features the world's first roller coaster at sea — and multiple dining experiences.
Slightly smaller mega ships, operated by Disney, Carnival and Norwegian Cruise Line, carry closer to 4,000 passengers and are nearly as action-packed, offering everything from go-karts and multistory water slides to ice skating rinks and surf simulators. Adult-focused Princess Cruises, sneaking into this category at just more than 3,500 passengers, is a bit of an outlier, offering lots of live shows, immersive cultural activities and a variety of dining options but without the hair-raising diversions.
THOUGH THEY'RE NOT the biggest ships at sea, there's nothing dainty about large ships, carrying the flags of Celebrity Cruises, Cunard, Disney, Holland America Line, Norwegian, Princess and Royal Caribbean and packing a strong amenity punch. Note that instead of going bigger, Norwegian chose to go a bit smaller with its newest Prima class of ships, each having a capacity of 3,099 passengers but chock-full of experiences, including a 10-story free-fall slide. The first, Prima, entered service in August 2022.
JUST FOUR LINES — Cunard, Holland America, Norwegian and Royal Caribbean — sail ships in the mid-sized category. Since the Norwegian and Royal Caribbean ships in this size range are a bit older and don't offer the same level of excitement as their newer ships, fares tend to be a bit more moderate. Traditionalists will love the classic lines and approachable size of the Cunard and Holland America vessels.
HOLLAND AMERICA, OCEANIA Cruises and Viking Ocean Cruises found the small mid-sized ship is large enough to offer diverse dining experiences and activities but with the intimacy of a smaller vessel. It's proved a particularly sweet spot for Viking, which added seven 930-passenger ships to its fleet since it launched ocean voyages in 2015, with more on the way.
YOU'LL FIND THE MOST DIVER- SITY within the small ship category. This includes not only boutique cruise ships and yachts operated by Celebrity, Emerald, Oceania, Ponant, Regent Seven Seas, Seabourn, Silversea, Star Clippers and Windstar but also expedition-class ships — floating luxury SUVs outfitted for the polar regions — from Ponant, Scenic, Seabourn, Silversea and Viking.
Beyond offering a more intimate experience, these smaller ships offer the chance to visit destinations off-limits to larger ships. Expedition ships, which carry Zodiac inflatable rafts, submersible vessels, kayaks, weatherproof clothing and other gear as well as a full crew of highly specialized guides, allow guests to explore remote natural areas on land or sea directly from the ship.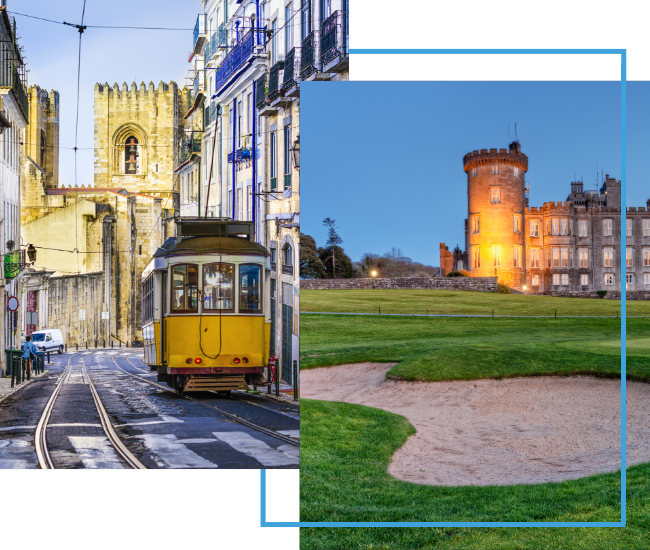 FX Excursions
FX Excursions offers the chance for once-in-a-lifetime experiences in destinations around the world.
Explore Excursions
Did the new film Oppenheimer rouse your interest in the nefarious world of international espionage? You can go straight to the real-life setting for covert actions this November (Nov. 10–12), when La Fonda on the Plaza in Santa Fe hosts a specially themed "Spies, Lies and Nukes" weekend. The hotel actually served as the retreat location for Manhattan Project scientists, who stayed at La Fonda on the Plaza to take a break from the stress of their work. During the weekend, the property's La Fiesta Lounge will make a tasty nod to those days by serving up a special Atomic Martini.
Ever want handcrafted martinis and freshly shucked oysters delivered straight to your room? The Read House's New Martinis & Pearls service has you covered. Shining in 1920s-themed decor, the historic hotel in the heart of Chattanooga offers a true Gatsby-esque experience, now further elevated with this upscale amenity. Guests can now indulge in their perfectly chilled martini, made to order, and "pearls" (oysters) in the comfort of their room.