Most cruise lines offer at least one voyage with a twist each year, giving passengers a chance to explore in depth a destination that's terra incognita among their competitors. Sometimes it's the destination itself that's truly unique, as with AdventureSmith Explorations' Cuba People-to-People Cruise starting this December. Employing the three-masted, 49-passenger schooner Panorama, AdventureSmith will venture into new waters, carrying Americans round-trip from Miami to five Cuban ports, including Havana, for the first time in 50 years. It's a chance to sail to Cuba ahead of the growing number of cruise lines eyeing this unique destination for later in 2016.
While there's no shortage of other off-the-chart ports served by top international cruise lines, even familiar destinations can spawn unique itineraries. In Hawai'i, for example, where Norwegian Cruise Line has a monopoly on big-ship inter-island excursions, Un-Cruise Adventures now offers an unusual alternative, with week-long yacht-style voyages on a deluxe 36-passenger vessel. Un-Cruise's unconventional itinerary transports its passengers between Hawai'i's Big Island and Molokai, with stops at Lanai for hiking and Maui for night snorkeling.
Viking Cruises, preeminent in the European river cruising market, recognizes the appeal of running unique voyages in less visited regions of the world. Expanding into the exotic waters of Asia, Viking now runs cruises on the Yangtze River in China and through the Mekong Delta in Vietnam and Cambodia almost weekly. We recently booked Viking's Magnificent Mekong cruise and land tour as an alternative to the standard big-ship cruises that call on a port or two in the same region. This enabled us to travel to exotic interior locations while Viking's local guides furnished us with full and easy access to the major cities; world-renowned archaeological sites; and shoreline villages, factories and schools in the rapidly developing Mekong Delta.
Viking's 15-day Mekong itinerary stretches from Ho Chi Minh City in the south to Hanoi in the north of Vietnam, with extended stays in between in Cambodia's capital, Phnom Penh, and Siem Reap. No other cruise and land tour of the region is as extensive or varied. The week-long river cruise and all shore excursions, as well as land tours and stays in superb 5-star hotels, are included. Viking's top-flight tour director, Lam Thanh Ut, accompanied us step by step, dawn to dusk. With an overriding emphasis on cultural immersion, Viking's Mekong itinerary lives up to a well-known Vietnamese proverb: "A day of travel brings a basketful of knowledge."
We set out from Ho Chi Minh City (the former Saigon) on the northbound route in April, a month of blistering heat and high humidity. After two nights at the luxurious Sofitel Saigon Plaza and a memorable city tour, we traveled by bus to My Tho on the Mekong Delta, where we boarded the 56-passenger RV Viking Mekong for the eight-day cruise. The wide and muddy Mekong immediately reminded us of the Mississippi, although the fishing boats, farming villages and floating markets were distinctly Southeast Asian. Said to be the most productive river in the world, the Mekong is home to 300 million people, a hundred ethnic groups, a thousand fish species and endless fields of rice patrolled by water buffalo.
The RV Viking Mekong is a colonial-style, brass and teak boutique riverboat built expressly for Mekong cruising by Pandaw River Cruises, a Scottish, family-owned company incorporated in Singapore. With 28 nearly identical compact cabins (no suites, no televisions, no balconies and, alas, hardly enough closet space), the Viking Mekong did prove less commodious than the famous longships Viking employs in Europe, but our only real disappointment with the hotel side of the ship was its woeful air-conditioning, inadequate to ameliorate the scorching heat of the Delta in April. Nonetheless, the en-suite shower proved ample and refreshing, the service razor-sharp and friendly. Lacking nothing we needed, we happily let Viking show us a new part of the world. And show us they did.
This cruise was all about the shore excursions, beginning the first afternoon with a tour of the Cai Be floating market, stocked with puffed rice candies, snake wines and pythons for show and sale. Market followed market. The next morning we disembarked and sailed by sampan to Sa Dec via the canals feeding into the Mekong. After strolling among Sa Dec's street merchants, we took tea in the Lovers' House, the historical setting for a film that had aired on board the night before (The Lover, 1992, a very adult look at the ways of love in French colonial Vietnam). Resuming our river cruise the same afternoon, we tied up to tour a massive waterfront brick factory, a floating catfish farm and a farming village on Evergreen Island, where a local Vietnamese family welcomed us into their stilt house.
Crossing seamlessly from Vietnam into Cambodia, we anchored for several days in Phnom Penh, where a local guide led us on cyclos, the bicycle taxis dating from colonial times, to the lavish Royal Palace and National Museum. These sweet attractions were followed by a bitter (and optional) excursion to the Killing Fields of the infamous Pol Pot regime, a grim experience indeed.
From Phnom Penh, our vessel detoured up the Tonlé Sap Channel to Kampong Trolach, where jolting ox carts, then an air-conditioned bus, delivered us to Cambodia's largest Buddhist center, Udon Monastery, a pilgrimage site second in popularity only to Angkor Wat. A stroll through a village of silversmiths brought us back to the ship at Preak Kdam, and we returned to Phnom Penh for free-time wanderings.
The next day our agile ship headed up the Mekong to Chong Koh, where we were guests of yet another village, a traditional Khmer settlement known for its cotton and silk weaving. At Kampong Cham we rambled through the temple ruins of the Twin Holy Mountains of Phnom Pros and Phnom Srey. Afterward, in what was a highlight for many, we visited an 87-child orphanage, speaking with the kids and sorting though their original artworks for souvenirs.
Disembarking at Phnom Penh for the final time, we ended our river cruise and were driven north to Siem Reap, Cambodia's boomtown, home to Angkor Wat. Settling into the sumptuous Sofitel Angkor Phokeethra for three nights, we spent our days on guided tours of half a dozen ancient religious complexes in the most impressive such display in Southeast Asia.
From Siem Reap, Vietnam's national carrier flew us north to Hanoi, a city that surprised us, from its colonial alleyways to the historic "Hanoi Hilton." Our hotel was a historical landmark, as well. The Sofitel Legend Metropole, opened in 1901 and host to world leaders and celebrities (from Jane Fonda to John McCain), is the location of an underground air raid bunker from the Vietnam War years, concealed beneath the hotel's glittering bar and recently unsealed for tours.
Between a week on the river among villages, markets, schools and factories and another week on extended forays into cities and ancient monuments, we could think of no more mesmerizing a fortnight than one spent meandering in just this way through the Mekong Delta.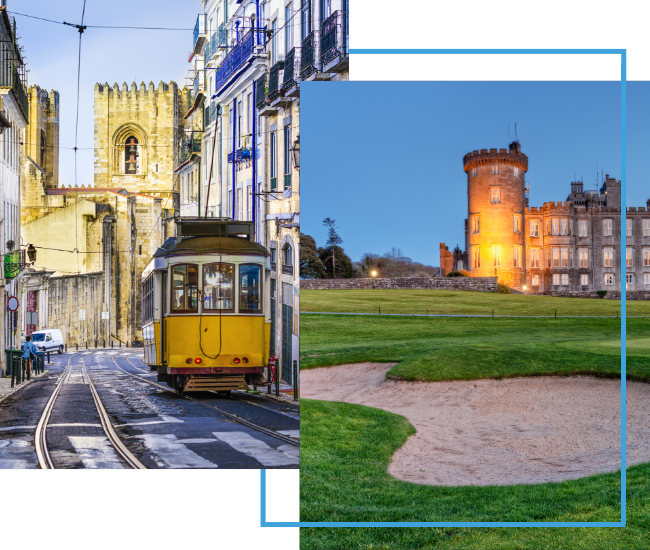 FX Excursions
FX Excursions offers the chance for once-in-a-lifetime experiences in destinations around the world.
Explore Excursions
Less than five years ago the world's first hybrid cruise ship, Hurtigruten Expeditions' MS Roald Amundsen, set sail for Antarctica in November 2019 with 450 passengers. The battery-hybrid-powered ship, named for the first man to cross the continent and reach the South Pole, was built specifically for voyages in polar waters. Its battery-hybrid power reduces the ship's consumption and CO2 emissions by 20 percent compared to equally sized ships.
Sponsored Content
One affordable plan can protect an entire year of trips: business or pleasure, short or long, domestic or international.
A few months ago, I flew Polaris business class on a United flight from Dulles (IAD) to Paris (CDG). It was only when I got to my hotel in Paris I realized that I didn't have my iPad or its bag or accessories. Since I had been working on it in the restaurant in the Polaris lounge and then went directly to the gate, I knew I either left it propped up on my table when I packed up or in my business-class seat. But what was the best method to alert the airline about my careless mishap and (hopefully) retrieve it? With spotty data and WiFi, searching for information on my phone was frustrating and slow. Here's what I learned from the anxiety-inducing experience (and unexpected ending) about what to do if you leave something behind on your flight: